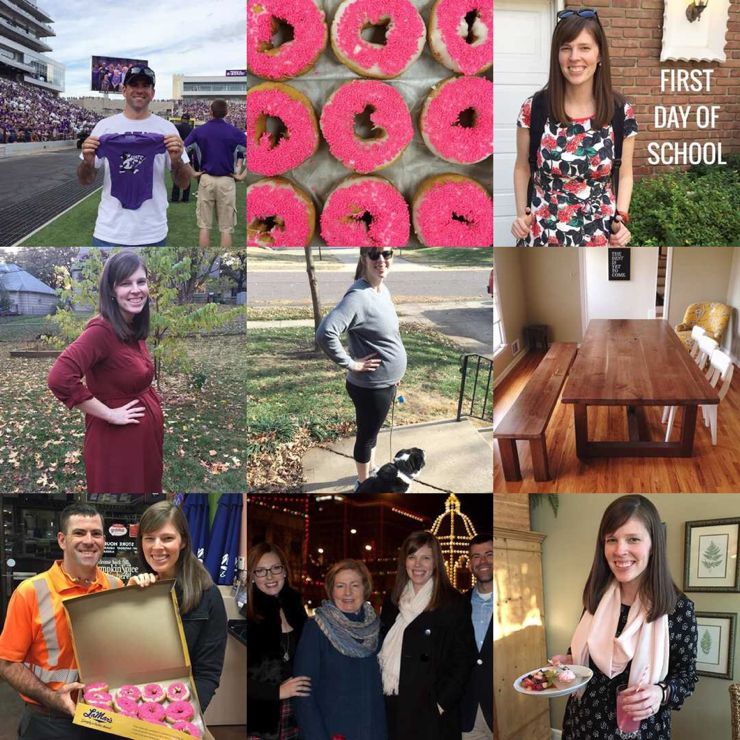 I have been loving everyone's "top nine" posts on Instagram with the posts that got the most likes from their Instagram feed during 2015. Unsurprisingly, my top nine has a lot of pink and baby related images! From the top left corner (and the most likes), here's a fun wrap-up of the year.
1. Kip holding a onesie on the football field. Her first K-State apparel - and definitely not the last we will make. I got so excited today thinking about baby Lynch and her new buddy Olivia in matching cheerleader outfits in a couple of years!
2. and 7. The pink donuts we used to tell our coworkers and friends that baby Lynch was a girl. There's been so much pink in our lives since that day at 20 weeks! Kip and his dad put in more insulation in the attic yesterday, and it was SUPER pink. Kip said, I knew there would be more pink, I just didn't know I would be decorating the attic with it too!
3. I have no idea why this first day of school pic was so popular, but I'm glad internet friends like to embrace my inner nerd. I made it a whole semester at the new gig, and I'm finding a rhythm with the work and in the new building. Plenty to do when I am back in January to "prepare" to take time off for maternity leave.
4. and 5. Growing belly at 26 weeks and 32 weeks. This belly is definitely more pronounced when I'm wearing workout clothes.
6. Our fabulous dining room table. It absolutely is living up to our expectations, but it's funny to look at it now and think about everything Kip has done since then! We added an island last week, new lights above the table and the island, and painted lots of different places. The table is solid walnut and was a wedding gift from Kip's parents, and we eat at it almost every night we're both home. Over the holidays, we've been able to have family and friends a few times and that's always a blessing too.
8. Family photo from the Plaza. This is totally a "cheat" photo that I took on my real camera and uploaded to Instagram but had to mark the occasion and the Plaza Lights. They truly never get old.
9. All the pink from my baby shower! Feeling so loved as we prepare for baby girl and think about how there are just 6-7 weeks to go.