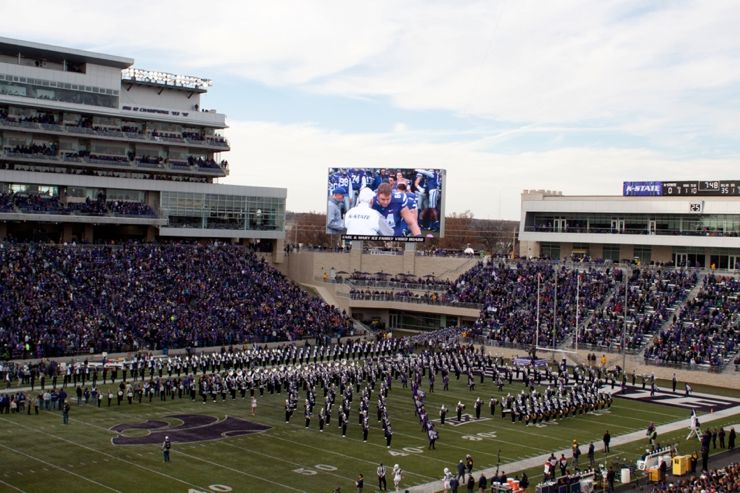 The last home football game (and senior day) fell on Saturday, December 5th. The whole weekend was a bit different than what we normally plan for a football excursion to Manhattan! Kip went up to hunt with his dad on Friday night (first weekend of rifle season), and Lauren couldn't go because of her work Christmas party. Mom had a luncheon earlier in the day and a meeting the next day, so I ended up driving to Manhattan by myself on Saturday. This was the perfect excuse to stop at Cabela's to shop for Kip's Christmas gift! I also stopped by his parents' house and visited with them in between their trips out to hunt.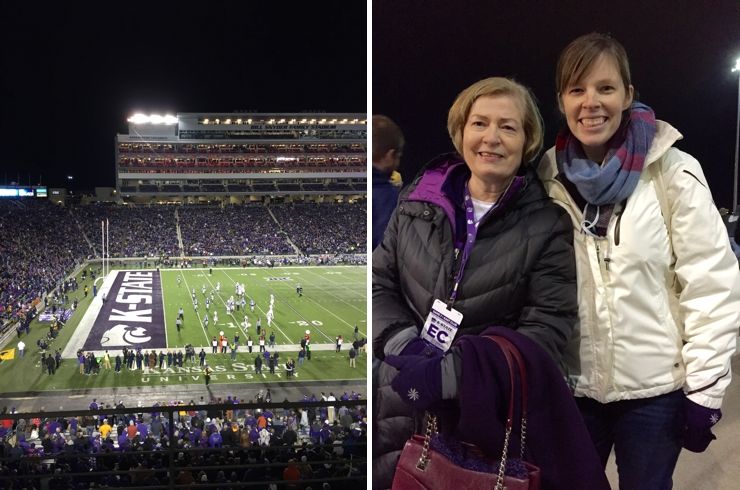 At the tailgate, the crowd was smaller, but the food was my favorite of the whole fall! It was "steak day," and there was amazing fruit salad, potatoes and cookies to go with it. I was full and happy when I made my way into the stadium to watch Coach Snyder thank all his seniors. Related: have you read
this article on the internet
about the number of notes he writes each day? It's amazing. He goes through four felt tip purple pens a week.
Because we knew everyone's schedule was different, I sold our tickets to the librarian from my school who is a West Virginia fan (she had a great time, even though her team lost!) and sat with Mom up in the club level on the east side. I think this was my first time sitting upstairs for a whole game, and Mom and I had a great time! One side effect of pregnancy is weird stiffness in my leg sometimes, but I was able to move around quite a bit and still check-in on the game. It was not as cold (thankfully!) as the Iowa State game, and we never even needed hats! But Kip gave me a new K-State hat for Christmas, so I'm ready for next season's coldest games.
I made the trip home by myself after the game while Kip stayed another day to hunt. He didn't get a deer this year, but he did try valiantly for a few weeks. It all works out, and we have more room in the deep freeze without venison for all the meals I made preparing for baby Lynch. And he did get to sit outside in nature, truly one of his favorite parts.
The Cats were bowl eligible with this win over West Virginia and play in a bowl game Saturday. Our current plan is to tape the game and not check our phones after kickoff because we'll be in birth class. It was booked before the Cats were bowl eligible. Kip claims that we will "go into labor" and have to leave so that we can watch the game. But if there's one place where you can't get away with that, it's childbirth class. So don't tell us what's happening, we'll catch up when we can. Purple, through and through.