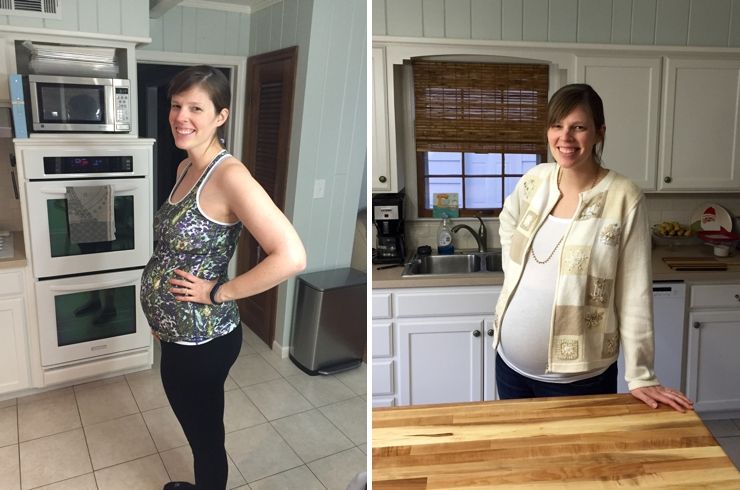 At one point, I thought long and hard about doing a special little album for December, much like this
one from a couple of years ago
. I should have thought through this a little bit more though as this was definitely not the best use of my time. We were actually really busy doing all sorts of fun stuff - no time for another craft project! It's always a bad sign when I have these good ideas that I don't tell Rachel, my mom, or Kip. Because I know they will tell me to think it through a bit more and not bother. But here are all the photos that would have made up a little book.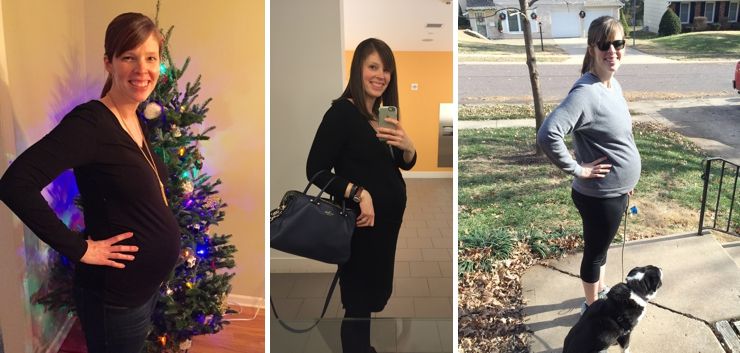 Baby girl keeps growing and growing. I've been really lucky to keep working out with some walking and lots of Bar Method. Everything feels pretty okay still, I'm just getting a little bit slower all the time.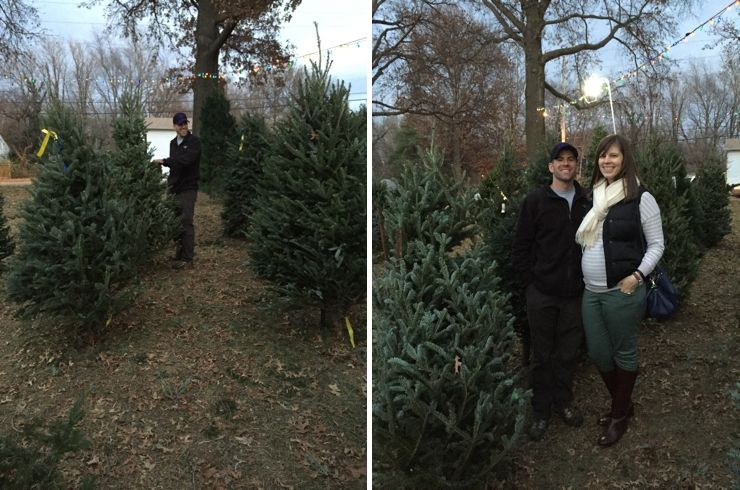 When you marry an arborist, you get a real tree. We picked a beautiful Fraser fir, and I loved having the fresh smelling tree in our dining room. I also loved that Kip was in charge of watering it and keeping it alive all month.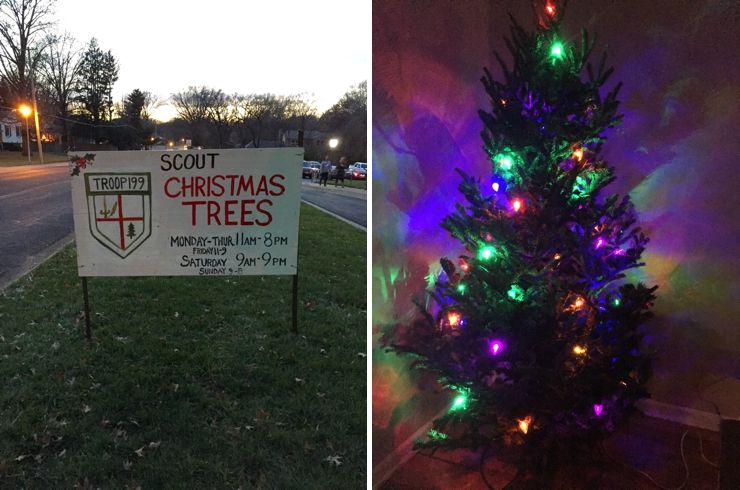 Our tree was from the same place where
we took our wedding portraits
last year. We purchased lights last year on sale from Target and actually want to add one more strand to the loop next year to make it a little brighter. Our tree is not fancy or themed..it's bright, cheery and full of ornaments I collected before meeting Kip and a growing number of ones that are significant to both of us.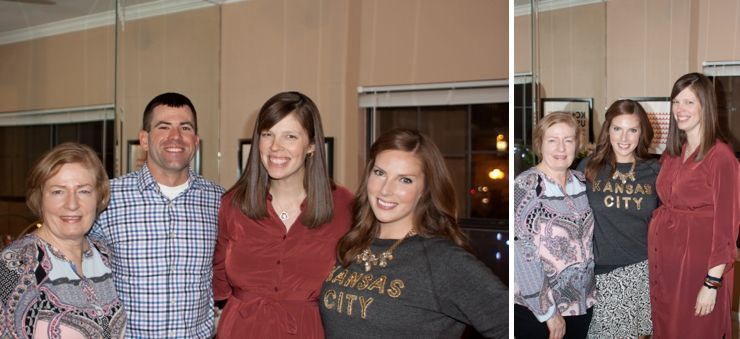 Lauren and her roommate hosted their annual Christmas party, and we went down to enjoy the view of the Plaza lights and great food on a super warm Friday in December. I loved this red dress - but it doesn't look like it's going to make it to February. I might have outgrown it already!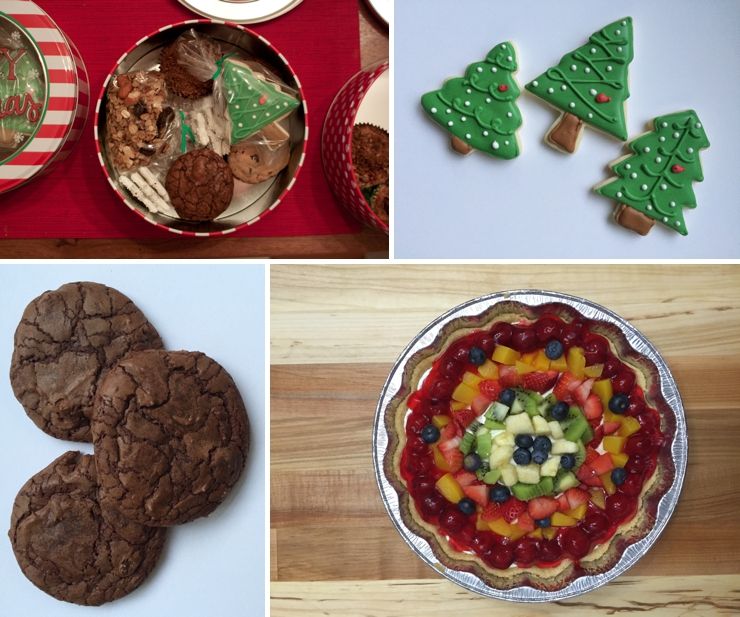 There were lots of things baked in our house over the month! I made Christmas tree cookies to help raise money for
Rachel's run
in Boston for Braden. I made my new favorite peanut butter chocolate chip cookie and a chocolate espresso cookie too - plus lemon drops later in the month. There was granola and cranberry crunch muffins too. I did a lot of baking. (We're out of butter again...) Our sweet neighbor brought us this adorable fruit pizza - the best gift ever for a pregnant lady who can't get enough fruit! It was almost too pretty to eat. Almost...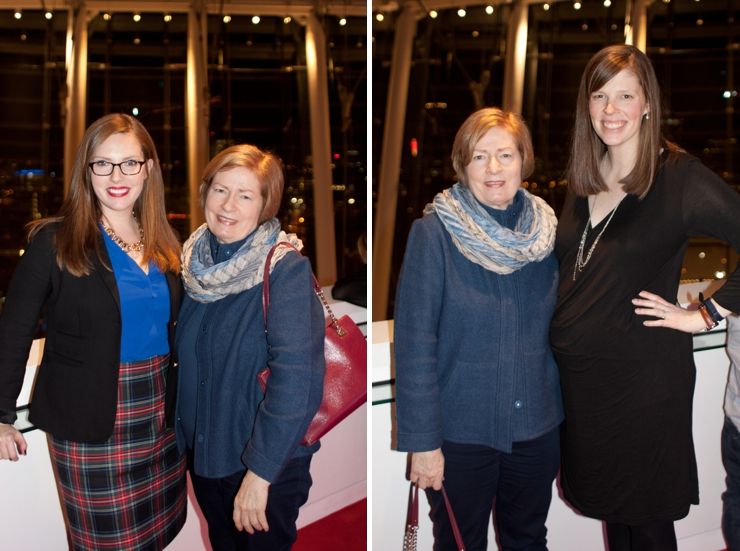 Mom treated us to the Nutcracker Ballet which was elaborately updated this year. We didn't really invite Kip, and he was happily left to drink a few beers with his work buddies at his department's Christmas party at Jack Stack in the Crossroads while we ate a quick bite and ran to the Kauffman Center for a fabulous production.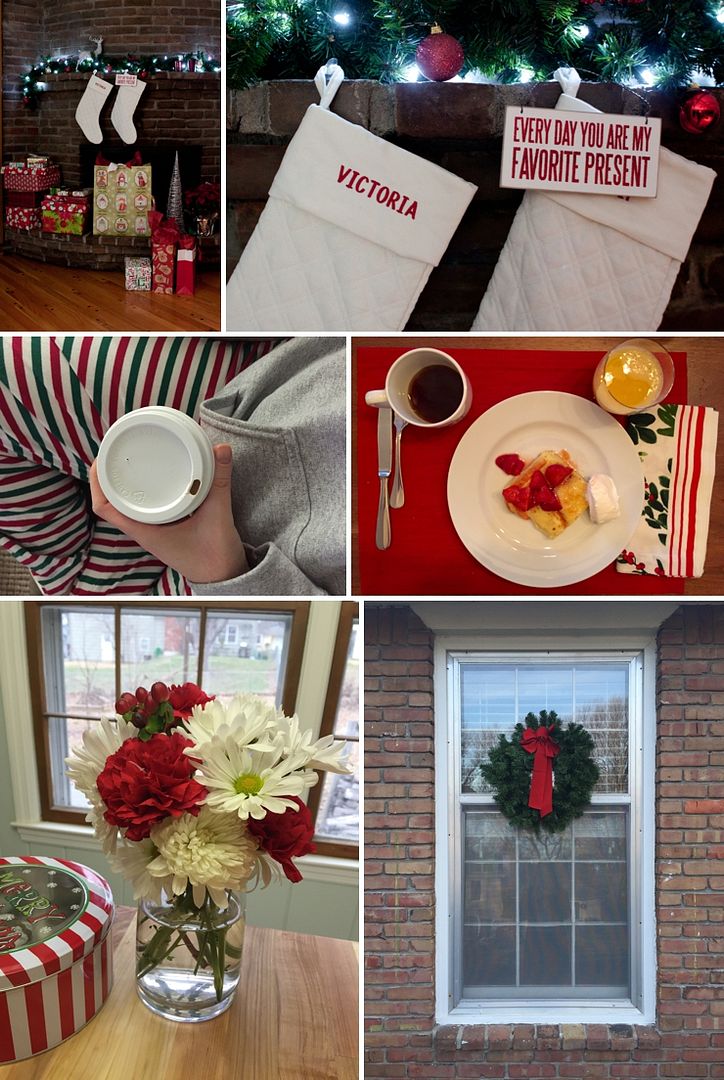 Last year we were newlyweds, Kip had the flu, and we were preparing for our honeymoon. There were almost no decorations. This year we were home, life was pretty calm, and our house was cozy. We used the Christmas napkins. I put flowers in a vase. Kip put wreaths on all the front windows, and the stockings were hung by the chimney with care. I actually loved having all the presents wrapped on the fireplace since we can't use it, and it brightened up the room during December.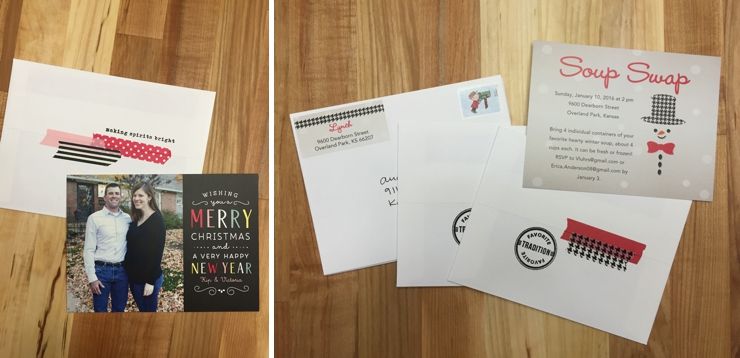 I spent lots of time getting mail ready - Christmas cards, Soup Swap invites, and thank you notes. I tried to make a dent in my washi tape supply but actually still just have a ton of washi tape. Someone should really stop me. Maybe that should be my new years resolution - don't buy anymore washi tape?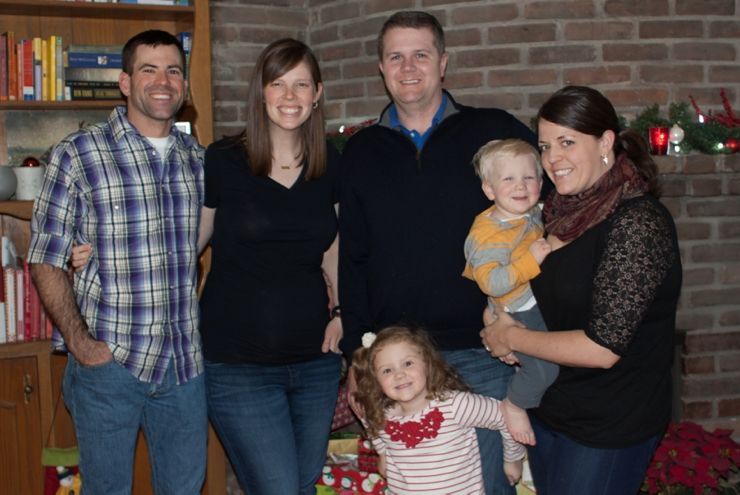 We had more friends and family in our house during December than in many previous months. Our guests that came the furthest to visit were Vicki, Daniel, Gwen and Cameron as they came from Kyiv in the Ukraine! We were all charmed by their kiddos who speak Ukrainian and Russian. No biggie.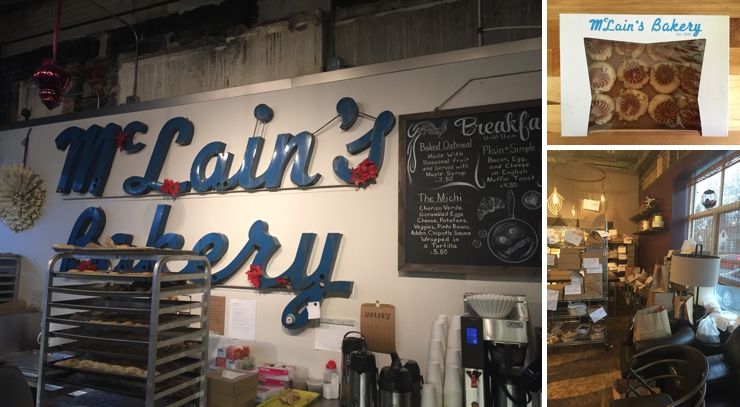 On Christmas eve morning, I went to McLain's to pick up cinnamon rolls for Christmas morning in Overland Park and also to take to Manhattan. I also grabbed a box of my favorite chocolate cups to share with my inlaws who also love pecans. It was warm and cozy inside the story, bustling with everyone picking up Christmas goodies. I loved it and would order again next year.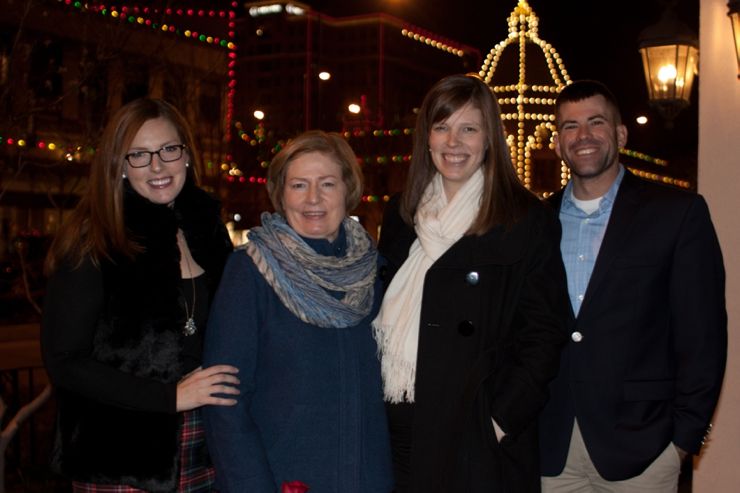 We had dinner at Seasons 52 on the Plaza on Christmas eve after church downtown. It was starting to feel more like winter by Christmas eve, and the food was delicious. And the Plaza lights never get old.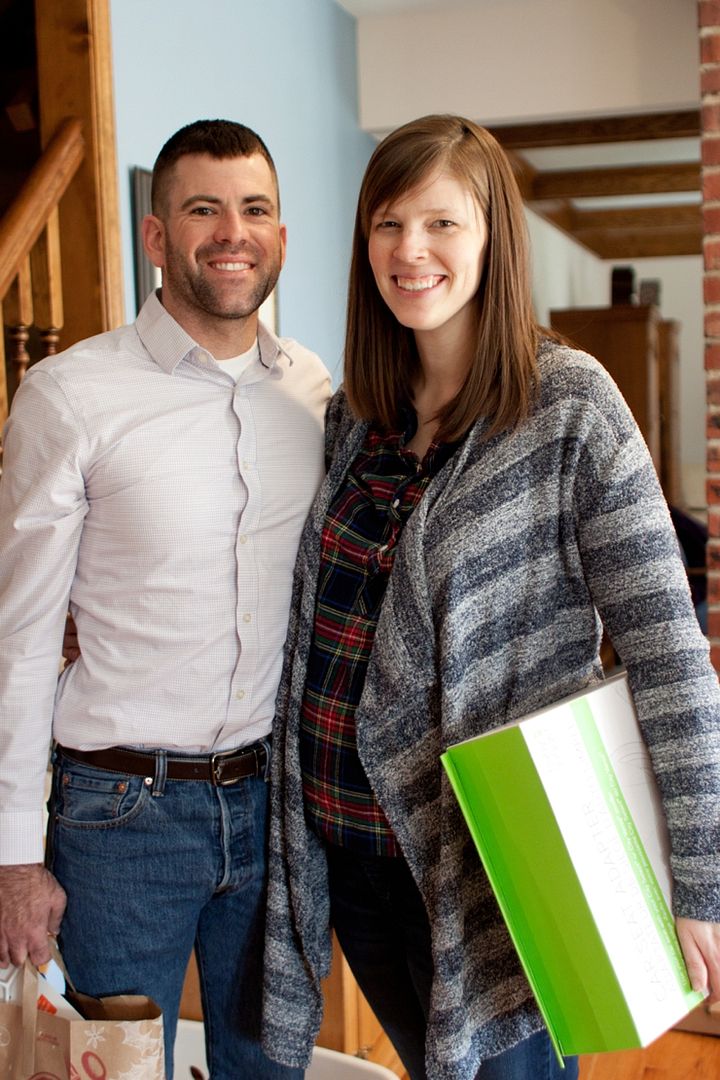 On Christmas morning, Kip and I exchanged gifts at home before heading to my mom's for breakfast and more present opening. There were moments all month when I really felt the realization of how different Christmas will be next year with a baby girl keeping us company on all our adventures. We really can't wait. (And neither can our families!)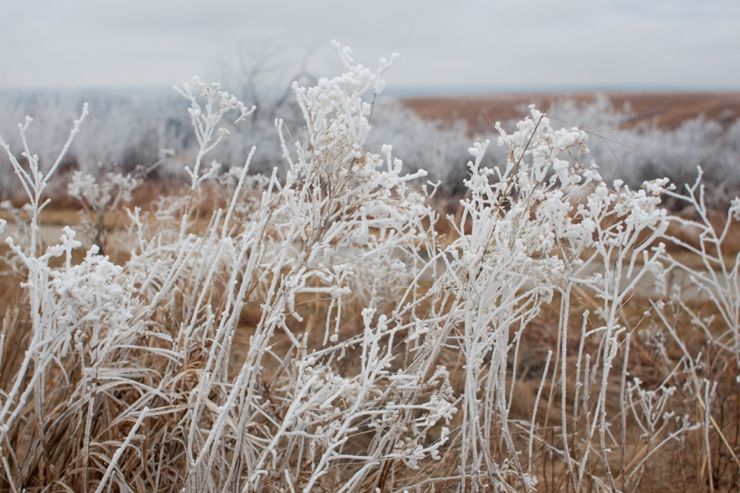 When we drove to Manhattan, Kip pointed out the freezing fog on the grass and trees. We stopped at the scenic overlook driving into Manhattan to see it up close and take some photos. I can't remember seeing anything like it before!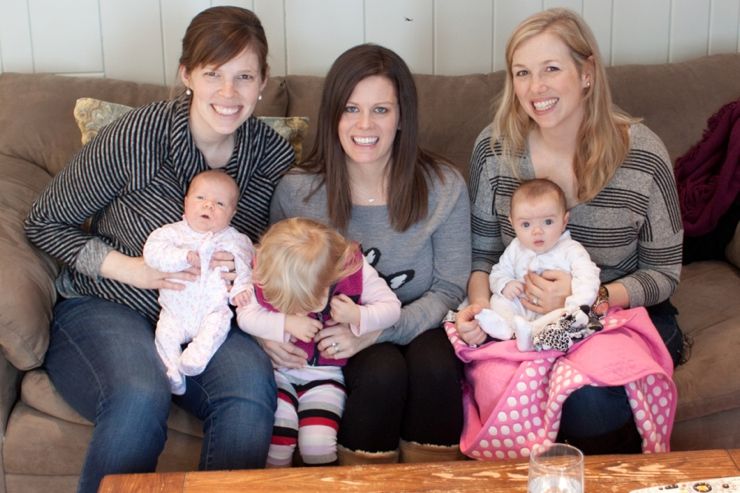 After Christmas, we kept working hard on the house, filling the freezer with food for when baby girl arrives, and seeing our pals. Erica, Em and their girls stopped by on the same day as our first actual snowfall. Dad, Tracy and Spencer came to town, and we had breakfast with them in our house as well!
I told Kip that it was the best stretch in the house that I could remember - I loved having people stop by for impromptu visits and meals at the dining room table. The house is a bit of a construction zone, but there really is never a perfect time, so it would be silly to put it off because of painting, installation and DIY projects. There's always progress and tweaking, but all these visitors really made it feel like Christmas around here.