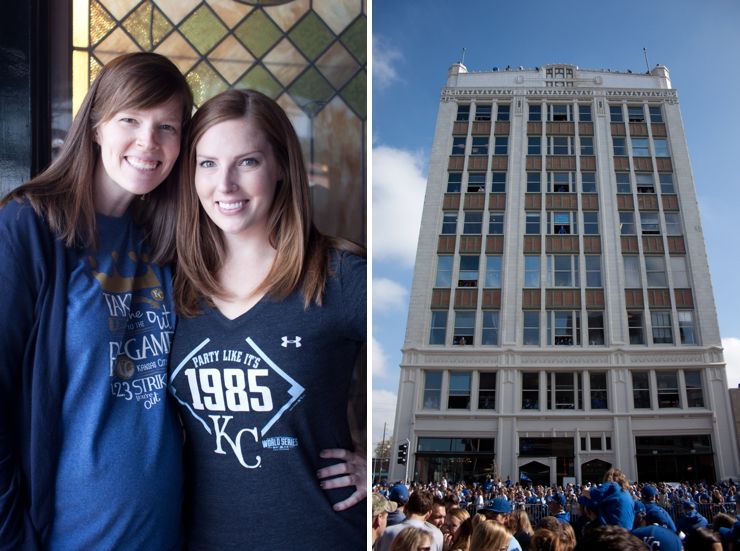 This whole adventure started on Monday, November 2nd when plans for the World Series parade started to take shape all over Kansas City. Districts started canceling school on Tuesday, and I thought, there's no way my district would call the day too. The logistics ended up being too much for us though - we would have had way too many teachers call in sick, not enough substitute coverage - and they called it! We've been referring to it as our "blue snow day!"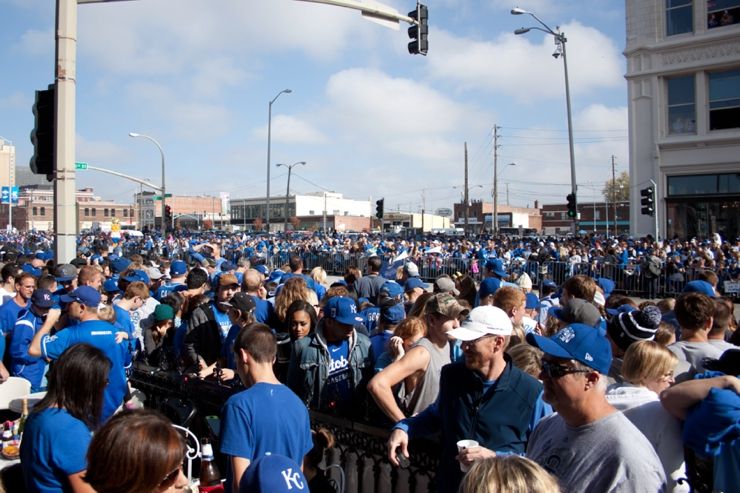 Lauren thought fast and called the Cashew to see if they were accepting reservations to watch the parade. She was able to get us a great table on the first floor right by the window. It was kind of expensive, but since the crowds ended up being more than any of us could imagine, it was definitely worth it.
I set out really early, leaving my house just after 8 am. Kip was going to do one big job at work and hoped to meet us down at the Cashew, maybe even taking a shuttle bus downtown so that he could get a ride back with me. It took me about an hour to get downtown and park at the Kauffman Center. I could have still parked on the streets, but the two-hour parking signs deterred me a bit. I was afraid of getting a ticket! Knowing downtown pretty well definitely helped me maneuver around and find somewhere to park, though in the end, everywhere was a mess.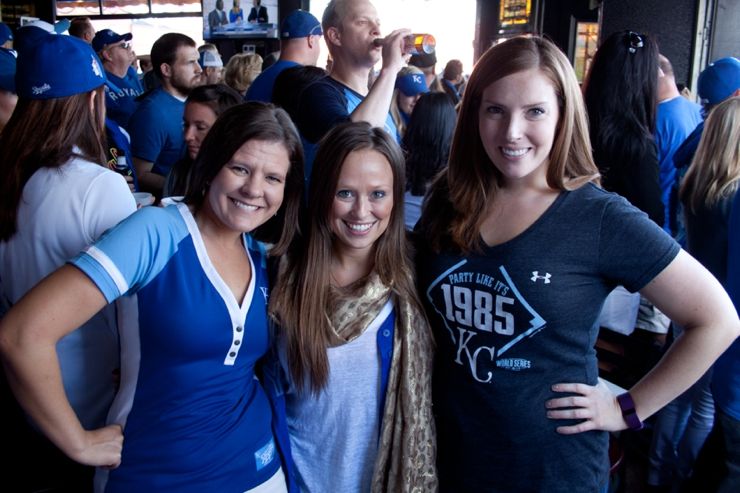 I walked straight to the Cashew where there was already a line out the door, people waiting to get in at the rate of one in, one out. Thankfully because we had a reservation, I was able to get right in and find our reserved table. The next couple hours were a bit of a disaster as about 800,000 people also made their way downtown. Lauren and her friends from work tried to take a shuttle but the lines were so bad they had to find other arrangements. Kip tried to go to Kemper and take a shuttle but turned around after waiting on the exit ramp for 45 minutes.
I waited patiently for a while, but ended up really frustrated because I lost the ability to call/text so I really didn't know where anyone was. And they didn't have coffee - I was waiting to have my one cup of coffee while I read and watched the crowds! Our table right by the window was perfect for watching the crowds but also closest to the people taking their smoke breaks. We've forgotten how nice it is to go places and not have smoke everywhere! Once I was in the Cashew, I couldn't leave, which was too bad because our church was passing out coffee a few blocks away and our friends the Mills were also pretty close with their great seats. By 11 am, the crowds were so dense that normal moving around was no longer possible.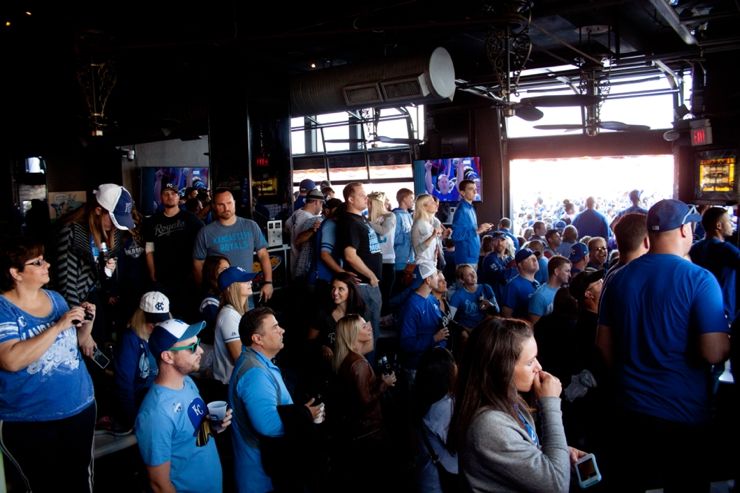 Lauren, Crystal and Abby made it sometime between 11 and 12, and I was so relieved. It was about that time that I finally got through from Kip - he was almost back home! In the end, I think he was glad that he was able to get a bonus day off and relax at home watching the parade and pep rally. We all ordered some lunch from their limited menu and started to anxiously await for the main events to start! Later I would find out how hard it was for people to find food to eat - servers called in sick and some restaurants downtown ran out of food and closed their doors.
The parade started after 12 and made its way towards us. We stood in the big open window, and we could all see each of the Chevy trucks as they drove by. It was so crazy, the crowd often chanting the names of the players as they neared us. Kip estimates we watched at least 100 games this year, and I not only knew the name of every player but almost all the coaches too! Our lives were so totally different during October as baseball games dictated our schedules. It was not uncommon to find us debating Orlando v. Rios, pitching changes, and agreeing on the superiority of the American League. Pitchers shouldn't bat. We know so many stories about each of these players after hours and hours of baseball watching, and it was fun to see them all in the parade. And at the end of the season, Salvador Perez is still the favorite player in the Lynch household.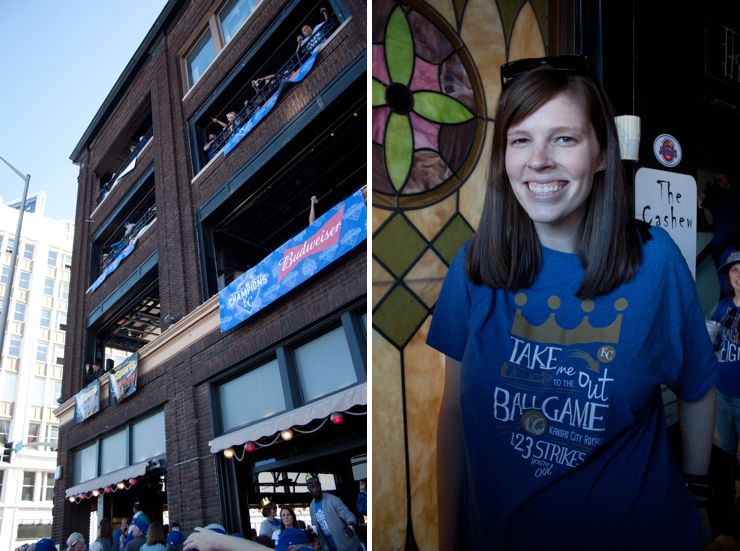 I was pretty much ready to go after the parade passed us by after so many hours sitting and standing in the Cashew. Walking through the streets of Kansas City with the masses was fantastic - the skies had cleared and it was a beautiful day for November. It took me another couple hours to get home - most of it sitting in the parking garage reading a book waiting for it to clear out enough for me to leave. I wore my "second trimester" Royals shirt that Mom got for me free at the K this summer. She was kind enough to get an XL, and I wore it often to school for Royals dress down days. We still need to go shopping for Royals World Series gear!
Kip and I watched the pep rally later that night, and I marveled at all the photos people were posting of their families and adventures online. It was maybe one of the craziest things I have ever done in Kansas City, and I certainly wouldn't do it again. But by about 5 pm that day, I decided I would have been so sad to miss the experience. The estimates are between 600,000 and 800,000 people gathering for the event, numbers that are staggering and impossible to imagine. But it was peaceful and positive, something worth remembering and celebrating in a world where scary things happen all the time. My only regret is that Kip and Mom weren't able to come, but we did our very best with less than 24 hours to plan.
Who knows what next season will bring, but it's only 84 days till pitchers and catchers report to Spring Training. I think this city looks to be staying Forever Royal for quite some time!