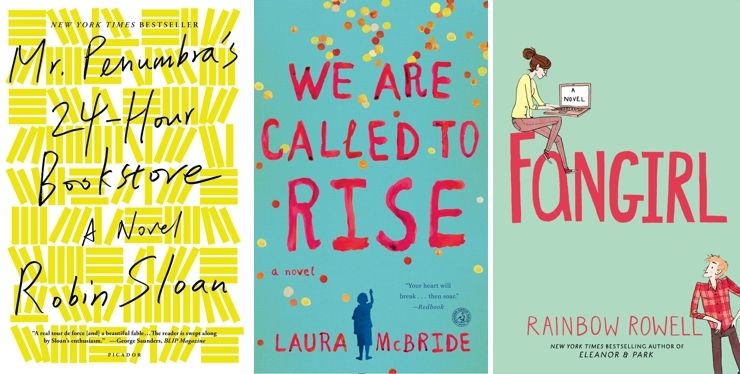 Getting caught up on a few loose ends around this blog after I got majorly distracted by the very exciting news that we're having a girl. Making a baby registry was hard! I had absolutely no problem with a wedding registry because I'd been a grown-up and used a kitchen and lived in a house for many years. But I had never had a baby before. It was fun to consult with my mom friends, especially because everyone has different things that work for them. I think we've got a working list and at least 17 more weeks to get organized. And then probably several years to get it figured out. We are absolutely no closer on baby girl's name. We have three books from the library, and I hope that might help us get some more ideas onto the table.
Three books from September to catch up on too...
Mr. Penumbra's 24-Hour Bookstore
had been on the Kindle for a while, and I randomly decided to read it at the beginning of the month. It starts out strong with a bit of intrigue surrounding the bookstore that stays open around the clock. There's a little bit of love interest and an adorable meet-cute. But then it's just too much. A bit too much tech geek speak and an unbelievable ending.
We Are Called to Rise
was Abbey's choice for book club for September, and I read it in a blitz. Highly recommend. Multiple narrators, alternating story lines that end up connecting and overlapping. At book club, we had a few complaints and a concerns about some of the logistics, but the story set in Las Vegas is guaranteed to win you over at some level. It's a timely read for conversations about refugees around the world as well.
Fangirl
is by Rainbow Rowell, author of Eleanor & Park. I have a well documented love for the
Eleanor & Park
, but I didn't love
Landline
as much. Kate picked out Fangirl and as soon as she was finished with it she was insistent that I had to read it too. I absolutely adored it for several reasons - freshman experience at the University of Nebraska, so very similar to our K-State world, a solid love story, and a look at the world of fan fiction which I know nothing about. And because it's Rainbow Rowell, it's got some heavy stuff in it alongside the lighter love story. I read it as quickly as possible, and I have been telling everyone I know to read it too! It became our October book club book, and I'm excited to discuss it with the group on Monday.