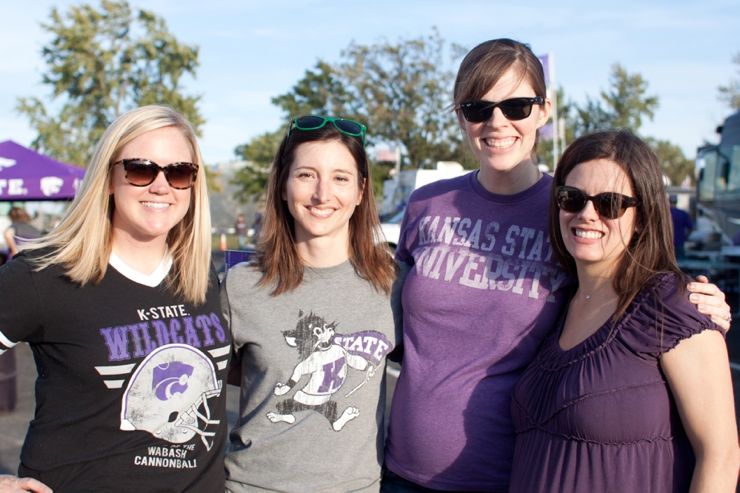 On October 10th, K-State tried to upset a pretty good TCU team in Manhattan. It was also our annual Oktoberfest tailgate, a great excuse to drink beer out of steins and eat good sausage. Don and Karen carried on the tradition of wearing some lovely purple German apparel, thought nothing as good as what I wore last year to
Oktoberfest
. It didn't fit this year with an expanding belly bump!
I'm always grateful for the Alpha Chi friends that I get to see weekly and throughout the year. On the 10th, I had coffee with my little little sis Ally from Alpha Chi before she dropped me off at the stadium for the tailgate. Anne and Erica were there without their toddlers, and Katie V. stopped by to visit too.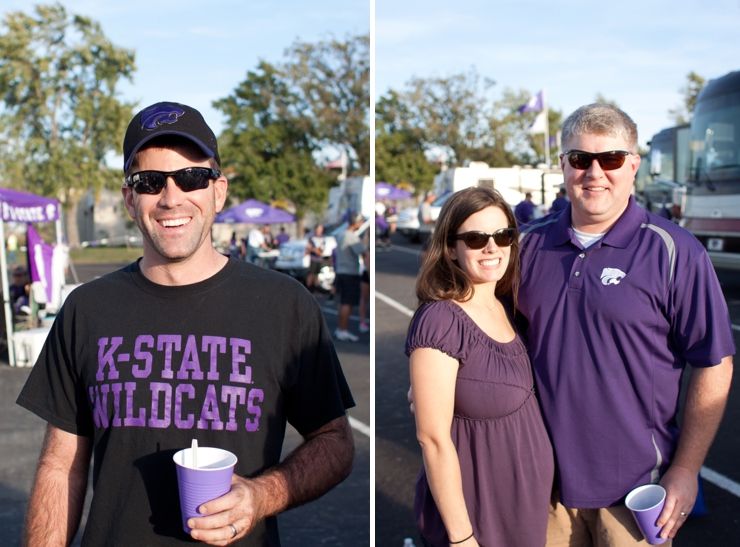 Kip was just being the model as I set up the camera and the photo for the Alpha Chis, but I loved this photo of him too much not to include it. He's holding what appears to be a beer cup at first glance but is actually a cup of fruit for me. I cannot stop eating ALL THE FRUIT. Fruit salad is actually my favorite, though I'm eating an apple a day, fruit in a smoothie and pretty much anything else from the fruit family anytime it's in the vicinity.
In the other photo, Erica and Jon had a packed sports weekend as they also went to the Royals game on Friday night and Jon went to the Chiefs game Sunday. We cannot get over the fact that we are both having girls, with Erica's little one arriving first in December. As Jon says, it's a good thing that he and Kip like each other and both like beer. Because as
Beyonce
says, "Who runs the world? GIRLS."
The game was a heart breaker, but what K-State game hasn't been lately? We were all so excited on October 3rd when we lead the game in Stillwater and ended up losing. (Our family had to finish the game in the car on the way to
Justus Drugstore
!) During the TCU game, we really thought we had a chance and were thrilled with our lead at halftime. We didn't linger too long in the parking lot because we didn't want to miss any of the action. Another loss. And last Saturday against Oklahoma...well, it's a good thing the Royals were playing at the same time. Kip and I stayed home to hang out with Jennie, and we're glad we did so we could see the Royals be amazing. You know it's bad when Bill Snyder
writes an apology to the students
. We're hoping it gets better, though as Kip points out, it would be hard to get any worse.
But we're loyal, and we'll be back! The K-State v. Baylor game is a Thursday night special event, and we're excited to be back in Manhattan for another game in two weeks. "Faithful to our colors, we will ever be!"