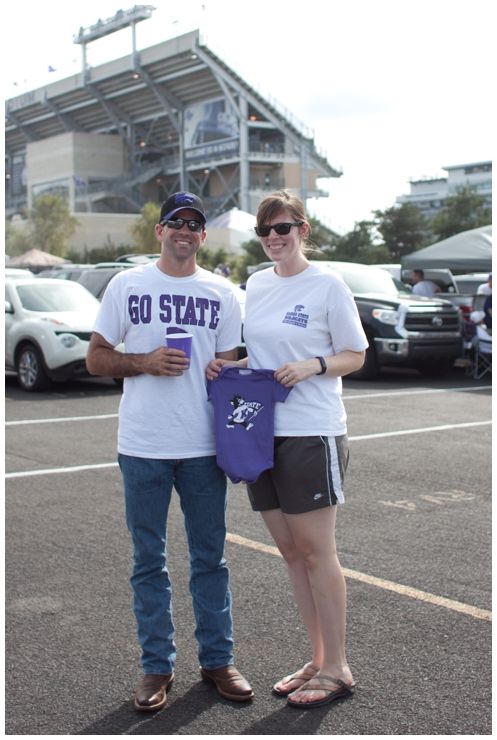 We've been to two K-State games already this year, and I'm really hoping the third one on October 10th isn't as hot as the first two! The first one on September 5th was really hot with temperatures in the 90s. The second game on September 19th was way cooler, but we all dressed for the low 70s and our jeans were hot in the sun during an afternoon game (with three overtimes!).
The tailgate gang is back together, and we're back to filling our plates too full with all the good options each week. At the first game, Kip and I shared our big news with everyone! They were so excited, which was no surprise considering how generous they were last year at our
Oktoberfest
shower.
While we were driving up to the game, a buddy of Kip's text him that he had one extra pass for a special tailgate before the game and to go on the field for the pregame warm-up. Kip wasn't going to say yes because there was only one, but he was driving so I said yes for him! It was his first time on the field, and I went once during college. Kip tucked the baby's first onesie in his back pocket (it looked like a bandanna) and headed off to check it all out. He even had his buddy take a photo of him holding the onesie down on the field.
I love it
.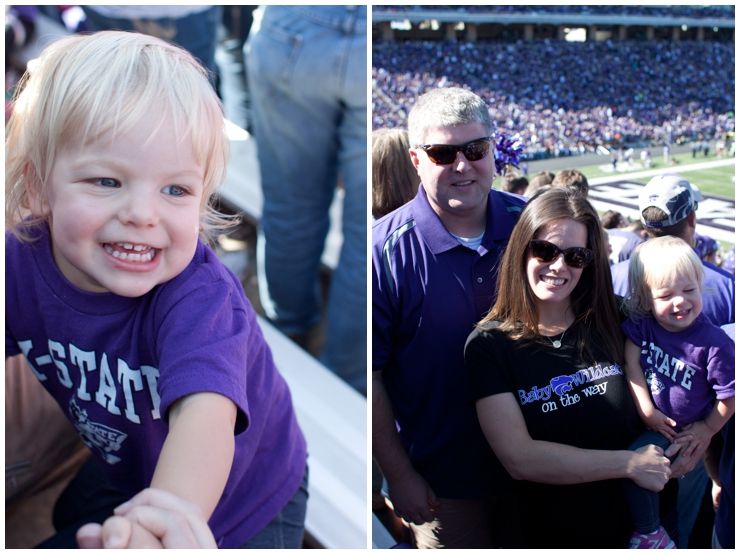 Our little buddies Collin and Maddie were back for the second game with their parents, but I didn't do the best job pulling out the camera. We tailgated, drank large McAllister's iced teas in the stadium, and watched a good portion of the game. Kip was staying to hang up deer stands, so I rode home with Erica, Jon and Maddie. We left when we thought the game was under control in the fourth quarter, but the Cats needed three overtimes to actually win it. While the Wildcats started the season 3-0, we're down a couple quarterbacks and getting a little bit nervous about the start of Big 12 play this weekend!