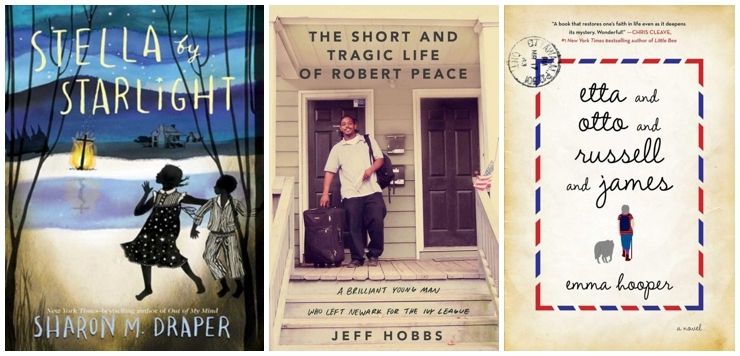 AUGUST. Oh man, AUGUST. Teachers reported back on Tuesday, August 4th, and the month of August found me often exhausted both physically and mentally. If you saw it on
Instagram
, baby Lynch is coming in February! We're so excited! The first trimester wasn't terrible but a general level of nausea and exhaustion kept me company through the first part of August. Between growing a baby and learning the culture in a new building, I didn't get much reading done. Lots of sleeping though! The new school commute is also shorter, so it doesn't feel as natural to plug into an audio book. A podcast or half a podcast has been a better fit so far. I'm not missing the time in the car though I am missing the books!
Stella by Starlight
is a story about a girl finding her voice as a writer with the background of the Great Dpression and the Ku Klux Klan in North Carolina. It's a good look at community, how writing helps students think and a good fit for social studies and reading classes in grades five through eight.
The Short and Tragic Life of Robert Peace
sat on the Kindle for a long time before I was in the right place to read it. It came highly recommended by my friend Candi, and we actually chatted on the phone about it after I finished it. It's a quick read about a brilliant young man from Newark, New Jersey. His single mother works so very hard to help him get to Yale, but he also fought his own way forward after his dad was incarcerated. It's not a surprise based on the title, that even though Robert graduates from Yale, the pull of the Newark neighborhood is too strong. It's a must read if you think schools will be the salvation for people who live in poverty. We make a big difference for kids, but there are so many factors to consider.
Etta and Otto and Russell and James
has been floating around the internet and our book club choice for August. It reads like a fine arts movie that takes place on the Canadian plans. It was a bit strange, and I like
this reviewer
who talks about how there is almost too much restraint in the writing.
And just because I told you that I'm having a baby, here are three reads about reading after babies.
What Happens to Your Reading When You Have a Baby
(written by a dad!),
Have Babies, Keep Reading
(related: people don't tell Kip "wait till you have kids" nearly as often as they tell me), and
How to Read After You Have Babies
.