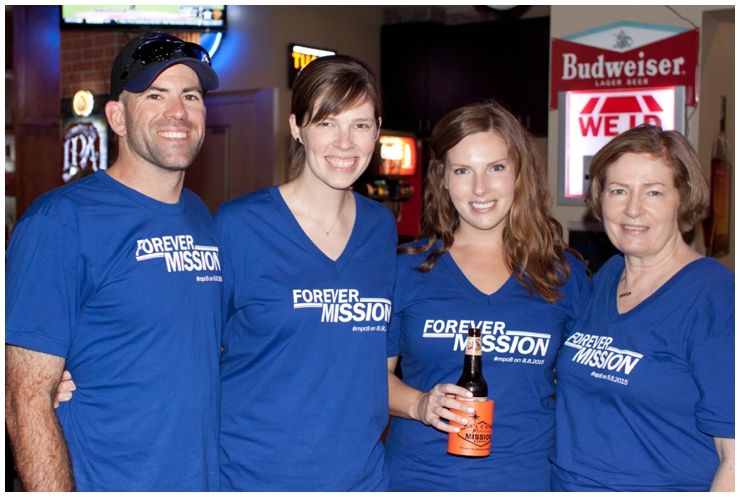 I think every year that maybe the Mission Pub Crawl won't resurrect itself or won't live up to the early glory days. But then a design for a t-shirt just clicks in my head, people start RSVPing on facebook, and before you know it we have people talking about how they are thrilled to be a part of another year of #mpc. This year's pub crawl did not disappoint with over fifty friends and fans of Mission joining us throughout the night.
The t-shirt design is a play on our favorite baseball team and their slogan for the year,
Forever Royal
. I refuse to disclose just how long I spent trying to match the fonts exactly. I can't say enough nice things about
Custom Ink
for t-shirt designs. They were willing to print our small order of sixteen shirts for a very reasonable price, free shipping and on both crew neck and v-neck tees. I also got a big kick out of the fact that #mpc8 was on 8.8!
I was definitely thirteen weeks pregnant on the pub crawl and barely eating meat again (no meat was a highlight of my first trimester!), but I felt like I was a pretty good sport about leading the troops through Mission. We ate dinner at RJ's Bob-be-que, as has been recent tradition. They do a wonderful job feeding a crowd of thirty people, and the weather cooperated for a pleasant start to the evening on the back patio. I even enjoyed a quesedilla with pulled pork in it!
A really awesome side effect of pregnancy, besides temporarily becoming a vegetarian, was the sweet cowlick that developed in my bangs on the right side of my face. Maybe it was from all the naps I took at the beginning? Regardless, you can see it really clearly above in the photo of the Luhrs Ladies + Kip.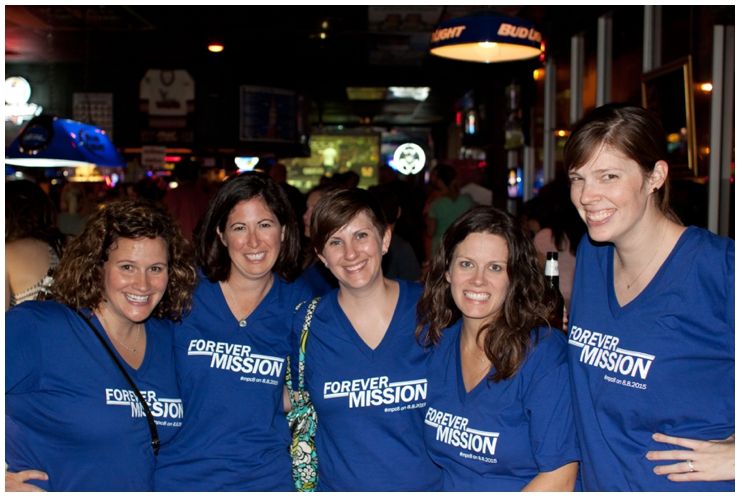 This eighth pub crawl also felt like a miniature sorority reunion. We loved having Jesi join us from Manhattan. This photo was taken in the Clarette Club, now gone from Mission but forever in our hearts. It closed shortly after our visit, and we'll probably have to add it's replacement to the line-up for next year. We also were very sad to have to skip the bowling alley this year as Mission Bowl rebuilds from a fire. We added "The Bar" and liked it, plus we've grown increasingly fond of Sully's. So much room to spread out, free popcorn and games! We never skip the Keyhole where the whole event began. Plenty of pub crawlers enjoyed Tang shots while standing elbow to elbow with regulars who look at our huge crowd with a bit of disdain. But hey, we're there because we love Mission, apparently, forever.