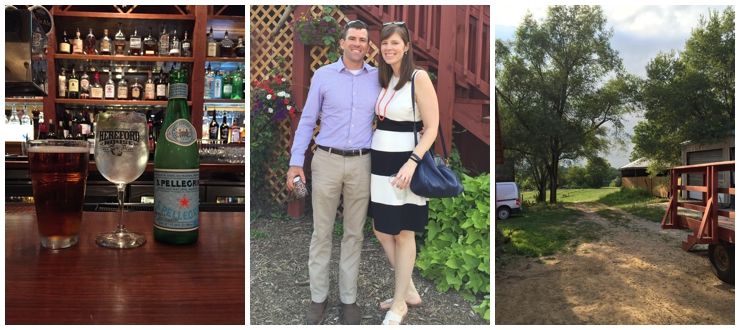 Over the last several months, I have tried to do a very quiet rebalancing of life at the Lynch house. Part of it was out of necessity as the first trimester made me tired and adverse to any invitations for backyard barbeques. But it also felt like the time to readjust how we spent our time and what was on our plate before the arrival of a baby. The littlest Lynch will probably shake things up, or so everyone loves to tell me over and over again. So I sort of silently resolved to stop booking things for every day of the weekend. If at all possible, one of those evenings needed to be marked off for dinner at home with take-out and the Royals, or tasty leftovers, or a quick bite to eat somewhere just the two of us.
I went back to work July 20th, and the transition at work was (and still is) extremely challenging. I don't think I would do the job if it didn't make me think in new ways all the time, but it can be pretty draining over the week. Kip's job has it's own challenges - between problem solving, training new guys and working in the heat, he's often totally exhausted by the end of the week. And he works a Saturday once a month too. Readjusting for more spaces of quiet felt really important, and Kip was on board too. He's not the one who overbooks us anyways.
So far it's been working pretty well, and it helps compensate for the weeks with too many weeknight appointments and meetings. It does mean that with football season and hunting, it is a long time before we are both available to make weekend plans on a Friday or Saturday night. This is obviously a struggle for me as I value my friends, LOVE to make big exciting plans, and there are so many fun things to do in Kansas City all the time during the fall. But slowly I think it also makes me more grateful for the times that are already on the calendar. Regularly scheduled book club, football car rides and tailgates, fun out-of-town guests, and a couple little weekend trips are also highlights this year, and I love all those things too.
On the last weekend in August, we worked on that new normal balance with a slow meal at the bar inside Hereford House. For our wedding, we received two gift cards and savored each one with their fantastic happy hour deals while watching the Royals. Saturday night we drove out to the Leavenworth area for a wedding at
Lamborn Farm
. Kip works with the groom, and we didn't end up knowing very many of the guests. But we like to hang out with each other, ask questions about farms and old barns, and chat about the Royals with people we don't know, so we definitely enjoyed ourselves. The bride & groom really lucked out, and it was a gorgeous evening for a wedding in late August.
If there's something else I need to readjust, it is in the measurement of these weekends and what's "accomplished." Quieter schedules do not need to translate into longer weekend to-do lists. Rachel told me recently that she saw someone with an "I DID IT!" list instead of a to-do list. Probably a more appropriate way to look at time off after really long weeks. This is still an area of growth for me, but I'm working on it. I don't really mind
being a work in progress
.