I participated in fifteen discussion boards over the five week course I took this summer. Each one required multiple posts, questions, follow-ups, and they had to be done on different days. So I didn't want to blog much while the class was going on, but I didn't mind burying myself in books. Anything to not look at the computer screen any longer.
Early Warning
is book two in Jane Smiley's series following the same family from Iowa as in Some Luck. Book pal Ginny's review is
here
, and I mostly concur. I'm not sure I liked it better - Frank makes me crazy - but I can't wait till the third book comes out in October. My mom just started the series as well, and I'm looking for more people who want to talk about how it's so much better than
Follet's latest series
. I read the first book in the series is back in
January
.
The Red Notebook
was the selection for the third annual Mother/Daughter book club. We had a lively discussion though I'm not sure everyone loved it. AND I'd like to add we had a great discussion without any discussion questions available on the internet. If you've been to Paris it is extra lovely to read, and it can be easily finished in one sitting.
Everything I Never Told You
is heavy but beautifully written. I didn't know much going in about the book, but it follows a family before and after the death of their middle daughter. It has the right balance of suspense, heartbreak and excellent character development. I had only one minor complaint when I was done, and I definitely needed to talk about it with Kate when she finished it too. It's not a great beach read, but I think it would be good for book clubs.
Station Eleven
has to be one of my absolute favorites of the year. I picked it up at an independent bookstore in Chicago, and I am in awe of the characters and stories Emily St. John Mandel weaves about life twenty years after a flu pandemic changes the whole world. It's a touching story, not a dystopia, and makes you really consider what matters and what will last. This is a good
interview
if you have read it and want to know a little bit about how she crafted the story.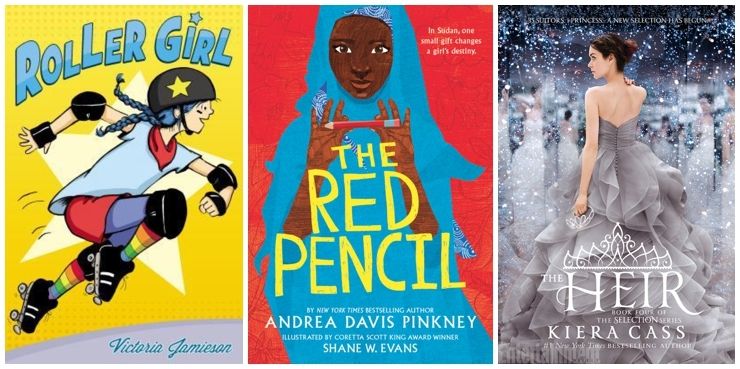 On to the young adult books of the month...
Roller Girl
is a graphic novel and should be read by anyone who loves roller derby or stories about how middle school is just rough. I thought the illustrations were awesome, the story solid, and bonus points for a Hispanic main character and a single mom.
The Red Pencil
is heartbreaking. A little girl and her sister live with her family in Sudan, where she is expected to learn to work in the home but not to read and write. She uses a stick to draw but her whole world is uprooted when her father is killed, and they escape to a refuge camp. There are few bright spots, but it's based in fact and the tough reality of the region. It is written in verse.
The Heir
follows up with our beloved characters from The Selection series and is just not quite as good. It's mostly because the protagonist, Princess Eadlyn, is not as likeable as her mother. I'm sure teenage girls will like it just as much as the first series, and I thought the male suitors were mostly charming.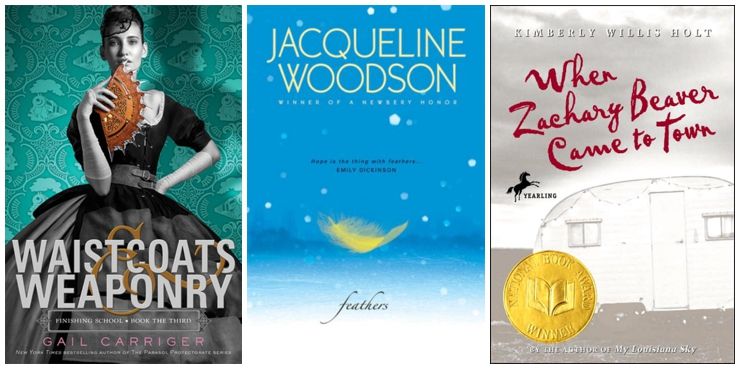 Waistcoats & Weaponry
is the third book in the Finishing School series. I love listening to the narrator, but the story is getting a bit old. One more book comes out this fall, and I'll probably finish up with Gail Carriger's books with the final book. Steampunk is probably not for me in the long run.
Feathers
is an older book by Jacqueline Woodson (author of
Brown Girl Dreaming
) written for elementary school children. I loved the way she writes and tells the story so much that after listening to it, I ordered a used paperback copy for my own piles of YA books. Frannie is a darling little character with a brother who is deaf and a keen habit of observing everyone. So many beautiful passages in this one.
When Zachary Beaver Came to Town
has been sitting around in my old building for a while, but I never picked it up. I needed an audio book for the last final weeks of commuting and grabbed it from the library. It's read by
Will Patton
(the white coach in Remember the Titans!) and an excellent Vietnam era story in a sleepy Texas town. Toby's mother has just left town to audition in Nashville and the "world's largest boy," Zachary Beaver, has just arrived in town as a side show attraction. I liked it, and I can see why teachers would chose it. I'm not sure it would appeal to our students, but I like how it pushes multiple perspectives.