Three nonfiction books in May, and they were good. But I'm a bit weary of nonfiction. It's so alluring because you get to learn something, but it's more work, even if you're just listening. I have a couple other nonfiction books I would love to read, but I'm in the mood for light fluff you can tear through these days.
A Walk in the Woods
kept Kip and I company on the trip to Texas and back. It's a longer listen, but Kip and I liked it. Occasionally Bill Bryson's point-of-view about conservation made Kip crazy (remember, he's a park management and conservation major). But his stories from the Appalachian Trail are a good companion piece to
Wild
. I also finally saw the movie for Wild, and I had forgotten a bunch of what Cheryl Strayed goes through before she hits the trail!
No one else wanted to read
Deep Down Dark
with me (except my mom!). It was the first book picked for the Morning Edition book club. It's a good thing that we know the miners live because otherwise it may have been too depressing to read. Not a quick read, but it was fascinating. I knew nothing about Chilean mining, so I learned plenty.
Tara recommended
Dataclysm: Who We Are When We Think No One's Looking
. It's a terrifying look at what metadata from the internet can tell us. The founder of OK Cupid wrote the book, and I remembered about one disc into the book that Tara said it was weird to listen to because they have to describe all the charts and tables. Whoops. It's interesting, but surprisingly, none of it stuck enough for me to reference at dinner parties. So it wasn't that interesting, I guess? Or maybe if I had read the book instead of listened to it?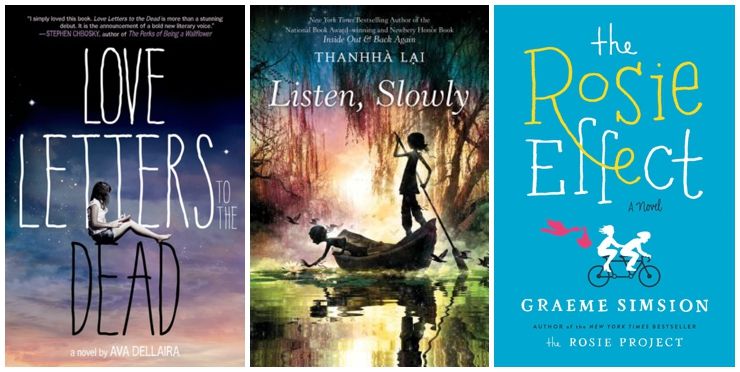 I started listening to
Love Letters from the Dead
but the CD skipped so I ended up finishing the hard copy from the library. It's dark YA lit. My friend Amy and I have talked a lot about how HEAVY some YA lit is, especially books that deal with abuse and suicide. I've read about four books this year with this major theme, and thankfully this one at least listed help line phone numbers and websites at the end.
Listen, Slowly
is from the same author as Inside Out & Back Again. I also started listening to this book but gave it to my mom and finished the story in the book form from the library. The audio is better - hearing the Vietnamese pronunciations are powerful. The twelve-year-old has to accompany her grandmother to Vietnam for the summer as they try to discover what happened to her grandfather during THE WAR. (That's how they say it in the book.) Mom and I both liked it, and it's a good one for the
#weneeddiversebooks
movement.
For book club we read
The Rosie Effect
, the sequel to
The Rosie Project
. It was okay but the first one is way better so I'm not in a hurry to tell you to read this one. Of those of us who read it, only one "I loved it!" at book club.