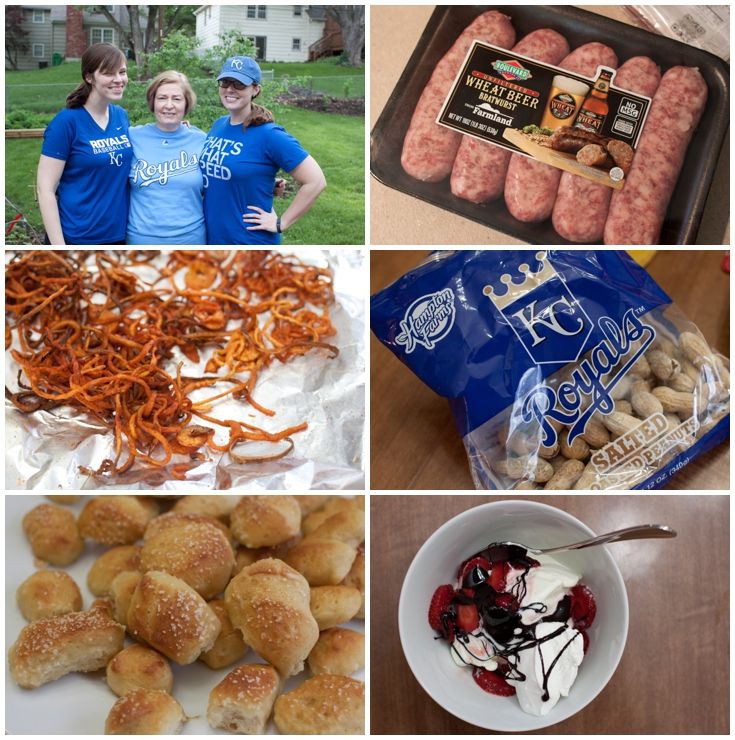 This weekend is Father's Day, but back in May we celebrated Mother's Day with our mom! We decided to create the "Kauffman Experience" at the Lynch house. The Royals played at Detroit for Sunday night baseball, and we wanted to celebrate Mom with sports. It's fitting for the Luhrs Ladies! Everyone came over about 6 pm for snacks and to eat before the game. Of course Mom and Lu showed up in Royals gear. Kip refused to cooperate and wore purple, so he got to take the photo instead of be in the photo!
Kip grilled some brats and hot dogs for the main dish. Lauren got a spiralizer, and it's pretty marvelous. She made these delicious sweet potato spirals for us. I love a good impulse buy and snatched up these Royals themed peanuts at Hy-Vee sometime recently. We love soft pretzels at the ballpark, and
these pretzel bites
were surprisingly easy to make. And finally, for dessert, fresh strawberries, homemade
chocolate syrup
and custard from Sheridan's. We miss having fresh custard at the K, but Lauren picked some up for Mother's Day.
Simple but fun way for us to celebrate Mother's Day, especially as we all have a serious case of Royals fever. We're probably going to watch the All Star game for the first time in a while because it will be like watching another Royals game! We are certainly "forever Royal."