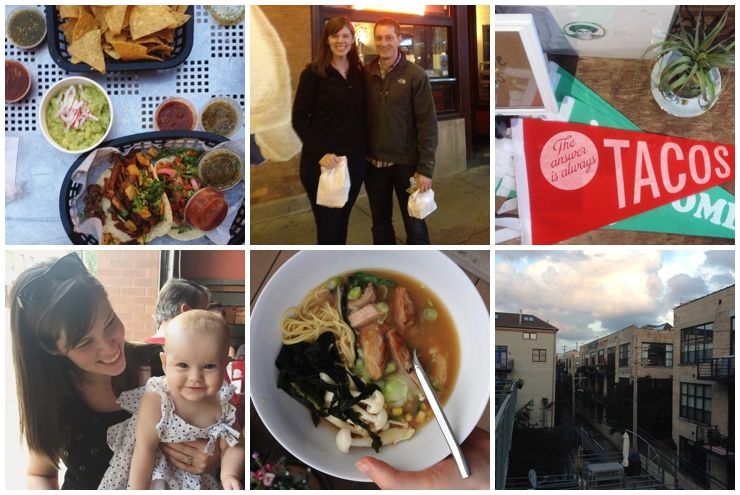 Most of these square photos I posted on instagram, but not all of them. On Friday night when I arrived, Jennie and I met my friend Dereck at
Big Star
for tacos. My trip to Texas with Kip where we ate
these tacos
might have ruined me on a lot of other tacos, but these were good and hit the spot after traveling. Kip and I are STILL talking about those tacos in Dallas on a regular basis. Because as the banner says, "The answer is always tacos." I had admired that banner
online
before I found it in person at a cute shop in Logan Square.
It was chilly when I arrived on Friday night, so we wore our jackets and sat outside on the patio. I ate a socially inappropriate amount of guacamole - it was so so good - and caught up with Dereck. I also learned that Jennie doesn't like cilantro, something I feel like as best friend I should have already known. For dessert, we stopped at
Glazed & Infused
for donuts. Kansas City isn't big enough
quite yet
to have a donut shop open till the late hours, but one of these days. That's how I will know this city has really arrived. The best donut we tried? A very classic one with sprinkles, obviously.
Saturday night, Jennie and I took Miss Grace to eat at a pizza place that was good but mostly significant because it was next to a place with cake balls. Those were so amazing we went back on Sunday to try other flavors. Sunday while we were out exploring, Joe was preparing. He made ramen, totally from scratch, and it blew my mind. This isn't the first time I've been wowed by
Joe's cooking.
Very impressive attention to detail and the broth was loaded with flavor - Joe seriously worked for hours on it. If you are curious about ramen,
read up about it here
because Kansas City's getting our first ramen shop this summer. Kip does not care for Asian food, so let me know if you want to check it out with me!
Jennie and Joe live in a condo with two balconies and a fabulous view. I took this last square photo of my view to send Kip when I was talking to him one evening. I was a bit sappy about missing my husband for three whole nights. I love that guy and loved
hearing about the shelves he was building
while I was away!