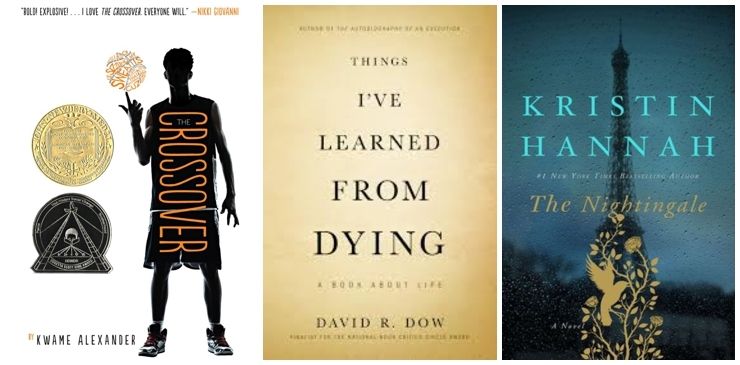 We're looking at one more week with students, and the days are packed full of field trips, wrap-up meetings and planning ahead for the next school year. It's impossible to not look back at the year and plan forward, wanting to tweak and modify and dream bigger for the next year.
I read/listened to six books in April. Here we go:
The Crossover
won the Newbury this year. Written in verse, it's PERFECT for middle school basketball loving boys. So long as they are willing to try a new genre. The format is a great blend of spoken word rhyme or free verse and more traditional narrative sections. The main character and his twin brother balance a love of basketball, family, and school. Kwame Alexander has a gift with words, and the cover art really helps.
Things I've Learned from Dying
came from Kate's suggestion that we pick nonfiction for a no-host book club. It was on several "best of" lists for 2014, and it's a critical look at death row and the death penalty, especially in Texas. David Dow weaves his story about his work on death row along two other stories about death in his personal life. Discussion was
lively
. This
TED Talk
connects and is worth a listen if you think the book might interest you.
The Nightingale
came highly recommended post spring break when a teacher down the hall couldn't put it down. When I sent the link to Kate, she said, I try to limit my WWII fiction each year. She was right. The Nightingale is very, very good, but the comparison to
All the Light We Cannot See
was too strong. I drug my feet while reading it a bit. I'd still recommend All the Light We Cannot See over The Nightingale, but they are both really good WWII stories. The newest Morning Edition
book club choice
is another WWII story, and I think I'll have to pass for now.
Ignore the picture above because actually
Etiquette & Espionage
comes first in The Finishing School series. Book two is
Curtsies & Conspiracies
. These brilliant books by Gail Carriger made my commute in April just fantastic. They are from the genre
steampunk
which is new to me this year. The genre takes a time period, often Victorian England and adds in things that don't belong. In this case it was mechanical maids, vampires and werewolves. And I LOVE IT.
I know that it sounds really weird, but if you are like the millions of humans who love the magical world of Harry Potter, it's not that much of a stretch. A whole world created with fantastic characters and strong female SPIES. And it's narrated by a wonderful woman who does the voices of all these characters perfectly! It's like a movie happening in my car, and I've made a special request for the third audiobook to come to my library from Illinois or somewhere else far far away because I loved the audio version so much.
Remember when I convinced all of my friends to read the summer series starting with
It's Not Summer Without You
? The author has a new book,
To All the Boys I've Loved Before
, which is the start of another series. My friend
Ginny
already read and reviewed it, and I'm ready for book two to come out as well. It's a good book for 14-year-old girls and people who have had a first crush, so basically, everyone.