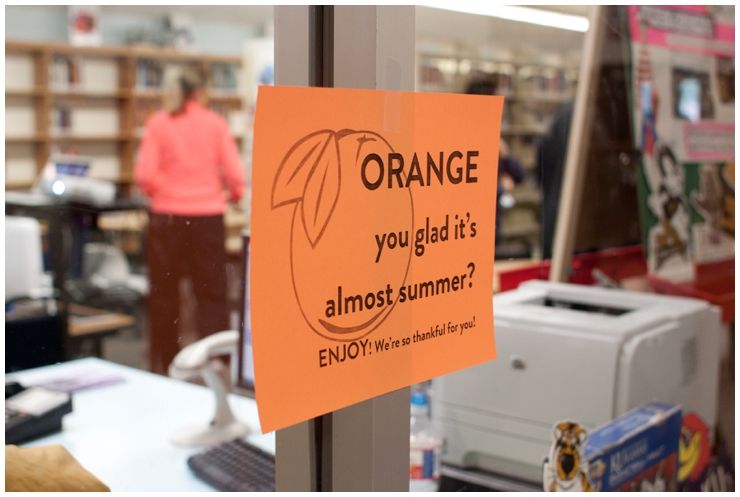 It's that time of the year again. Teachers are packing up their rooms and getting ready for a well deserved summer break. On Wednesday afternoon, we had a spread of all the orange treats and foods our principal could find at the store. "Orange you glad it's almost summer?" We've had so much sugar in the last month at school that I'm also ready for the summer junk food detox.
It's a little different time of the year from my perspective as I will still get up and go to work for the next three weeks. This is okay with me as it's mostly work that I love, and I'll be learning some new things to help me in the coming year too.
It's also different because I'm packing up to move to a new school. In my position as teacher leader, I technically work for the district and not my principal. A couple of weeks ago, my boss at the district level came to my office for a short "check-in," and she gave me my placement update for next year. I had no idea it was coming until I received her email setting up the meeting, and I've felt all the feelings since then as I process the change.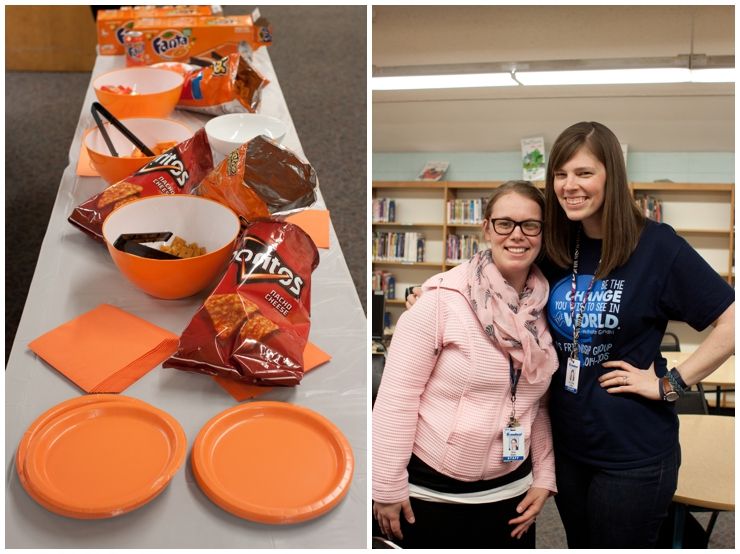 Telling my staff was terrible. I told a couple people before the announcement, and when I announced at staff development, there were a couple of dramatic gasps. It's been an awesome four years here, and we all definitely felt like we were in the middle of big projects with literacy for our students.
Since then though, I've been working hard to transition some of the projects to others in the building. My friend Amy (above) is the one I'm always referencing when I talk about young adult book recommendations, and she will do an awesome job carrying the torch for books in our building. She'll lead the Reading PLC and continue to build reading culture with some projects we've cooked up in the past couple weeks. There will be a new teacher leader, and hopefully soon I'll be able to tell her or him about the things I've been coordinating and coaching. I have a pretty big document with all of the projects, details and related tasks!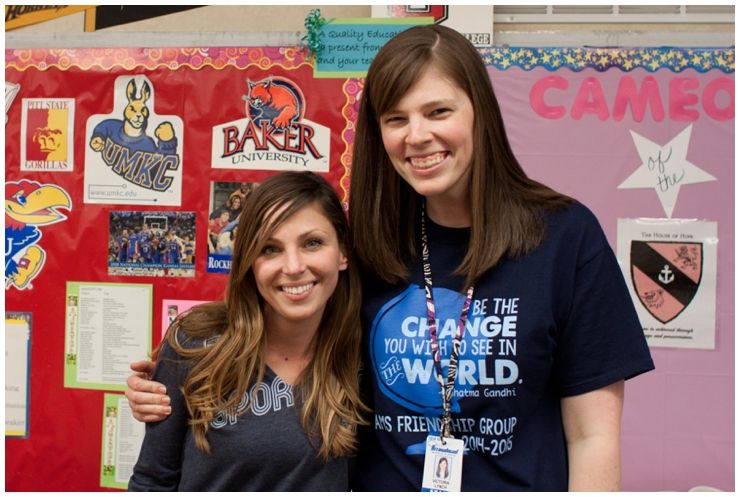 There are great teachers at my school, and I will miss working with them and their students. Emile' (above) teaches lifeskills and working with her students off and on over the past three years has been one of the highlights of my job. I will miss facilitating professional learning in the library and sitting around the table with the best building literacy team in the district. These adults have partnered with me on so many crazy projects in and out of the classroom We've made big gains with instructional planning, done reading rallies and gone on some great field trips together. My principal probably deserves her own post as she has mentored me not only at my job but also in life.
This is also the school where I figured out the role of teacher leader and tried to find my own style as an instructional coach. For the first couple of years, whenever someone asked about my job, I would say, "Well, adults aren't as much fun as kids." And then in the middle of the 2013-2014 school year, my answer to the question changed. I was so much more positive about the work I got to to do with teachers and students and willing to have more of the tough conversations necessary. I found my grove in literacy and coaching social studies teachers.
So because I love my job and because I think the work is really important, I'm slowly getting excited about going to a new school. It's in a very different part of the district and in a neighborhood that I adore. I already know about a half dozen teachers there, and I get along great with one of the assistant principals. She's a K-Stater that was at my old school for my first three years.
I like a challenge and new adventures, so a new job is next on the list. I will move all my books into a new office and start the school year on July 20th at a new building. I've been picking the brains of other teacher leaders who have been moved a few times to try to learn some helpful hints for building relationships and transitioning.
This is the end of my tenth year working in middle schools, and I've been fortunate enough to work in three unique buildings with three dedicated staffs. I said
goodbye once before in KCK
and at a school in
Virginia
where I taught with so
many awesome people
including my best friend. So here we go again!