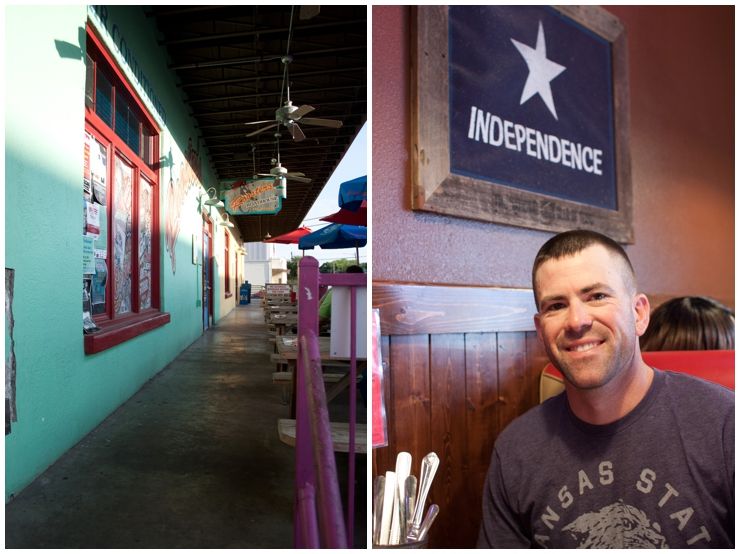 The hotel for Lindsay and John's wedding was in Denton, north of Dallas. We knew that we wanted to make the most of our time and weekend away, and we got a good start for Texas on Friday morning. We would need to make the seven hour drive again on Sunday morning to pick up our dog from the kennel, so we had basically Friday night, all day Saturday, and Sunday breakfast to explore and relax. The drive ended up taking us eight hours on Friday to get to Denton thanks to some awesome I-35 traffic that almost pushed Kip over the edge.
Once we arrived, I was ready to explore Denton. I had planned ahead to make the most of our short time there. I did some yelp reading and checked the local tourism site, but our best recommendations came from one of my mom's sorority sisters who has lived in Denton a long time. Karen sent some notes about her favorite restaurants, where to get great beer, and Denton establishments for breakfast. For Friday night, we started at
Rooster's Roadhouse
.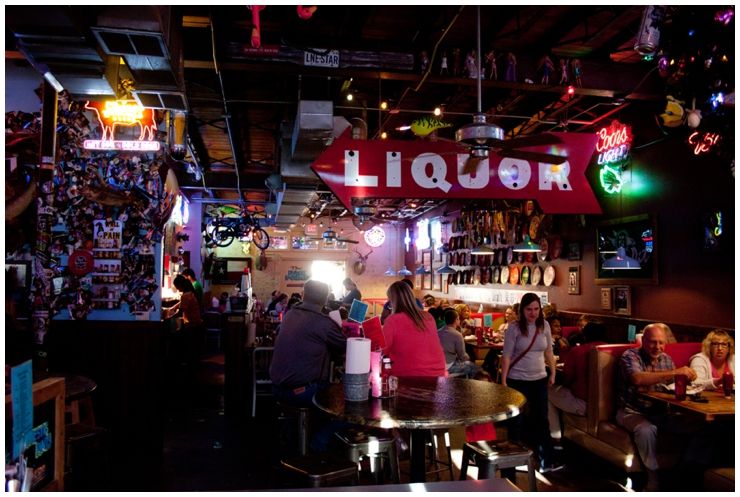 It was full of locals and loaded with memorabilia covering the walls. We ate fried pickles, ridiculous bbq sandwiches and nachos with pulled pork on them. A very serious question we have been asking ourselves ever since is why there are not more restaurants in barbeque loving Kansas City that serve pulled pork nachos? Or if there are, why don't we know about them? Help us out, please.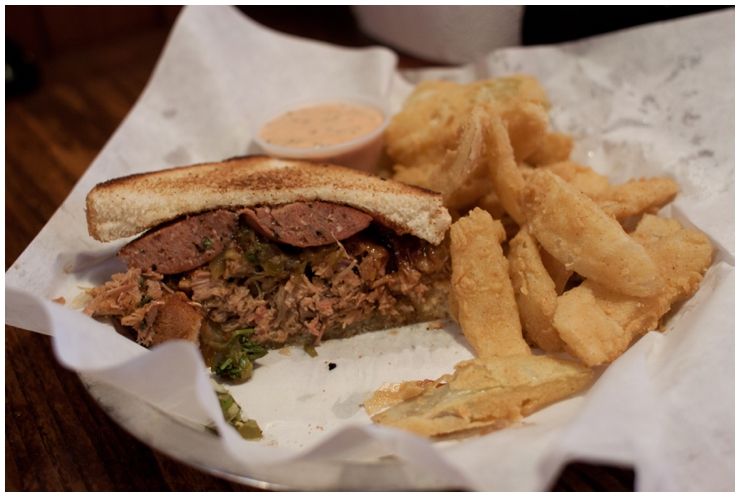 Here's the sandwich I was telling you about with "rooster tails" on the side. They are one of their signature dishes with thick pieces of onion fried up for easy dipping - imagine half onion straws/half onion ring. Rooster's Roadhouse has been on Food Network - it's legitimately good local food.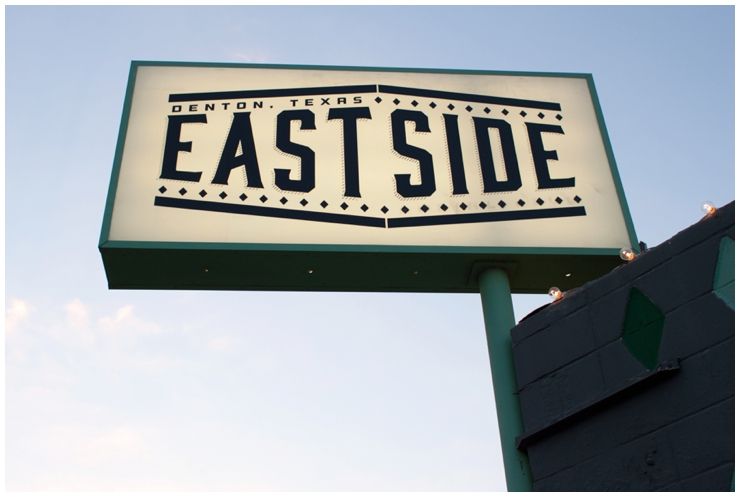 Karen's next recommendation was perfect. We wandered towards
Eastside
and walked in to find computer screens listing their selection with over 80 taps. Each beer description included the brewery's location, one of our favorite features as we like to try local beers. We each chose one and walked out to the backyard.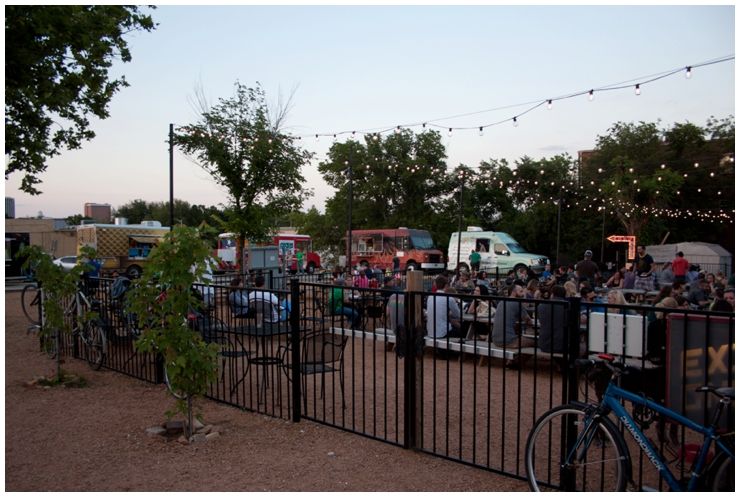 It was a perfect, comfortable 70 degree evening, and the long picnic benches were filled with all sorts of people enjoying the gorgeous weather. The patio was surrounded by tempting food trucks (WAFFLES), but we had stuffed ourselves silly at dinner. If I have one regret about our trip to Texas, it's that I didn't eat a waffle.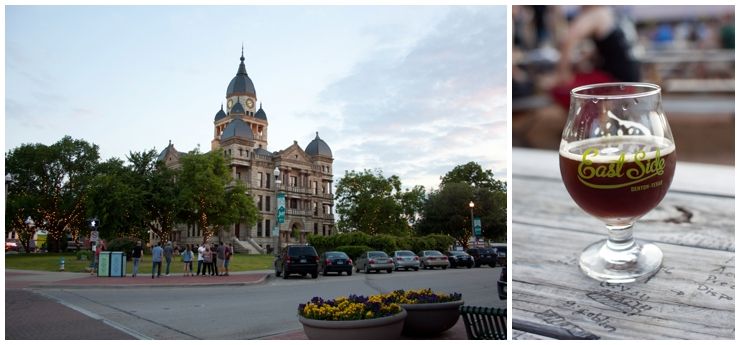 At this point I should tell you that Kip and I pretty much stopped talking to each other and spent a lot of time people watching. Little did we know, but we found ourselves in some sort of hipster mecca with all the ponytails and tattoos to be found in north Texas. After
we finished our beer
, Kip and I walked through the square with the courthouse in the middle. We were loving the weather and exploring on foot.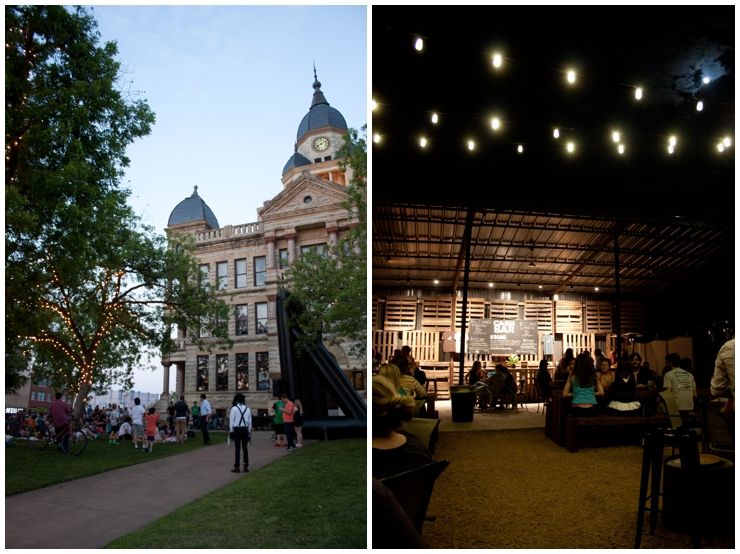 In the square there was a free Friday night film, so we stopped and watched the people gathered under the trees for a showing of Edward Scissorhands. There was even someone dressed like Johnny Depp's iconic character! The movie was sponsored by a local church and Eastside together - a fun combination.
We weren't ready to call it a night so we kept walking till we found
Harvest House
. My mom's friend Karen had recommended another place with fantastic beer list and a gorgeous beer garden! They were into pouring samples here, so we got to talk to the bartenders about we like, and yet in the end we both picked the same beer. I hate doing that - I like when we both try something unique! But they pegged us well so we sat outside, enjoying our date night and good beers together.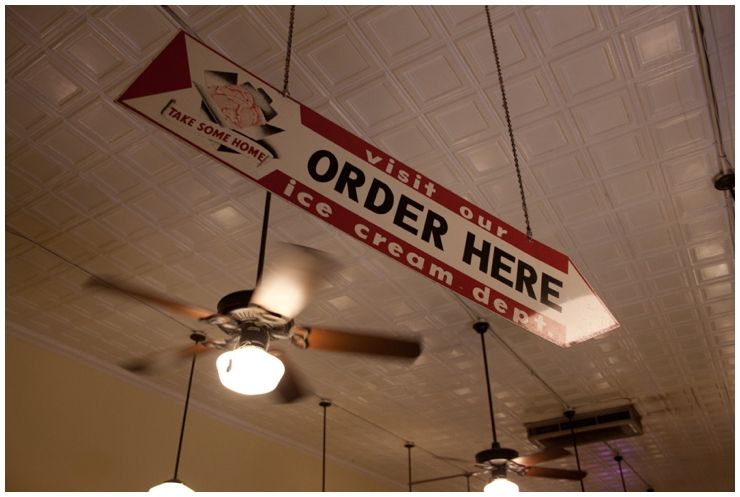 Maybe I was wishing that we had had the waffles, but I wanted to finish the night with something sweet. I almost never want ice cream at home while Kip eats it four or five times a week, but it regularly finds a way onto my vacation agenda. We waited in line at
Beth Marie's
while I contemplated the long list of flavors. I settled on s'mores and a scoop of the banana too, and Kip and I shared a small taste of both. We were happy that night - Denton far exceeded our expectations, and we were charmed by this north Texas town.