Ten books looked too crowded in one image. And probably in one blog post, so I'll break it up a bit.
Astonish Me
is Maggie Shipstead's second book. I'm on record as not a huge fan of her first book,
Seating Arrangements
, so I didn't pick this one for a long time. I loved it though, full of beautiful writing and carefully crafted characters. It's about ballet, Russia, and family. Not everyone is likeable (my complaint about her first book), but it's so much better because the story holds it's own.
Out of the Easy
was handed to me by one of the targeted literacy teachers at school. It's been lurking around the shelves at school, but I hadn't picked it up. I read the inside flap and knew I would like it because it takes places in the French Quarter in the 1950s. I know all the streets in the book and can picture it in my head. But hold up: the main character, who I adored, has a mom who is a prostitute and works in a brothel. YEP. It's definitely "off page" and never explicit, but I was a little bit surprised it's widely available at school. I've never seen a kid reading it so I suspect it doesn't appeal to a lot of our students. I loved it and promptly sent it to my aunt to read after her New Orleans trip!
The Girl on the Train
is the buzz book and our March book club selection. It is constantly compared to Gone Girl, and I know why, but it's not really for me. It's too much of a thriller. If you liked Gone Girl, then go ahead and add this one to your list.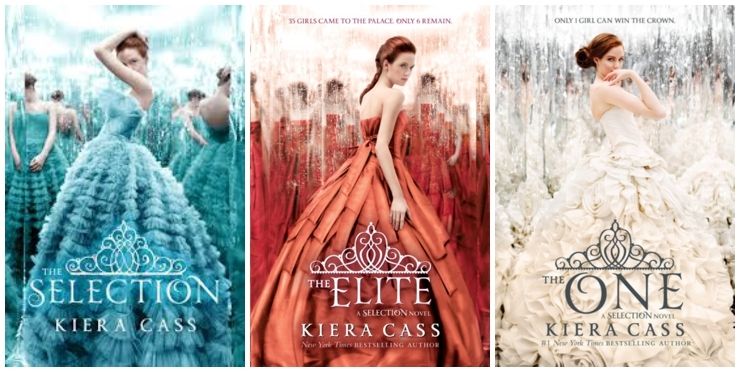 I started this series over spring break and finished it less than a week later. Le sigh.
The Selection
series is essentially Hunger Games meets The Bachelor. I know, you're sold too. It's incredibly easy (a high-interest, low level series for those of you in the biz) and addictive. During the second book, I realized that actually I am a 12-year-old at heart. This PG romance was good from start to finish. I was able to overlook my pet peeve that authors who write trilogies don't actually ever wrap up the story because I loved the story so much.
The United States is gone and replaced with a new country. The prince needs a wife so 35 women from all the castes (seven besides royalty) report to the palace to "compete." The main character, America, is from the fifth caste and leaves behind a boyfriend that she probably couldn't have married anyways because he is a six. It's very Peeta/Gale if you ask me. Book four comes out in May. Trying to resist the
pre-order
. It's not fancy, but it's awesome. I haven't binge read a series like that since the time I convinced all of my grown friends to read the
summer
series
.
As an aside, if you do read this blog and have an upper elementary aged kid who may be interested in the Hunger Games thanks to the movies, this is a good substitute recommendation. It's intriguing and dystopia, but the violence (even though there are rebels!) is much tamer. There's no pointless killing of children until the third book, and when the one character is killed it is portrayed as a tragedy.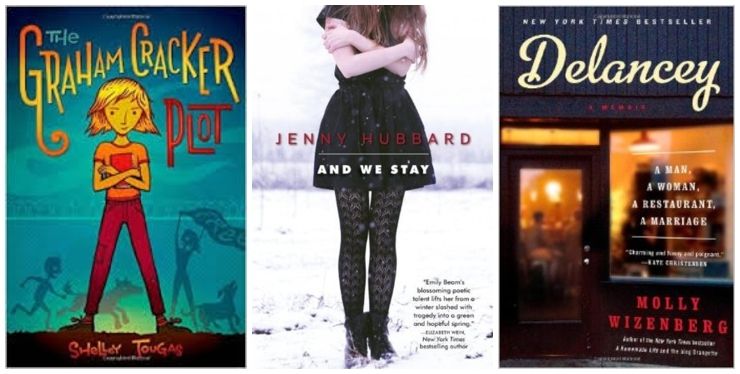 I also listened to three books this month.
The Graham Cracker Plot
was research for school, a book I want to order for our direct reading classes. It was read by a child actor, and it was a struggle for me to listen to the kid read the story. It's a good pick for our students, and I'll be ordering this caper tale for the fall when it comes out in paperback.
My mom and I both listened to
And We Stay.
It's young adult and follows Emily Beam as she starts at a private school in Vermont. In the months leading up to her enrollment, her boyfriend walks into the school and after threatening in the library, takes his own life. Emily is a poet conveniently studying near the home of Emily Dickinson, and the poetry makes it truly special. It's similar to
Belzhar
, but in a race, I'd recommend And We Stay.
Delancey
is written by Molly Wizenberg who also writes "Orangette." I'm not a reader of her blog, though after finishing the book as quickly as I could possibly listen to it, I've looked up and read all about the restaurants she owns with her husband. Kansas City is a food town, so the memoir gave me an inside look at all the work it takes to open a restaurant. Spoiler: it's a crazy lot of work. I loved the way she reflected on the whole experience with her husband, and I even liked listening to the recipes read aloud. And now I want to go to Seattle.