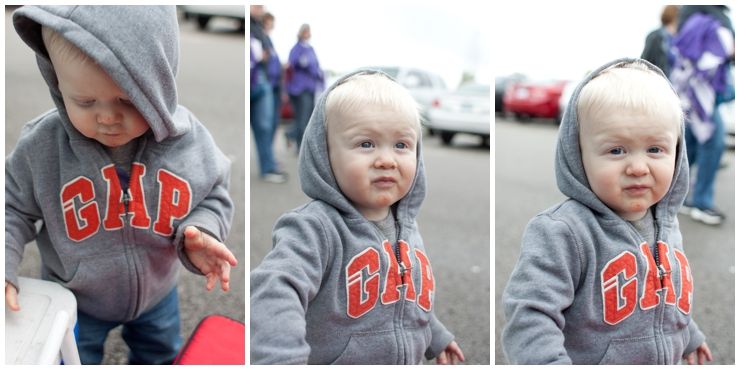 K-State's football stadium is undergoing improvements and a major construction zone in anticipation of a new fancy north end zone for football season. The wise folks at K-State decided to move the game to the Sporting KC stadium in KCK and branded the day "K-State in KC." We haven't been to a spring game in quite a while, but a chance to hang out and see K-State football in our backyard was too good to pass up.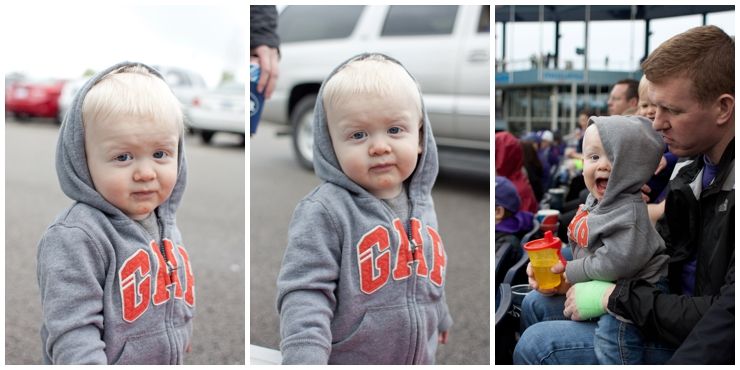 We "tailgated" before the game with some beer and snacks. It was a cold and grey day, and we definitely experienced some fine mist/rain as we waited for the game to start. Anne, Ashley and Collin met us out there, and I had fun trying to capture his darling facial expressions. He just turned one, and he's pretty awesome. After a while he even let me hold him!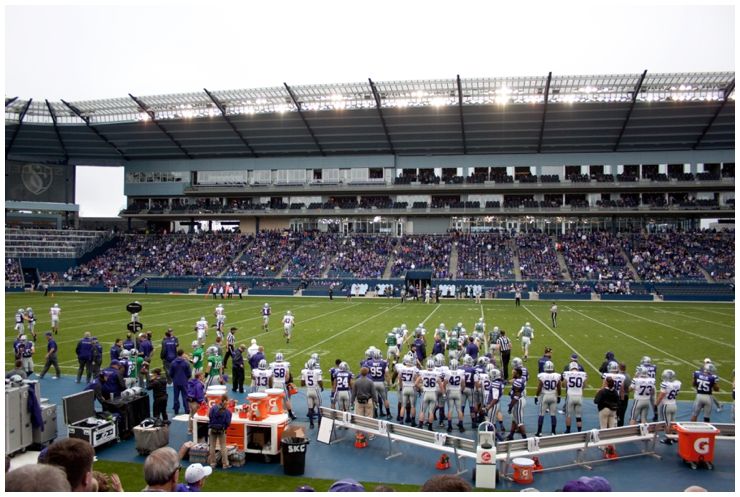 We could get great seats pretty inexpensively and sat at the 50-yard-line behind the benches. They gave us an awesome view of the field and also kept us out of the wind that whips around the top of the stadium. Kip paid more attention than I did, but I think he enjoyed seeing some of the players, especially the freshman quarterback from Hays, America.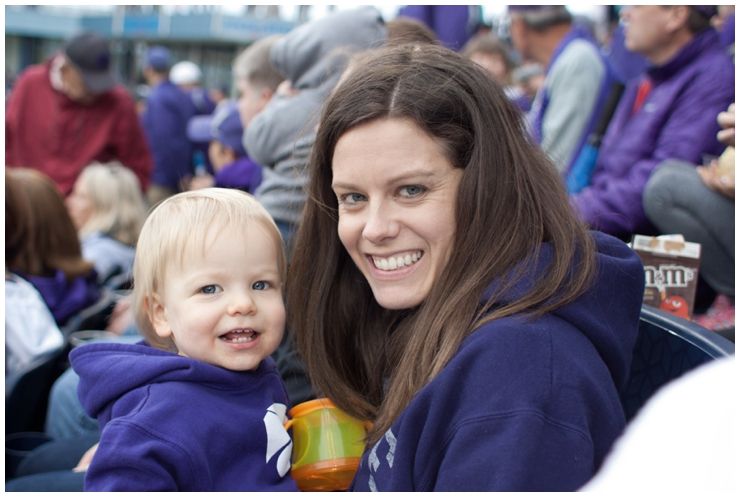 Erica, Jon and Maddie joined us for the game too, and the kids did pretty well! There's definitely a little more room for maneuvering in the seats here than at K-State. Kip captured this picture of Erica and Maddie - she loves everybody, Kip included. We had brunch the next morning after the Trolley Run, and she made a game of being passed around the table. We all obliged.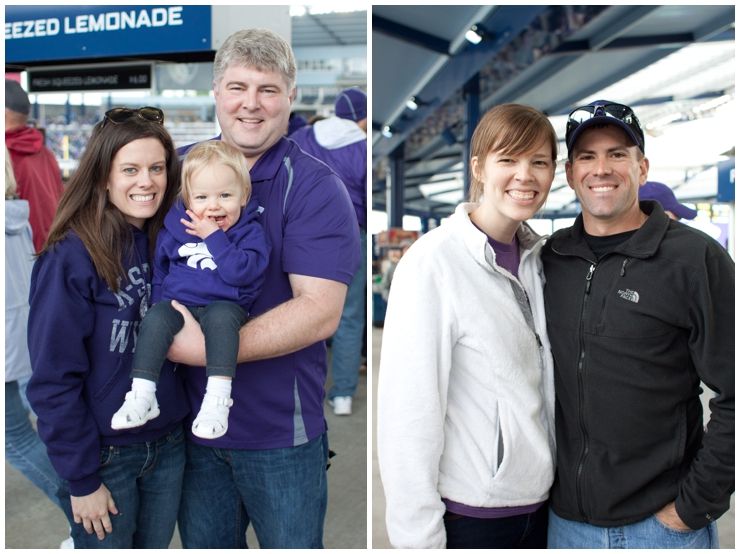 I've been inspired by the Blurb book I posted about last week to do a better job with vertical pictures. Kip and I are both wearing K-State shirts, but you can hardly tell with our jackets on. The Andersons did a much better job as a family wearing purple! Kip points out that it looks like Maddie is about to whistle for someone's attention.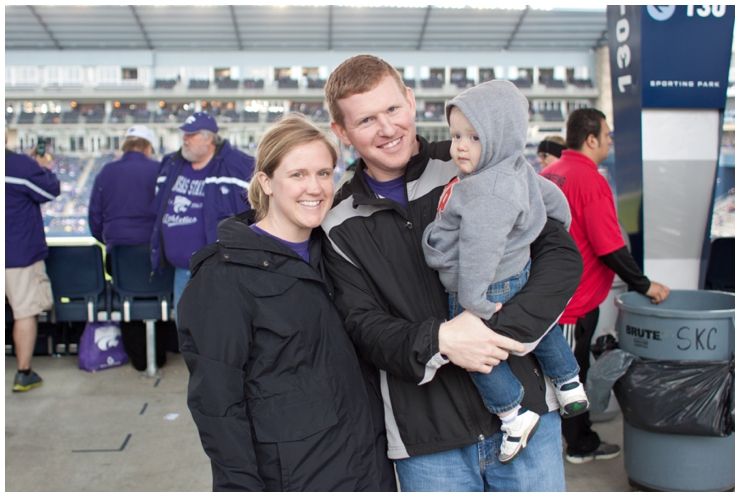 We made it to the third quarter. I'd like to start a petition that maybe the spring game could be shorter. We got the idea after two quarters. However, I am sure there are hard core observers who learned a lot by watching the glorified scrimmage. I couldn't even tell you which team was winning when we left. Maybe the White team? Maybe Purple?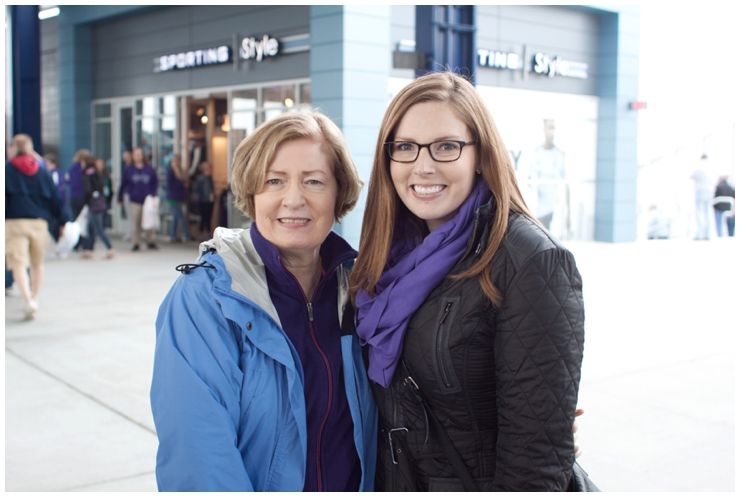 We were sort of hungry again as we left Sporting so we stopped at Panzons for classic Mexican fare. Mom told us that she and Dad used to take us when it was in downtown Lenexa, but neither Lauren or I can remember any location besides the 87th street classic that our family has loved for years. I think it's the perfectly fried flautas and blue corn tortillas on the enchiladas that bring us back.
It was a short preview of football season that is still four months away, and now we'll go back to baseball season. All the Royals games, all the time in our house. It's pretty spectacular. #foreverRoyal