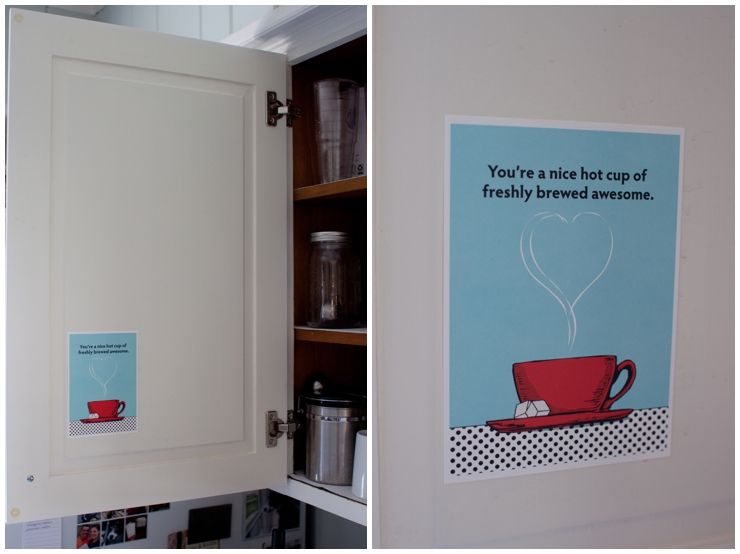 We've been married for five months now, and I think if you asked me about marriage in the first couple months I only had one major complaint: the early mornings. Kip is in the shop ready to work by 6:30 every day, and I really should walk out the door by 6:55 to beat the students to school. The alarms (yes, plural) started going off about 5:10, and the shock was brutal. Especially because I went from NEVER snoozing to sharing a home with someone who likes the snooze button almost as much as he likes coffee.
Research is on my side
, however. Kip would argue that I'm in the minority in my snooze dislike.
So gradually I've shifted to getting up earlier and having more time at home before I go to work. It means I get to start drinking coffee earlier. I'm still late at least one day a week because I always think I can get more done in the morning than I really can. Mornings are better now, and I like starting the day with Kip. Ask me again in the summer when he has to get up that early and I don't. I'll either learn to sleep through it, kill his alarm clock or walk the dog.
Being married to a morning person has some perks. Kip grinds the beans and makes the coffee, so I had to purchase that cute card at Paper Source and post it inside the coffee cabinet for him to see in the morning. He often helps with dishes if we both got too tired the night before. We've made getting breakfasts ready for him a team effort, and our freezer is always full of breakfast sandwiches and breakfast bowls. Kip used to stop at QuikTrip for breakfast nearly every day, but we can make similar items at home pretty easily. He just pulls one out the night before to let it defrost a bit in the fridge overnight. I still have a smoothie almost every morning thanks to the wonders of the Vitamix. And of course coffee. I can't even remember the days when I didn't start with coffee.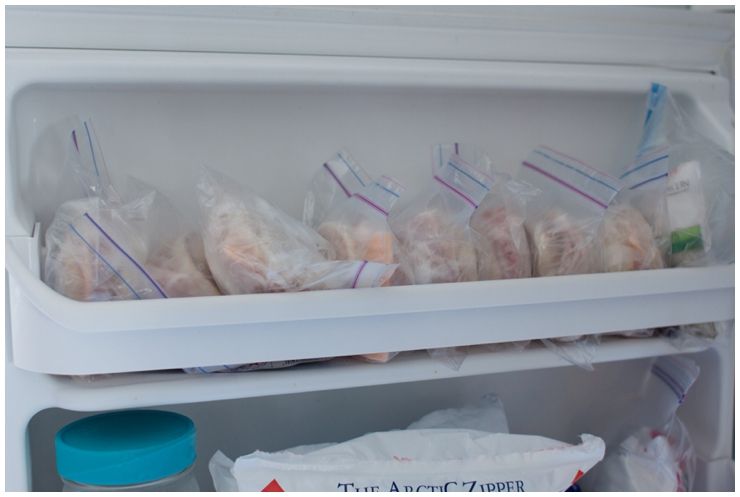 And in case you are interested in our make-ahead breakfasts, here's what we like and how we have modified to make them work for us.
Freezer Breakfast Sandwiches
We like that they are super easy to make in advance. The eggs magically pop out of the ramekin at the perfect size for the English muffins. The ham is yummy, though Kip has also made them a couple times using one pound of breakfast sausage made into six equal size patties and cooked before freezing.
We don't like that the eggs can sometimes make the ramekins tricky to clean. The egg/cheese/meat mixture warms up at different times, so Kip often microwaves just the egg first before the ham or sausage and cheese. And he throws the English muffin in the toaster so it doesn't get soggy. Total time here is still less than five minutes, I just want you to know the truth. People seem to exaggerate the wonders of heating breakfast in the microwave which is why I've stayed away from breakfast burritos. I have a tough time believing the eggs would get warm without totally making the tortilla a soggy mess. Let me know if you have a trick I'm missing.
Country Breakfast Bowls
Kip likes that they are filling and warm. Our modifications include adding a pound of crumbled breakfast sausage and a little more cheese. I usually saute some onions and peppers (one of each) to add to the bowls too. I like the potatoes when they come out of the oven roasted and delicious, and there are always a few missing by the time they get into the bowls.
I don't like that they are kind a lot of work. Thankfully this recipe with the added meat, veggies and cheese makes 8
Ziploc
containers, about 3 cups each.
Overnight Steel Cut Oatmeal
Rarely in our rotation, but we've made enough times to appreciate these jars of oatmeal. Particularly good if I'm working out in the morning because I can take it and zap it at school. Kip likes that with 1.5 servings he can get pretty full. I like it with whatever fruit we have on hand. And we both like them with brown sugar. An excellent use of our mason jar surplus.