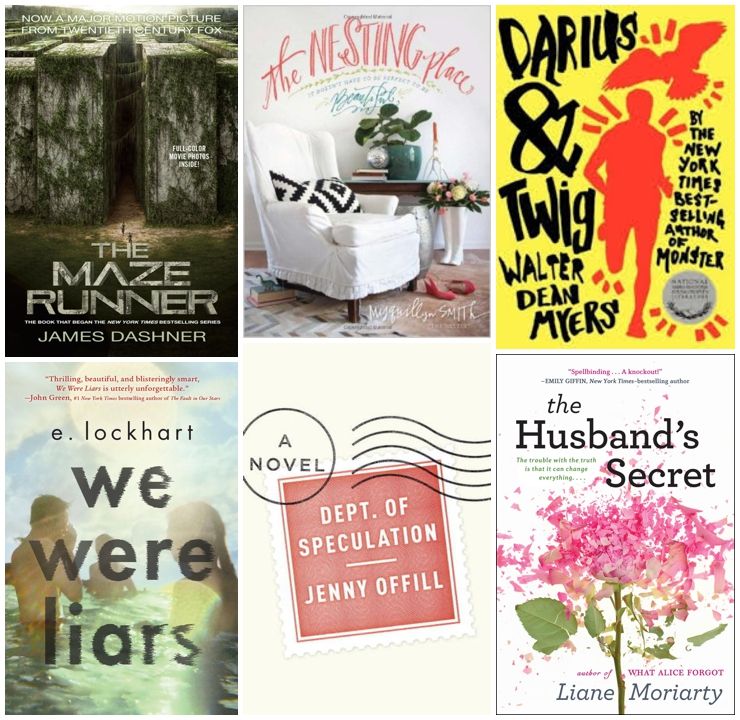 Two audio books, two hardback books, and two books on the Kindle. February was short but rich.
The Maze Runner
is a movie and a
very
popular book around the middle school. Thankfully my book friend Amy told me to give it 60 pages (59, actually) to let it get going, and then I was pretty hooked. It's
horribly
violent. This dystopia fiction that young adult readers like is pretty morbid, and I was shocked by the body count by the end of the book. I haven't seen the movie, and I might if I could find it free or streaming somewhere. And as is also the case with most young adult books, it ends ready to take you to the sequel. This is a pet peeve of mine because authors get to avoid any sort of closure. If you have a middle school student, you should probably read it. Otherwise, I think you can pass on this novel all the teenagers who die at the hands of mad scientists.
I bought
The Nesting Place
on Amazon so that I could get free shipping on my Prime order and because Lindsay Letters hand lettered the cover. True story. I don't read the author's
blog
, and even after I finished the book, I still am not motivated to add it to my reading rotation. But she does make some beautiful points in the first half of her book about the purpose of a home. I actually underlined a few parts while I read. Here is one of my favorite quotes I have returned to as we work hard around our home:
As women, we ache to believe that real beauty can be found in the midst of imperfection. We are crying out for permission to lower our standards. Let yourself know: permission granted.
Real lived in homes don't look like the ones in the magazines and on blogs every day. They look like people
live
in them.
Darius & Twig
is one of the newest books by Walter Dean Myers. He's pretty much a middle school staple, but I'm not as good at reading YA books for boys. He tells two believable stories about young men growing up in Harlem who are torn between their dreams and the harsh reality of their neighborhood, but he does it through powerful imagery and metaphors. It definitely is more than meets the eye. I listened to it and ordered some for some kids at school to try too.
We Were Liars
held me from beginning to end while I listened to it. In contrast to Darius & Twig, the main characters have a summer ISLAND off Martha's Vineyard. It's a fascinating look at family, betrayal, and privilege told through the teenage narrator. People with summer homes always make interesting (
but not always likeable
) characters for me. It is a mystery, full of layers of plot and character development. It's Young adult literature I would totally recommend to an adult.
Dept. of Speculation
was recommended by two of my favorite
Pop Culture Happy Hour
friends, and I impulsively grabbed it at the local library in the checkout line. I read it in two sittings on a Friday night. The story is told from "the wife's" point-of-view - we don't know her name. About half way through it switches from first person to third person omniscient. Without reason. A couple of weird styling things aside, it was a good story about marriage. Occasionally painful, but hey, that's life.
Pretty much everyone in book club loved and raved about
The Husband's Secret
. I finally read it about two months after I read and loved
Big Little Lies
. I might have enjoyed it more, but as my second Lianne Moriarty book, it fell a little flat. Three narrators again, and one that I didn't care for (neither did
Ginny
). I would really like someone to talk to me about this. Is it okay to make your books so similar? Or is that what people expect when you are a bestseller so you have to stay true to form? The New York Times calls her technique "
stalling
," and I'm probably going to agree. I'd totally read another one of her books, I just might need to space them out some.