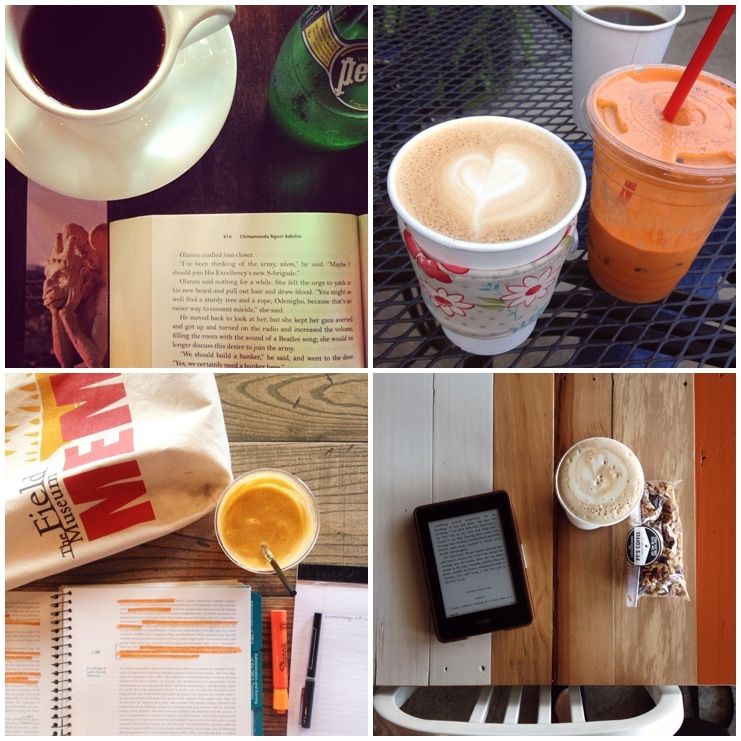 Happy spring break! We spent the weekend in Manhattan visiting my in-laws, and Belle spent the weekend going in and out at my mom's house. She's not as great about staying outside all day at my mom's. I think it's probably because she loves my mom and the cat more than she loves Kip and me. More likely it's that the squirrel population at our new house requires constant vigilance, and she can't leave her post. We're all kind of suspicious of the almost albino squirrel that frequents our sweet gum in the backyard. She literally almost got him last weekend.
Last week, my principal and I were talking about our spring break plans. Laurie was staying around town and trying to think of things to do on her vacation. We share a love for reading and writing, so I started recommending places for both. As I started talking about some coffee shops that I love in Kansas City, the list grew longer and longer. They were all new to her! She was looking for a place where she could read, work, and not feel hurried along. I found most of these favorite places during the summer of 2013 when I had to find ways to make myself do grad school. Again. But I still frequent many of these places for grad school work or to read a book in between activities. I don't do enough meeting friends in coffee shops, but when I do, it's usually at one of these places. All locally owned.
Quay Coffee
in River Market - My hair stylist moved, but she used to be so close to this deliciousness. They make a fall latte that puts everything Starbucks does to shame. No pumpkin involved.
The Roasterie
- We drink Roasterie bought in bulk from Costco at home, but a visit to the cafe is always a good idea because they have chocolate there.
T. Loft
- I mostly get juice here, and often I have juice with a little bit of black or green tea mixed in it. I recently discovered their "happy" black tea, and it's SO good iced. I always get at least one peanut butter protein bite too.
The Filling Station
- I love the one on Johnson Drive the best. I usually get a juice
and
a coffee. It's the very best when the huge garage door windows are open.
PT'S Coffee in the Crossroads
- Though it has changed hands a few times, I love this new ownership best. Coffee roasted in Kansas with names like "Farm Girl" and "John Brown."
Clock Tower Bakery
- I mostly go for the cinnamon sugar "donut" muffin or a scone with my black coffee. A couple of weeks ago I needed to take some cookies to work and the ones I baked at home failed. I picked up scones, and I am pretty sure I changed several lives that day with their awesomeness.
Foo's Fabulous Custard
- You can get a coffee or custard depending on your need for indulgence on any given day. They also have Christopher Elbow chocolate, just like The Roasterie.
I also stop regularly at the Starbucks by my house and grab a coffee from
Parisi
after I work out. I tried to meet a friend at Parisi recently, and we couldn't get a table! That place is popular. I haven't been to
Oddly Correct
yet, but I think I'll put it on the 2015 summer manifesto list.
And a big thank you to Laurie for listening to me rattle about coffee shops and then saying, this should be a blog post! I do love to write about Kansas City. Let me know what coffee shops I've missed and should frequent.