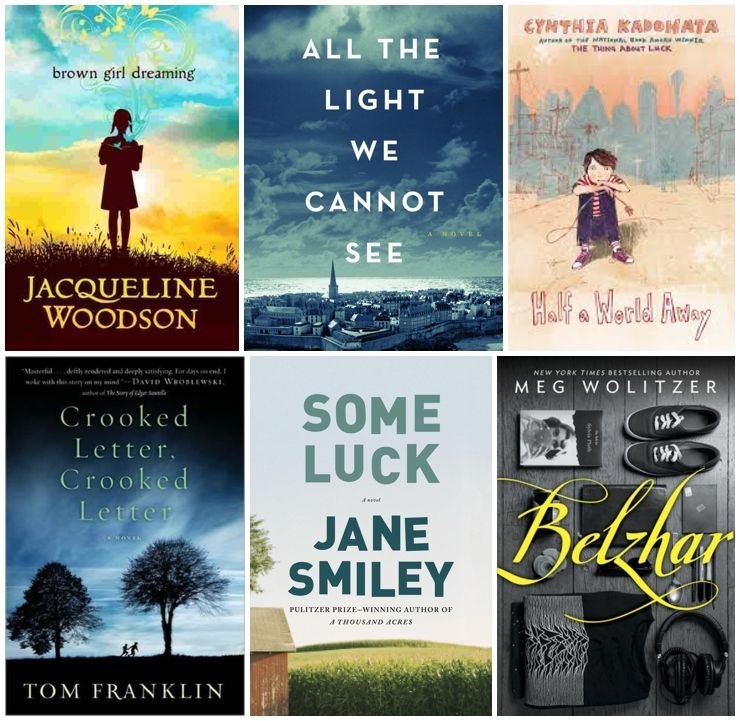 Six books for January. Let's just get to it, shall we?
Brown Girl Dreaming
is my first Jacqueline Woodson book. Pretty sure I'm about ten years behind to start reading Jacqueline Woodson, but I love where I started. It's written in verse with short snippets from Jacqueline's life growing up in Ohio, South Carolina and New York. My teacher friend Amy heard that she wrote it this way because that's how we remember life, in little pieces and stories. It's also worth reading
this op-ed
about what happened when she won the National Book Award. Brown Girl Dreaming is beautiful, and even though I could have read it very quickly, I didn't. I savored the words, and her stories about her family.
All the Light We Cannot See
I randomly picked on the Kindle. Then I discovered it was a finalist for the National Book Award and on a bunch of books lists for 2014. In this World War II story, the two main characters are a blind French girl who escapes from Paris and a radio technician in Hitler's army. My book club is reading it this month and plan to discuss it at Aixois Bistro over French food, but there is lots to discuss about humanity in this story. Really loved and highly recommend.
Half a World Away
(and Belzhar) came from this magical book
concierge
. Jaden, adopted from Romania as an older child, has definitely not had an easy transition to his new life. Now his parents are traveling to Kazakhstan to adopt a new baby, and we learn more about Jaden's back story as the adoption process moves forward. From what I've read about adoption, it's pretty accurate, challenging and sometimes really painful. I listened to this book on my commute and passed it on to my mom to read as soon as I finished.
Crooked Letter Crooked Letter
had been on the Kindle for a while and a Candi book recommendation from almost a year ago. It's a murder story told with current stories and flashbacks. While I was able to figure out some of the mystery as I went, it did keep me guessing until the end.
Some Luck
was on the long list for the National Book Award, and I recognized Jane Smiley's name from her book that won the Pulitzer a couple of years ago. It takes place in Iowa, and each chapter is a year in the life of a family. Sometimes it's one incident or sometimes it follows a few family members through developments in their life that year. I thought it was beautifully written, and while it's not plot driven, the characters are lovely. I'm not sure that it would translate as well to people without agriculture roots or a love of the heartland, but I wholeheartedly recommend it if you do fit those descriptions.
Belzhar
is a young adult novel about teenagers who attend "The Wooden Barn," an alternative residential school in Vermont. Most students are there because of a traumatic event in their lives, and we learn their stories as they experience a special topics in writing class. I listened to this book, and it has a lot of teenage angst and some dramatic love stuff. Kip was moving the car one day and when the cd came on, he said, "WHAT are you listening to!?" (Characters were making out in the library stacks.) But I loved it. I was hooked trying to guess what happened to Jam, the narrator, and appreciating what books and writing can do for teenagers. Good eighth grade and up read for girls.