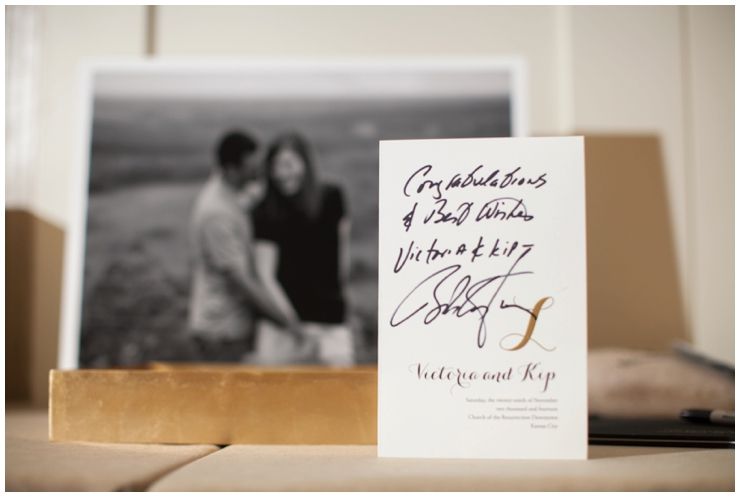 Here's a fun fact about our wedding reception at the Sheraton in Overland Park: the entire Denver Broncos football team and the NBC Sunday Night Football crew were staying at the hotel. It's not exactly a secret because the lobby was full all afternoon and all evening with people in Broncos gear looking for autographs. Blake and Spencer stood in their tuxedos in the afternoon and got several signatures. Though it would have been hilarious if my "
ex-boyfriend
" Peyton Manning signed something for us or stopped by our wedding reception, we were out of luck. He didn't stop for anyone.
My stepmom Tracy was able to secure one that we really loved on our wedding program from Bob Kostas! It's a fun way to remember our wedding but also the perfect autograph for us because we watch Sunday Night Football almost every week. On many of our early dates we had to go out on Sunday nights because I was busy with BOTAR/KSU football, and we started watching "Football Night in America" together. I love it and am sad that it's pretty much over for the year.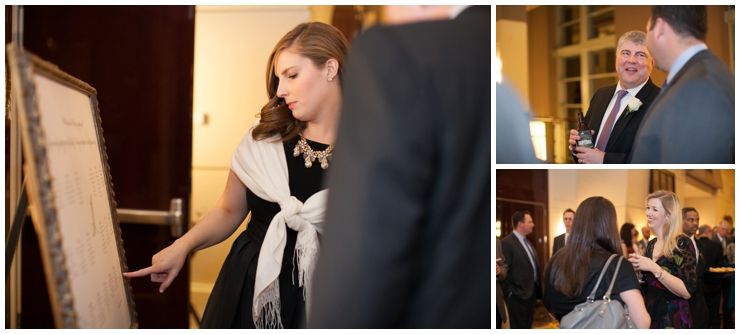 The cocktail hour was a brief reception outside the ballroom. Our guests could mingle and find their seat (or Lauren helped them!) while catching up with some old pals. I wanted a short cocktail hour so that we could get the party started, and they started trickling into the ballroom around 6:30.
Kip and I hid upstairs in our room and ate our salads while we waited for the formal introduction. We were introduced while Van Halen's "Right Now" played, one of my favorite parts of the K-State pre-game routine. We were the only ones introduced - we spared our wedding party that part. I was always a terribly awkward bridesmaid when introduced at weddings and jealous of the people who danced or did a cool high five. Or something.
Do you see Kip's smile as we're walking in? He was excited that we got married.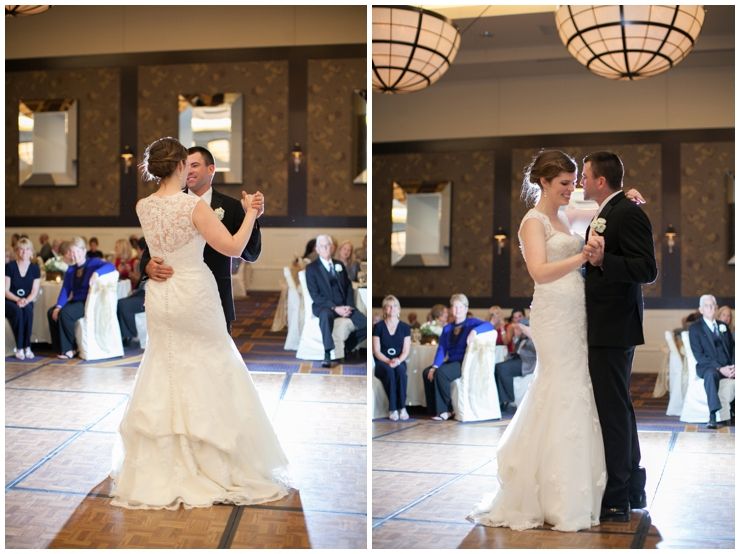 We danced our first dance very first thing to an old country song "You're My Best Friend" by Don Williams. Kip played it once for me at my old house, and we danced in the kitchen while I cried. It's simple and perfect, and we have seen Don Williams perform it live at Uptown Theater.
You placed gold on my finger
You brought love like I've never known
You gave life to our children
And to me a reason to go on.

You're my bread when I'm hungry
You're my shelter from troubled winds
You're my anchor in life's ocean
But most of all you're my best friend.

When I need hope and inspiration
You're always strong when I'm tired and weak
I could search This whole world over
You'll still be everything that I need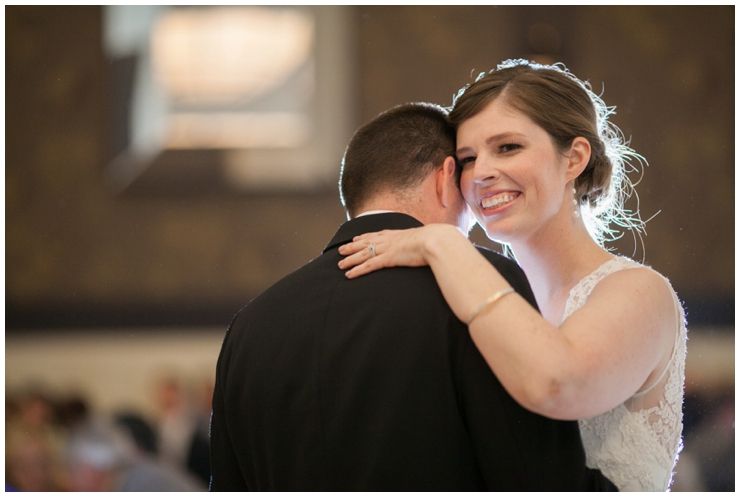 Erica May captured many beautiful photos in the ballroom, and I love the first dance photos because you can see my whole dress all bustled nicely by Kip, and we just look so genuinely happy. Kip mostly sang me the song while we danced, and it was short and very sweet.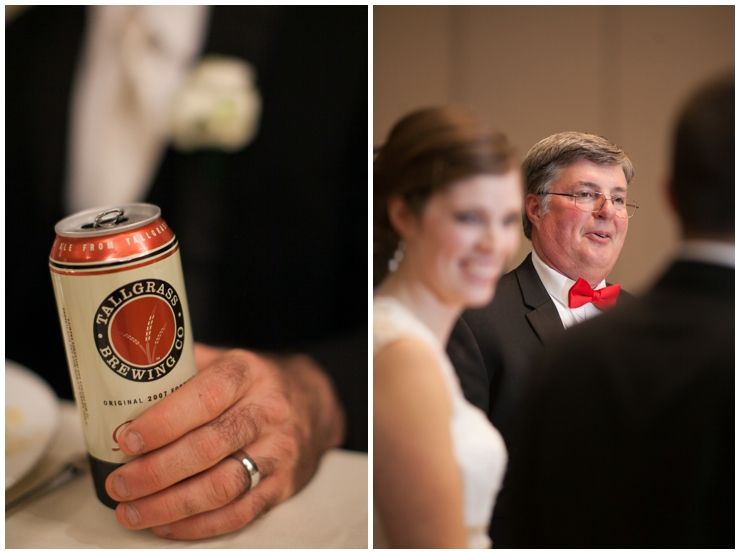 We were excited there were still Tallgrass beers left when we got to the reception to use for toasting. I loved the idea of having beers from both of our hometowns to serve at the wedding. Boulevard Wheat and Pale Ale are pretty standard, but the Sheridan also provided Tallgrass Pub Ale and Buffalo Sweat. So far as we could tell the guests loved having a couple new beers to try!
My dad switched to a red bow tie and cummerbund for the reception and spoke twice - a welcome at the beginning of the dinner and then a longer toast after the meal. In his longer toast he pointed out that he and Tracy were sure I would marry someone on the east coast during my Virginia time, but that really it was no surprise that I married another K-Stater. We raised our PURPLE champagne flutes and said CHEERS to that!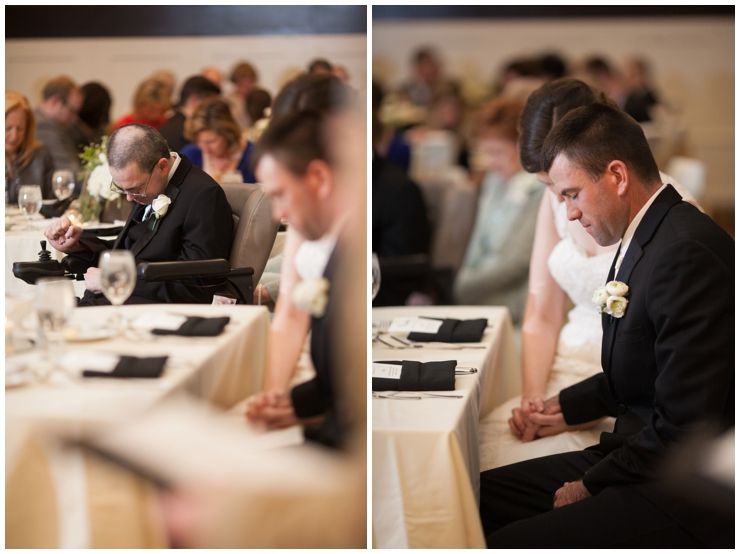 Kip and I asked his oldest brother Kenny to write the prayer for the meal. Our pastor joked that he is often asked to give a blessing at a meal but rarely does someone else write it for him! Kip and I both admire Kenny immensely, especially his unshakeable faith. Here's the prayer that he wrote for us...
Dear Heavenly Father,

Thank You for this happy celebration of Your most amazing gift, the gift of love. Thank You for bringing us all together this weekend to witness the love and commitment that will unite Kip and Victoria in the holy bond of marriage. We pray for Your blessings on them as they stand on the threshold of a new part of their journey in this life. May Your generous blessing descend also upon their families and friends gathered here. Let Kip and Victoria lean in to and depend on Your love first and foremost, their love for each other, and the love and support of their united families.

Bless, Father, this food that we are about to receive with grateful hearts as a sign of Your
continuous bounty and provision. We ask these things in Jesus' name. Amen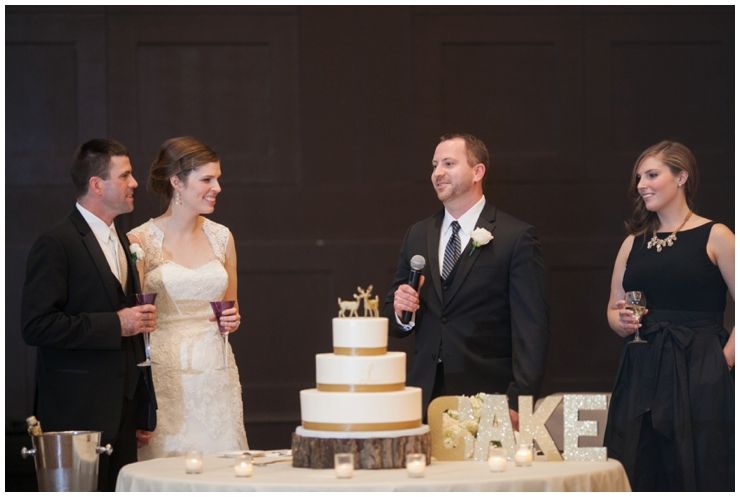 My sister and Kip's brother Kevin gave the maid-of-honor and best man speeches near the end of dinner. They were both very kind and sweet, gently poking fun without embarrassing us. Kevin made us a bit nervous as he started, and he had kind of a large stack of note cards prepared. However, he tied it all together really nicely and said very kind things about me in particular. He teared up near the end, so of course Kip did too, and we received many comments about the best man's toast.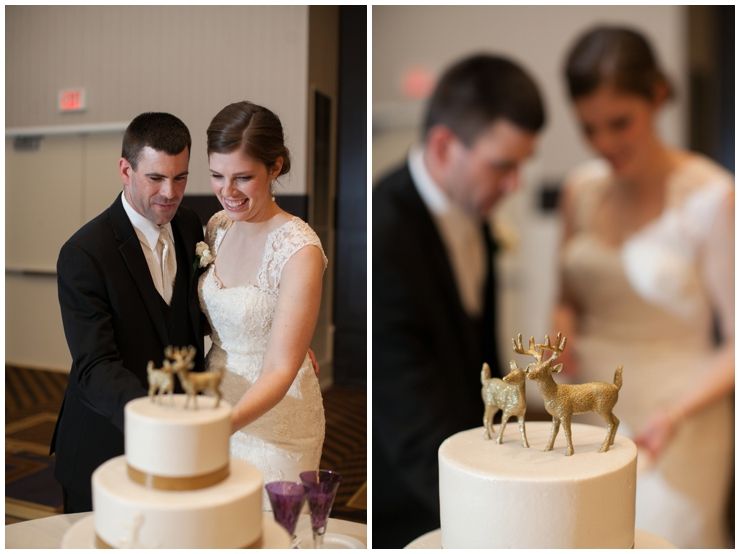 Kip and I sliced the cake and nicely gave each other a bite. We used gold serving pieces my sister gave us (of course) and made the smallest dent possible into one of the layers of spice cake. There was also almond with chocolate filling and cake with raspberry filling. (Our friend Jon says you don't have to specify what type of cake it is when it's white cake because all cake should be white.)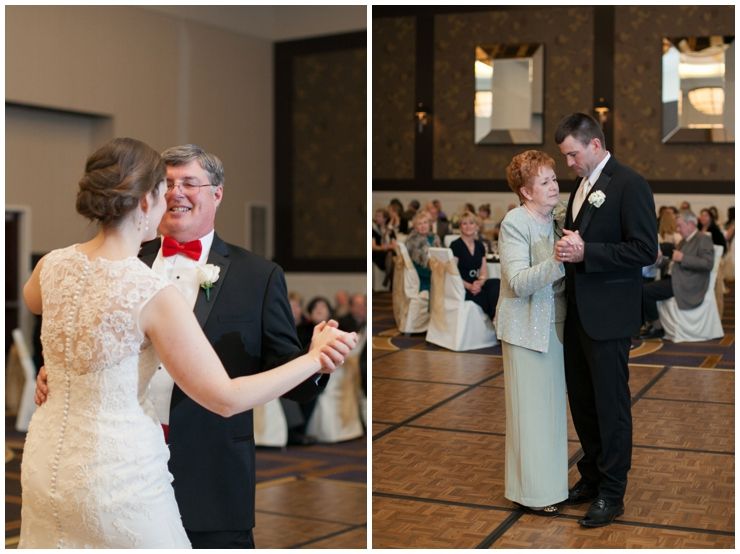 My dad and I danced to "Come Fly With Me" which moved along at a pretty good pace, and Kip and his mother danced to "A Mother Like Mine" by Sugarland.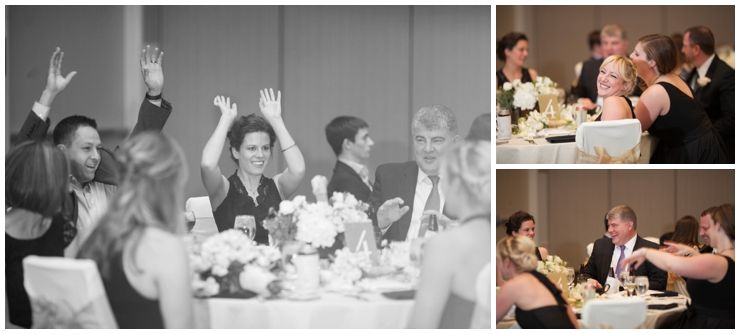 Kip and I had a small sweetheart table set up for us on the dance floor. I planned to have them serve us our entrees first so we could move around and visit with guests, and we never sat down again after the meal anyways. The wedding party sat around the room with their significant others, and they seemed to be having a good time based on their instagrams and these party pics. I still have no idea what Sol and Erica are doing in the photo above!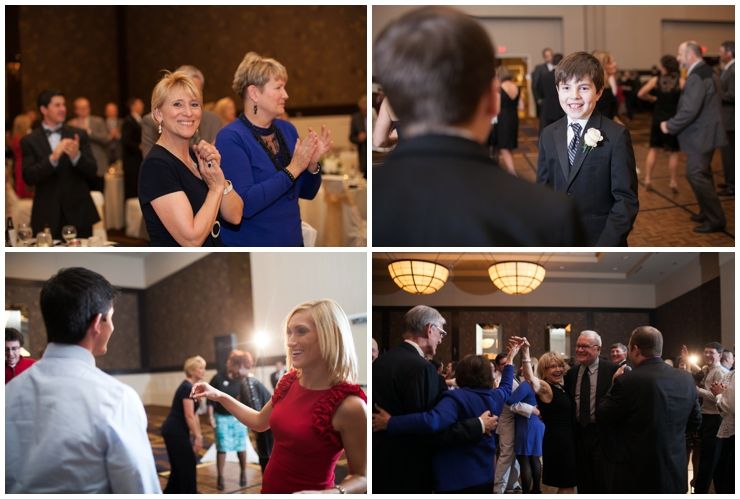 Our DJ was recommended by our photographer and another friend who used him.
Mike
fit the bill for us because he kept the event moving along, was extremely flexible with what we wanted and so very professional. I received the most help on how the event should flow from Mike, and I thought it worked really nicely. He customized the music during dinner to include classic country songs that we both love but that would have been too slow for the dance floor.
Instead of an anniversary dance where people LEAVE the dance floor, Mike led the party through one where couples joined the dance floor as the years were called. Kip and I started the dance party because we had only been married less than 8 hours. Bonnie & Fred, Tracy's parents, another couple that are friends of my dad, Kip's parents and my great aunt and uncle were some of the longest married couples at the event. It was cute and very sweet.

I really wanted a dance party at our reception, which is tricky to pull off when you feel like you should also be making the rounds talking to people and your new husband "doesn't really dance." I have danced at countless weddings - sometimes practically by myself on the dance floor. I also LOVE to dance and will dance to pretty much anything at any time. Wedding photographer Erica said that the best dance parties she has seen ofter thrive because the bride and groom are on the dance floor, and Kip was a great sport. No, he doesn't love to dance. But he loves me and was often near the dance floor visiting with our guests or dancing with me.
My friends were also out there keeping the dance party going. In particular, I have to tip my hat to Sol and Ryan who are some of the best dancers I know and were extremely dedicated to the cause. I remember looking up to see Ryan approach the dance floor (pretty sure Prince was playing!), and I thought, oh yeah, it's on now!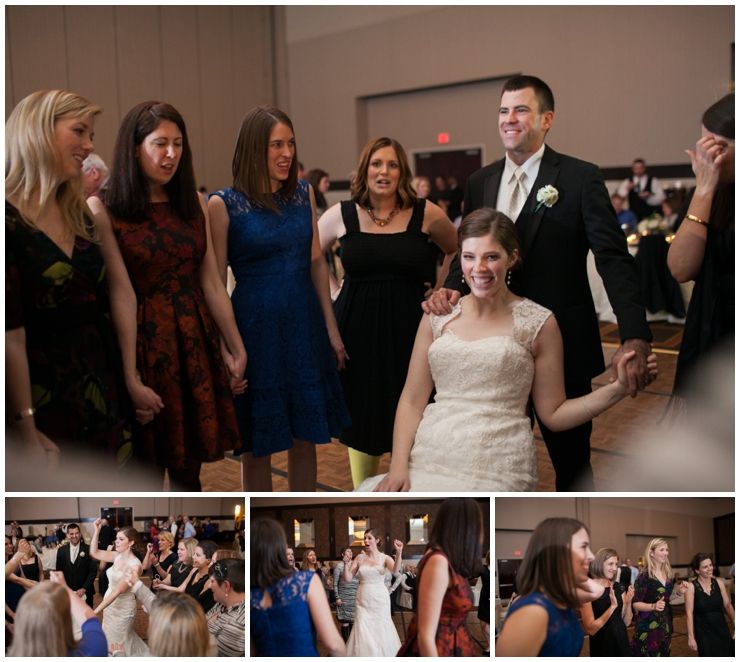 My sorority sisters sang "The Lyre in Our Hearts," and they sounded so great! My aunt Bethany is also an Alpha Chi and joined in as well. It was SO surreal to me that they were all there because I sang at their weddings. I could hardly wait till the end of the song so I could stand up and join for my favorite part. We're a really class bunch so we finish off the sweet and classic song with a chant from our college days...
"Ahhhhhhhhh slam. Up down left right meet us at the Lou. We're the girls of Alpha Chi, who the hell are you?"
And then Big & Rich's classic, "Save a Horse, Ride a Cowboy." Classy with a capital C.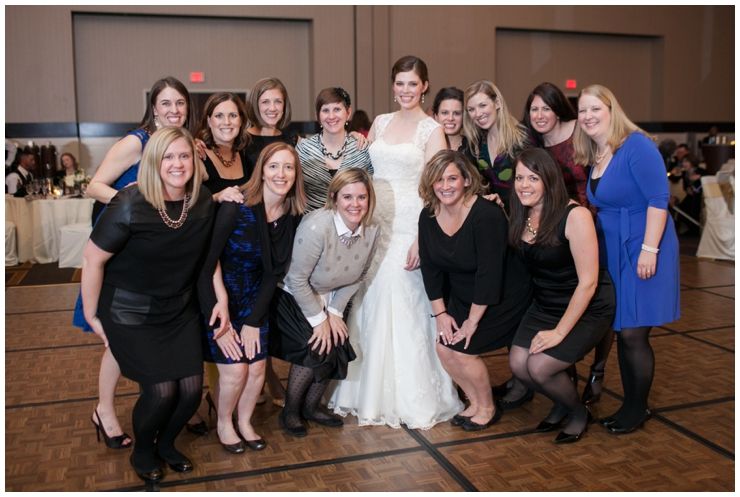 Nine of us from book club, plus sorority sisters from all over the country. So blessed to have them all there!

The dance party continued to pick up throughout the night. I danced and danced with family and friends. My mom and dad's families made great contributions to the dance floor - cousins, aunts, uncles and especially 9-year-old Spencer. Brother can move! My Mortar Board bestie drove from Denver to be there, and she was a constant on the dance floor as well!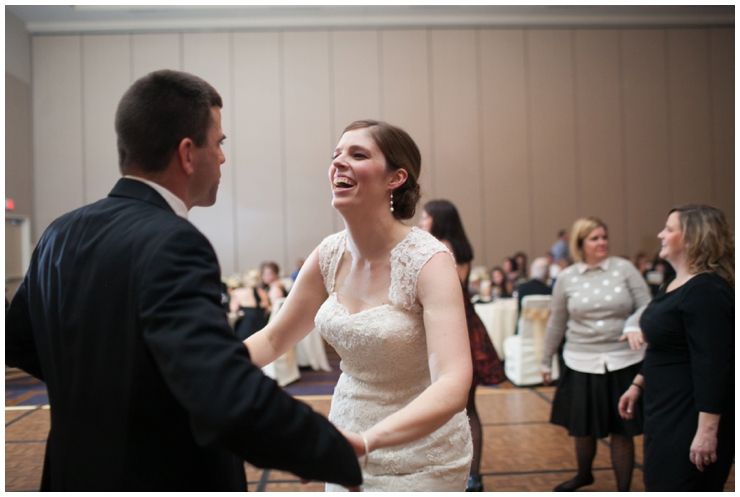 Proof that Kip was on the dance floor as well! My dress was fun to wear - a lot more fun standing up than sitting down. It was the first dress that I tried on back in June, and I loved it still on November 29th.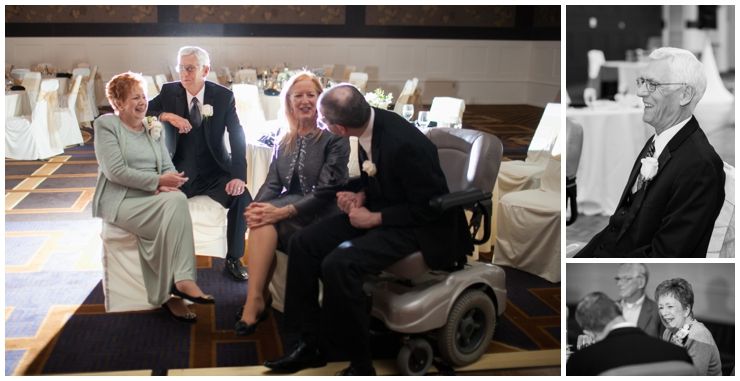 Kip's family aren't really dancers, but they didn't miss the action. They told us afterwards that it was the most fun they had ever had at a wedding. This photo of his parents with his aunt Pam and Kenny is one of my favorites!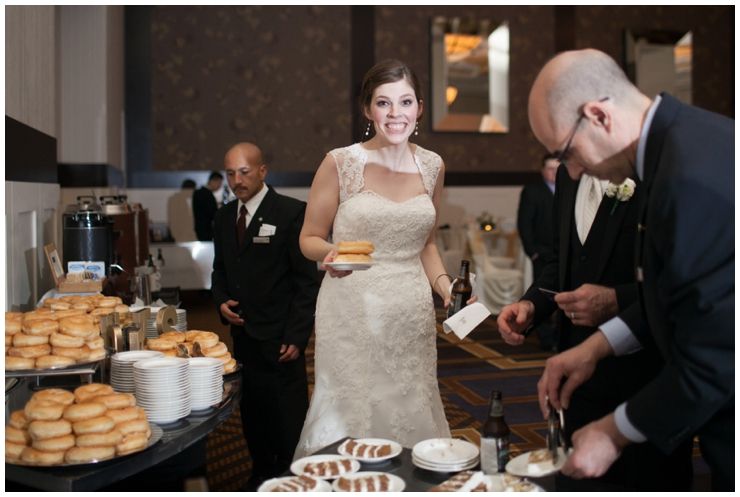 We meant to save the donuts for last call, but Dad & Tracy made the right move and had them brought out a bit earlier. I'm mildly embarrassed that Erica caught me with a Pale Ale in one hand and two donuts in the other, but not too embarrassed to post it here. It's real life. I think Kip ate at least two or three by himself.
I gave DJ Mike an end time of 10:45, and he played songs till the very last minute that kept people dancing. I really wanted to end early enough that there would still be people there having a great time and make our exit when there was still good energy. Mission accomplished. We danced to "At Last" and headed out to our suite right about 10:45. Our nice friends and family made sure everything was gathered up and sent home as many flower centerpieces as they could.
It's tough to sum up the whole day because really the best parts were all the little details throughout the day. The ceremony was so meaningful and all the pictures I've shared captured the people and touches that made it uniquely the #kiptoriawedding. We felt so loved, like everyone important to us got together and CHEERED as we started life together as the Lynches. I tell Kip regularly, "I'm so glad you married me," and I'm so happy that our story as husband and wife started this way on November 29th.
If you missed posts over the winter break, try these. The
rehearsal
,
getting ready
,
ceremony
,
gold details
,
hashtag love
.