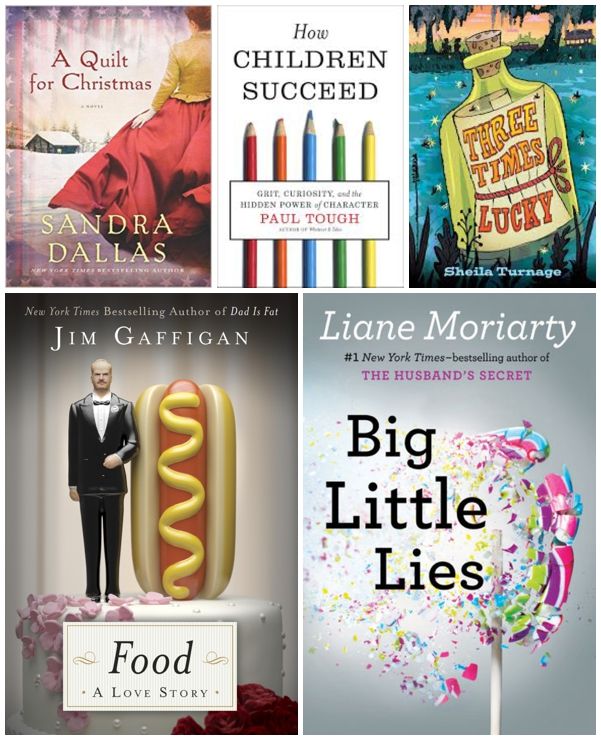 Read/listened to five gems during December. It was a good reading month to end a reading year that was a little bit quieter but still with
33 good books
finished.
A Quilt for Christmas
For my mom's birthday, I bought her the newest Sandra Dallas book from Rainy Day Books. We've been fans of Sandra Dallas for many years - The Persian Pickle Club was one of the first books popular for book clubs though I'm not sure mine has ever read it. It's a great Kansas story. Sandra told us that she imagined that the characters of A Quilt for Christmas are the grandparents of the Persian Pickle characters. We read the new book for book club, and it was a good Christmas story that wasn't too hokey. My mom and I were impressed that Sandra Dallas told us that she keeps lists of words and phrases that she hears from different time periods so that she could incorporate them into her books. It's an easy read, and I read it appreciating her ear for dialogue.
How Children Succeed
* I listened to this book very quickly during my commutes in December. Many of my friends had already read it on our kindle, but it was easier for me to listen. It was encouraging and discouraging with some big ideas. My friend
Kristin
is in the process of exploring urban school challenges - she also references How Children Succeed in her latest update. And she is really working on some
big stuff
! A Truman Scholar friend just referenced it in an email (as well as this
book
, Nurture Shock), so it's a kind of buzz book that lots of parents and teachers are reading.
Three Times Lucky
was a book recommendation from my newest school friend Amy. She is a reader who loves young adult literature and reminds me of the women I worked next door to in Virginia. I bought it for my mom, and we all loved the unique characters of the small town in the South. Amy said she hasn't been able to get many kids to read it, but we thought it might make a better read aloud so kids could love all the characters as much as we did. It has a real murder mystery in it, and I thought it was a great book with lots of layers.
Food: A Love Story
* Kip and I listened to this on our trip to Oklahoma in November and finished it in December driving around on our Palm Springs honeymoon. Kip will tell you that he liked it more than
Dad is Fat
, but we think that might be because he doesn't have kids yet. It's funny - we laughed out loud and are both hoping Jim Gaffigan writes another book really soon.
Big Little Lies
I'm behind on starting to read Liane Moriarty, I know I know. I started this on the second to last day of our honeymoon, sitting by the pool and finished it on the airplane the next day. I had to read the whole thing as quickly as possible to find out what happened. Liane wrote three great narrators and rotated through them, and I thought the story was addicting from the beginning. You know within a few pages that someone is going to die, and the rising action to the climax is fast paced. I would stop and give Kip updates throughout the story. He nicely listened.