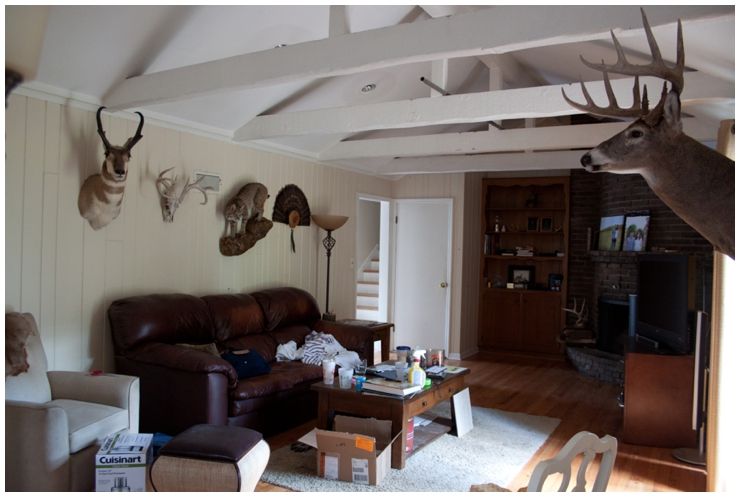 Here's a really dramatic before picture for you of what our living room looked like as we were moving in together. Wedding presents littered around the room, new napkins and towels that need to be folded and tucked in a closet that needed to be cleaned out and organized, and lots.of.taxidermy.
There was a point sometime last summer where Kip's parents were coming to town, and he decided to just put up all the taxidermy in one room so that it would be off the floors, and he could clean. Many of these friends have found a new perch around our home, and I think they are less overwhelming one at a time. The skulls and turkey fans had to go though. I think I'll save the formal introductions for when you get to see the animals in their new spots.
We've worked hard on the house. Kip has painted for days (that wood paneling is a beast), and I've cleaned, sorted, purged, unpacked and made food to fill the freezer for busy weeknights. He nicely told me that my cutting in skills were "sub par," and Abbey agreed that
even though
she t
aught me well
, I'm a more proficient roller. I think I'm even better at cooking and baking. The living room and kitchen have a new color, so does my office, and Kip's moved on to the ceilings with a happy heart. Just kidding. No one likes painting ceilings.
The house is a slow work in progress which doesn't bother me when I'm busy with work, meetings, and holding other people's babies. On the other hand, over Christmas break when we were home together for 17 days, the slow progress of the house made me absolutely crazy and a pain to live with. So much still to do!
But most days I tell Kip, I love our house. The layout fits us well, and it feels like both of us live there with my stuff moved in and my framed art on the walls alongside the animals. We have started eating more dinners on
our new table
, and we watch TV and lots of college basketball on the new couch. It's a pretty good life, and January is definitely treating us well.