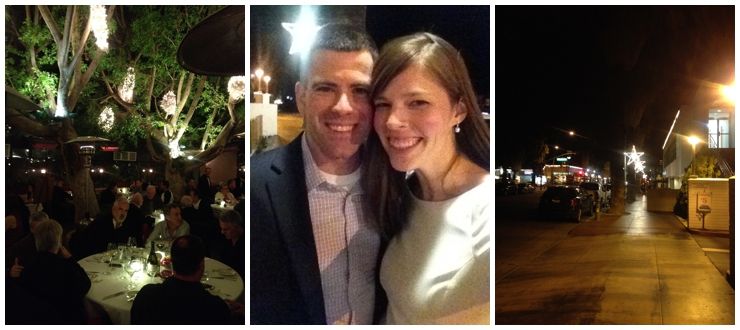 A few times we took photos on the iPhone instead of pulling out one of our big cameras. Here are a few of the gems I want to make sure get saved forever too! On Saturday night we had dinner reservations at
Le Vallauris
, the fanciest restaurant in Palm Springs. The girls surprised me at my bachelorette sleepover with a gift certificate for dinner there. It's a French restaurant in an old home and most of the diners sat on a large patio in the center of the house. Literally almost every waiter we spoke with was a French import, or they were good at faking a French accent. It was delicious and a really special splurge that my friends picked out. We would have never done it for ourselves, and so I savored each bite of the four course meal. And I had a good excuse to wear my rehearsal dinner dress again. It was dark when we left, so we could snag a selfie and a picture with the stars hanging on the palm trees downtown in Palm Springs.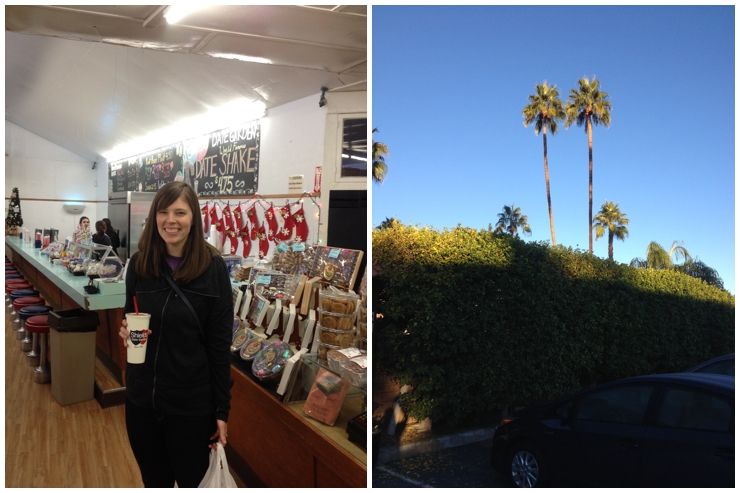 Here's a picture in Shields with the date shake which was delicious, but almost too sweet for both of us! And we like our sweets (see also: our wedding with donuts, cookies and cake). And I loved this pair of palm trees that grew out of the courtyard in our hotel.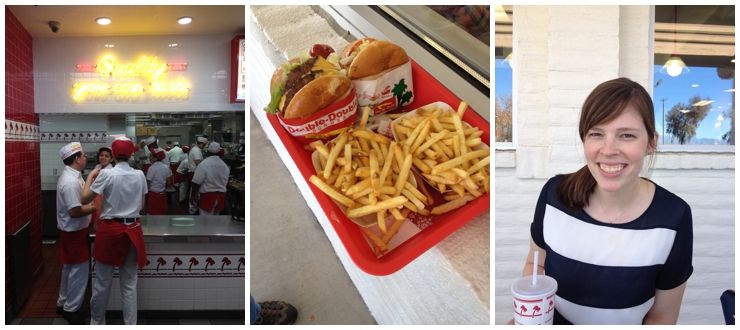 Our trip to In-N-Out Burger might have been Kip's favorite meal of the whole trip. He hasn't eaten a lot of fast food since I moved into the house, so maybe that added to the awesomeness for him. We waited about thirty minutes for our burgers and fries so they definitely tasted hot and fresh. It was so crowded!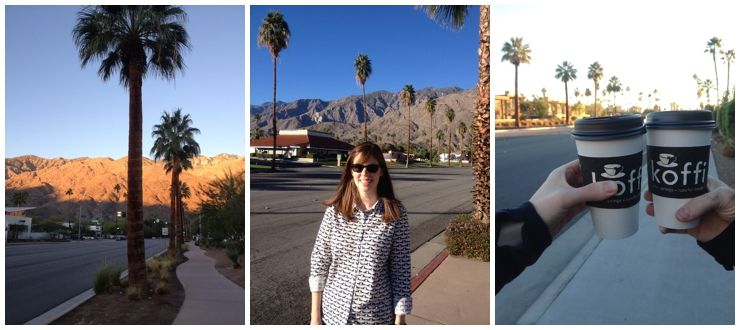 Several mornings we walked or stopped for coffee at Koffi, a local coffee shop, on our way to our daily adventure. Two medium black coffees, no room for cream. The sun would come up on the mountains as we walked. I love the palm trees, though Kip thinks they are pretty pointless as a
tree
. No shade! Not very sturdy! When I was a little girl and went to California for the first time, I asked, "Mama, what are those funny trees?" Pretty accurate.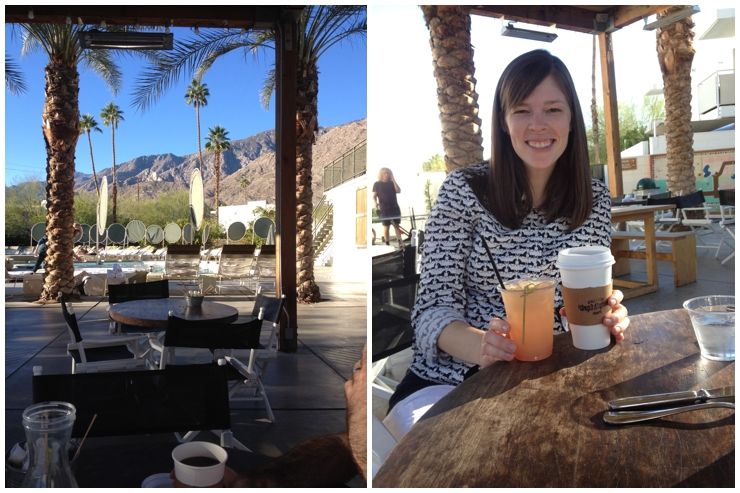 Our last morning we ate breakfast at the very hip
Ace Hotel & Swim Club
down the street. They took an old motel and a Denny's and made it cool. Seriously, all the bloggers go there. We had a fantastic breakfast by the pool, and I doubled down on Stumptown Coffee and a fresh grapefruit cocktail. It was another perfect day in Palm Springs.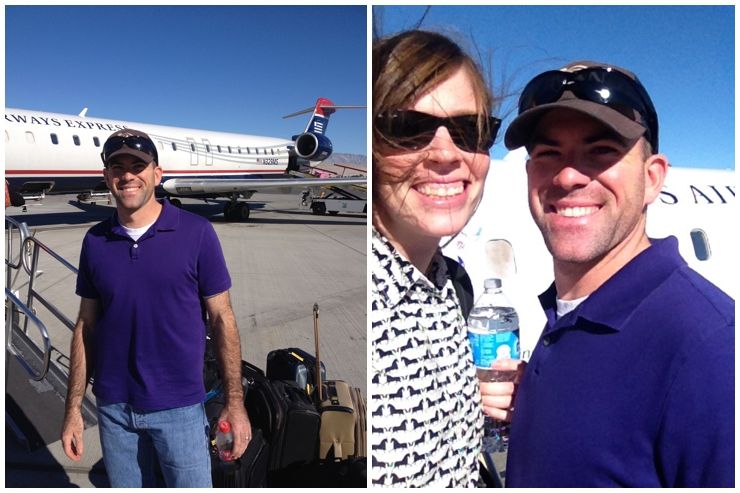 But it was also the day we were heading home. It was the first time Kip could remember getting on and off the plane outside and walking across the tarmac. We connected to and from through Phoenix, with easy flights and no delays.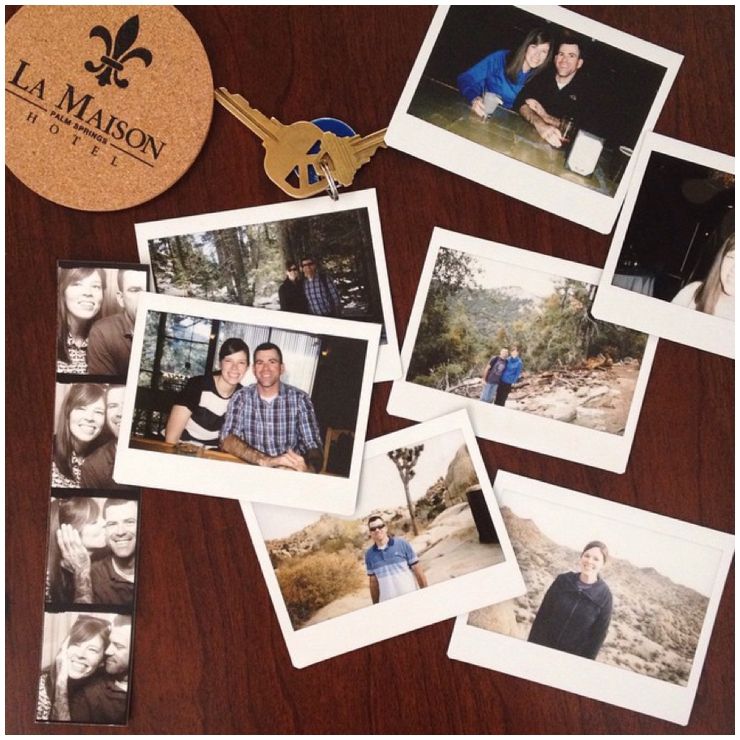 The only instagram of the whole trip was a collection of our Instax photos and the best photo strip ever from the Ace Hotel. Have you ever framed one of those? I think I would like to keep it somewhere safe forever. Those crazy kids look like they are in love.