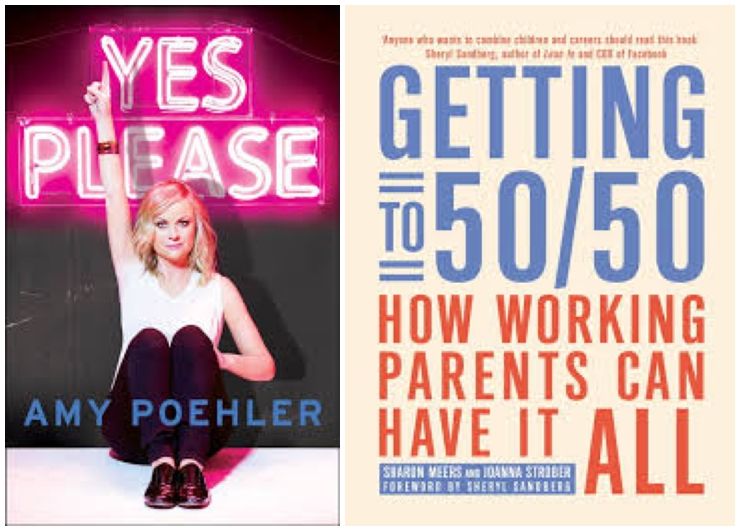 I seriously put off writing this post for a couple of weeks because I couldn't believe there were just two books to report. It felt like more! But then I finally remembered that I read parts of some other books that I didn't finish and that was part of the problem. Our book club book was "Not That Kind of Girl," and I think a lot of people in the blogosphere really like it. However, it was quite possibly the worst pick ever for my first couple weeks of life with Kip. A lot of unhealthy relationships in the first 30% of the book, and I also have no attachment to Lena Dunham. I've never seen Girls, her tv show, and I don't know if that would have helped either. I hate quitting the book club book part way through, but I'm also 31, and it wasn't the book for me. It's the same advice I tell our middle schoolers, "If the book feels inappropriate for you, you are the best judge of that!"
I pre-ordered Yes, Please! from Amy Poehler because her character on Parks & Recreation is my favorite character of all time. Leslie Knope for president. I actually ordered the audio book so Amy P. could keep me company on my commute back and forth to school. It is impossible to not compare this book to Tina Fey and Mindy Kaling's books, and I think they are all worthy of read. Without a doubt, my absolute favorite part was the whole section about the Parks and Recreation characters. I totally cried a couple times. I also loved that Seth Meyers read the chapter he wrote in the book, and her parents jump in the audiobook a few times too. The reflections on SNL, Tina Fey as Sarah Palin and hosting/winning a Golden Globe are all super awesome. Tina and Amy are hosting again in January! Woo-hoo! Should you read it too? Yes, please. (You'll understand her great title choice after you read it.)
Side note: Unlike Jim Gaffigan's "Dad is Fat," this book is less appropriate for listening with children in the car. There's some cussing and some graphic language a couple places.
When we got engaged, my friend Leah recommended the book Getting to 50/50. She pointed out that even though it is about working parents, it's the best book that she has read about marriage. I downloaded it before our trip to Manhattan at the end of October, and I read parts of it aloud to Kip both that weekend and on our trip to Oklahoma. We had some great conversations about our various responsibilities at work and at home, and I loved all the parts about reducing personal guilt. It's research based, and the two authors have fabulous studies and anecdotes that they share. A couple of other friends have read it recently, and we have really enjoyed discussing it together. Highly recommend - it's an easy read!