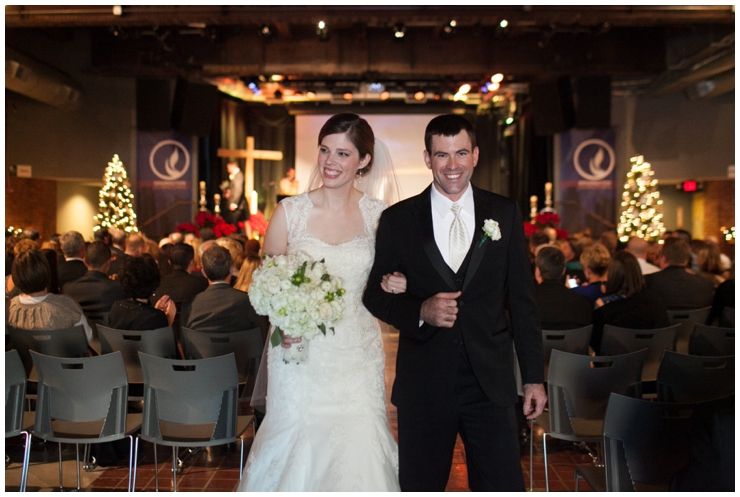 I figured if I didn't write down some of the parts of our wedding day right away they would slip away, and my descriptions of what happened would be more like "Oh, hey it was awesome!" then the details I want to record. The day after our wedding was extremely surreal because the temperatures dropped back to the winter range, and it made Saturday seem even more magical. We were married, with the new rings on our left hands to prove it. One month later, here's a post about the ceremony.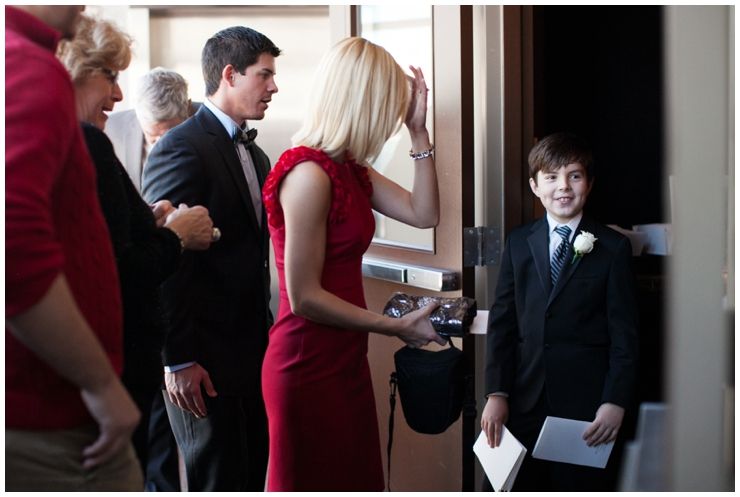 The wedding was at The Church of the Resurrection Downtown at 2 o'clock. Rez DT, as we call it, is our church home. One of my mom's cousins told me later in the day that you can totally tell when a couple gets married in
their
church. All night long people told us that it was one of the nicest weddings they had been too - people laughed and cried during our ceremony. We met several times with our pastor as part of our pre-marital counseling, but Pastor Todd is also the pastor we call when there is a family emergency. He sat next to me in the courtroom when Allison's Rue and Trace became officially
hers
. It's a nice feeling knowing that the pastor who supported us before we were married is also the one that will support us as married church members too.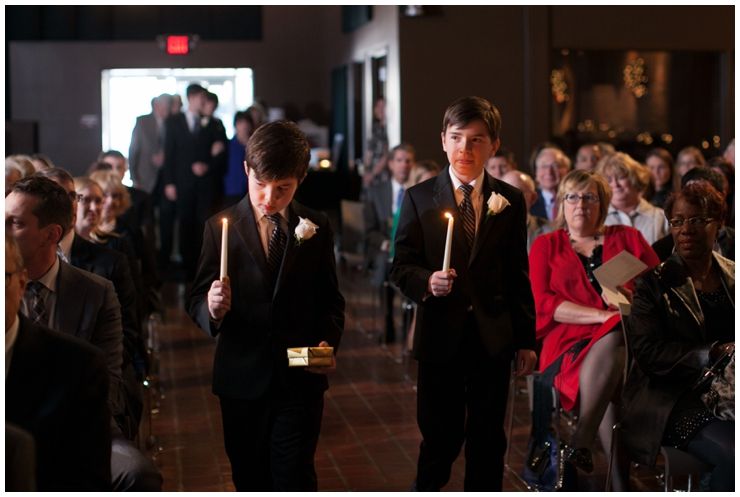 The church was beautiful. It was already decorated for Christmas, and we didn't add any additional flowers. All the flowers that Clara did for us were stunning and really stood out. The bouquets, corsages and boutonnieres were all great. And I really loved the flowers at the reception most of all, but we'll get to that part later. Our pastor found a sunset photo from our engagement photos and projected it behind us on the stage, and it was a beautiful surprise.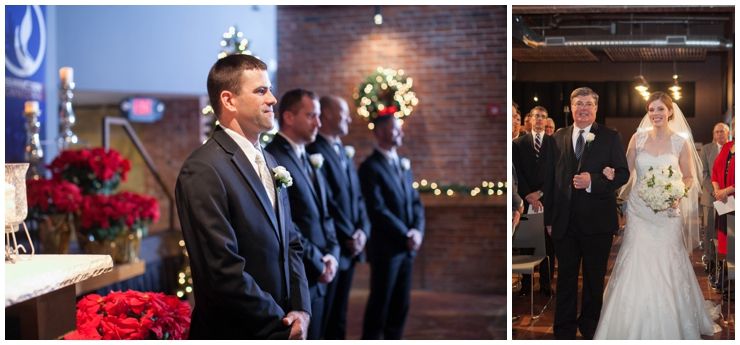 All the little parts of the ceremony went perfectly as far as I know. It's weird being the bride because you miss all the people processing before you, but I think all of that part went well. My dad and I waited outside the doors until Cooper and Mitch got the signal and let us in. My dad said to me as we started down the aisle, how slow do you want to walk? And I said, pretty slow! I was definitely soaking it all in. Kip was crying at this point, but he'll probably tell you that his eyes were just sweating. After my parents stood with me at the end of the row, they passed me to Kip, and I was right where I belonged. All morning I had been telling my bridesmaids that I was looking forward to 2 o'clock because after that I got to do the rest of the day with Kip. That's my favorite way to do anything.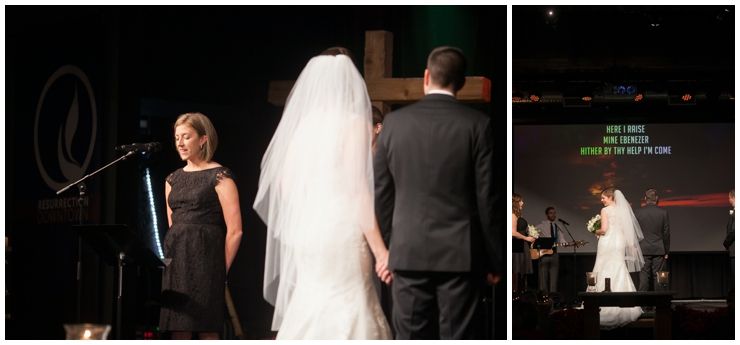 The hymns we chose were all classic and performed excellently by two musicians we see almost every Sunday at church. Our worship leader Justin recommended classic, beautiful hymns including Be Thou My Vision and Holy Holy Holy. The congregation joined us in singing, "Come Thou Fount," the only song I felt really strongly should be included in our ceremony. Gabby read a passage from Philippians. Rachel read two scriptures - 1 Samuel 7:12 and Jeremiah 29:11 - mostly without crying. The Samuel scripture describes Ebenezer and how far the Lord has brought us which is also my favorite line of "Come Thou Fount" -
Here I raise mine Ebenezer; hither by thy help I'm come
. Singing that after Rachel read the verse was one of the times I came the closest to dissolving in a puddle of tears up on the stage.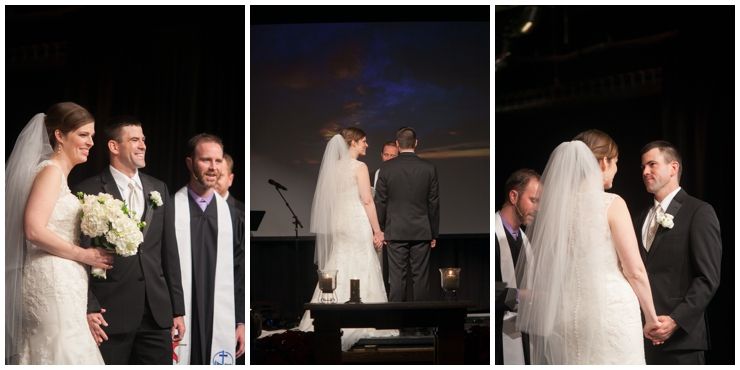 Todd had us both write love letters to each other with three distinct parts about why we love the other person, how our partner makes us a better person, and all the things we are looking forward to in the years to come. We wrote them separately at home, Kip covering up his letter any time I came in the room. Nothing Kip wrote about in the letter was a surprise to me because he is generous and kind with his affirmations of me in general. But it was still the sweetest part of the wedding that I know our wedding guests enjoyed as well. We read the whole letters on our honeymoon, and they are absolutely perfect. They are also really similar!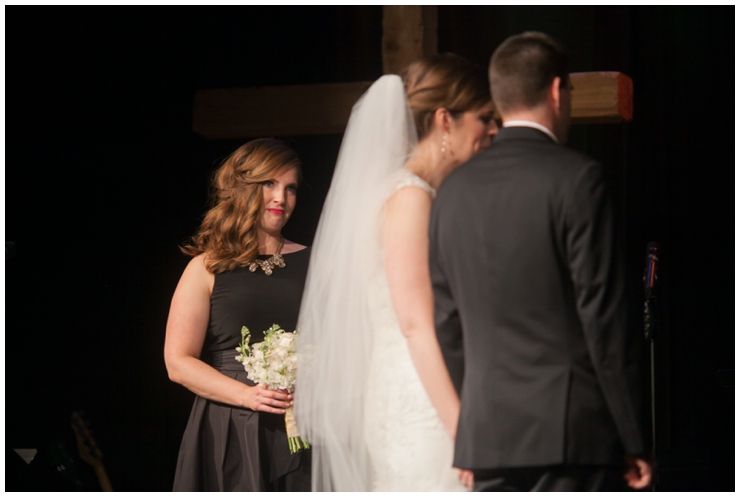 The lights were hot on the stage, and I was definitely feeling the weight of my dress and the flowers. Kip told me a couple times to "breathe, breathe," and I passed my flowers off to Lauren earlier than I needed to because I wanted a little break. There was also so much to take in! Pastor Todd had us turn around and look at everyone in the crowd so that we could soak it all in. We had planned for our first meal as husband and wife to be the Lord's supper, and it was perfect. Our vows were traditional, and Kip thinks everyone could probably hear us all the way to the last row.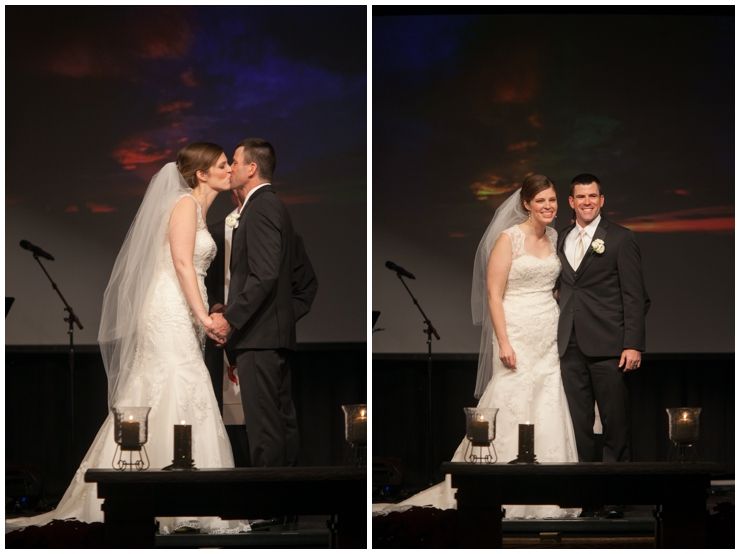 At the end of the ceremony, we remembered to kiss when prompted (and a second bonus kiss), and Todd was delighted to introduce us as Mr. and Mrs. Lynch. Our final song choice was not a traditional hymn, and I don't really even know if people noticed.
From a Jack to a King
, is one of our absolute favorite classic country songs. I think I had it stuck in my head almost every day leading up to the wedding, and I loved that our musicians were willing to learn it for our recessional. It starts right into the chorus...
From a Jack to a King.
From loneliness to a wedding ring.
I played a Ace and I won a Queen,
An' walked away with your heart.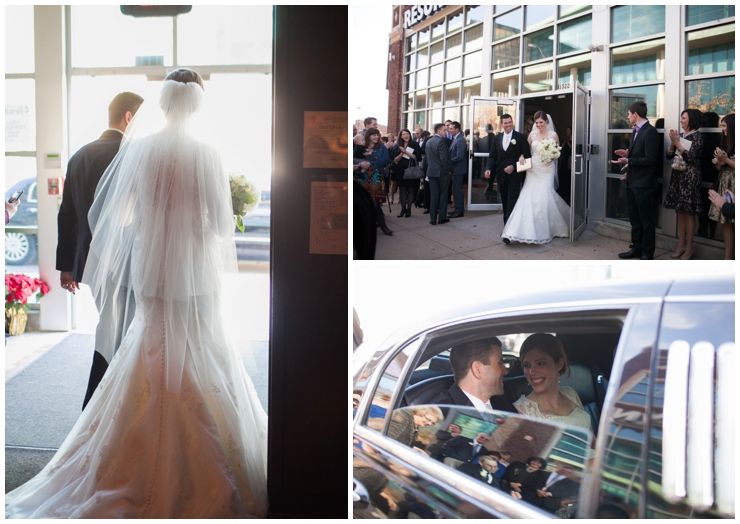 We walked upstairs and Kevin and Lauren signed the marriage license. Is it weird the bride and groom don't sign it? But then we were married, and it was official. We rode around the block in a limo so that the final guests would know it was time to leave, and then we returned to take a lot of photos. As a married couple! Cue all the cheering and happiness. We received so many compliments on the wedding itself, and that was nice because we thought it was good and special too.
"We got married!"
I kept saying because it was just so terribly awesome!