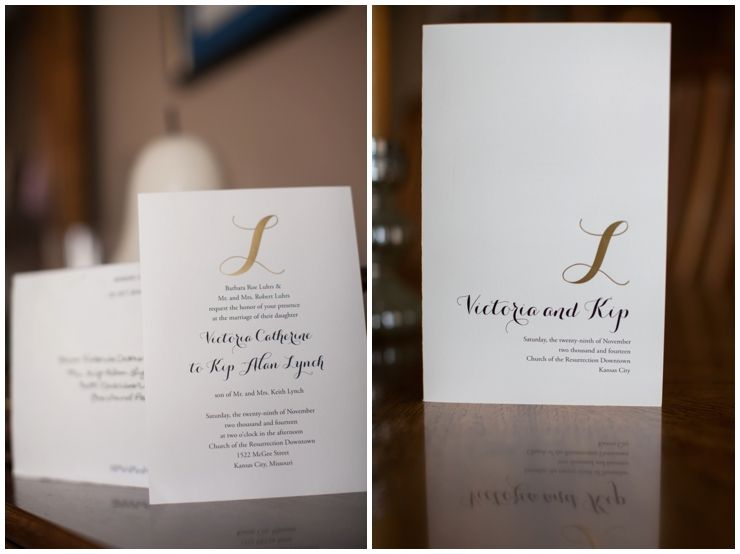 One of the biggest compliments that I received about my wedding was from my friend Kate in the days following the wedding. She said that it was the first wedding that she had been to in a long time that wasn't over-the-top Pinterest-y. If you took a look at all my secret pinning boards, you wouldn't find many details that ended up on our wedding day. I started the process thinking the wedding would be mostly white and ivory, but I ended up with lots of special gold details that just fell into place. I'm obsessed with how well all the photos turned out too!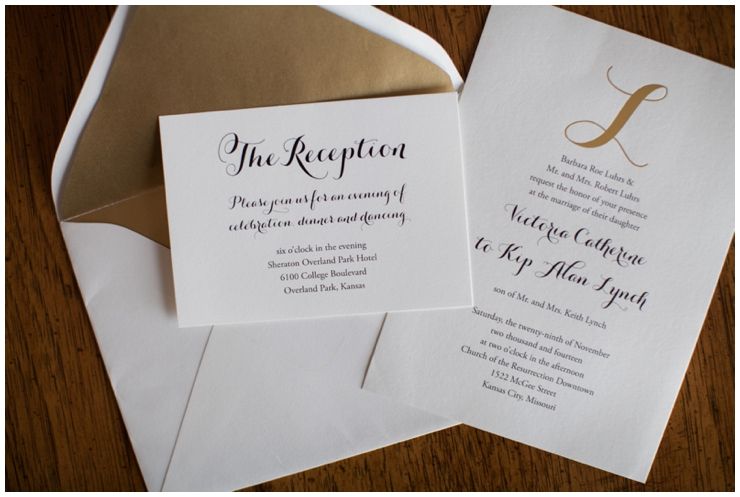 All the paper products I designed myself. I found a printer in the northland who was willing to work with me on gold foil. This was a stretch - most people just laughed at me when I asked. It is a little bit expensive to have the die made to make the stamp, but I used it on many many items. The printer did all the printing and cutting, and then a separate little shop does the gold foil. Rachel and I chose the gold foil from a swatch book. It was so cool to learn more about the process! And now the whole world is obsessed with gold foil. Seriously, check out all the Christmas card options at
Shutterfly
. I don't think our printer wants to be in the wedding business, but she is absolutely lovely. We see her at church most Sunday mornings now too!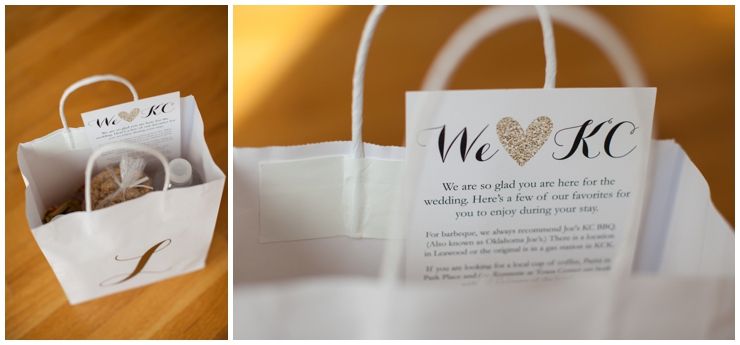 In the week before the wedding, I started posted photo sneak peaks of the details. The #kiptoriawedding hash tag caught on quickly, and people seemed to love the previews. It was nice to share some of the photos in advance because at the wedding many of the details can be lost on guests.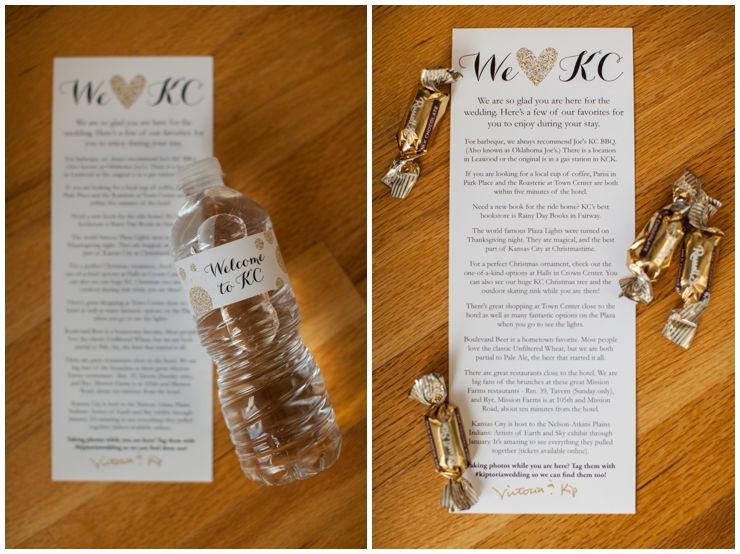 Our welcome bags were simple white bags from JoAnn Fabric with a gold vinyl L on the outside. I love my Silhouette machine, and it did a great job cutting out the intricate L for the bag. The "We love KC" list had some of our very favorite things about KC from Rainy Day Books to the Plaza Lights and great local restaurants. I designed water bottle labels to match with gold glitter details.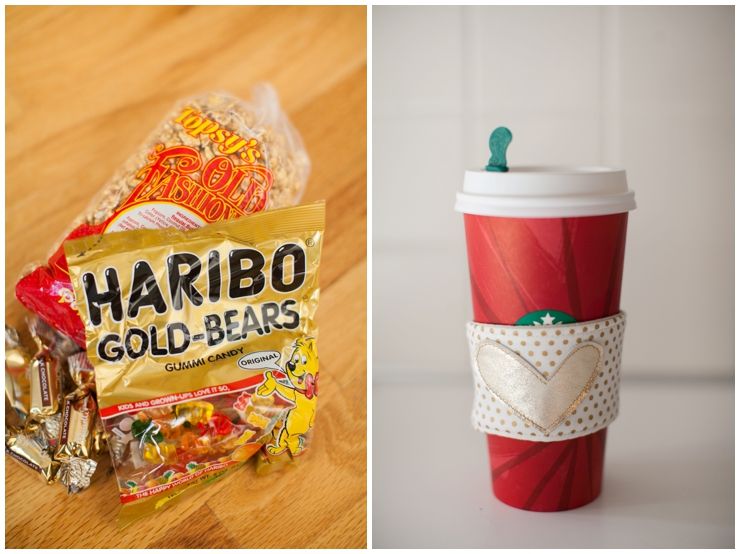 Inside the bag we also made sure to include golden caramel popcorn from Topsy's and Haribo gold-bears, plus local favorite Russell Stover chocolates wrapped in gold wrappers. You've already heard the story about the coffee coat delivery, but here's another picture for good measure. They are so pretty, especially on the red cups!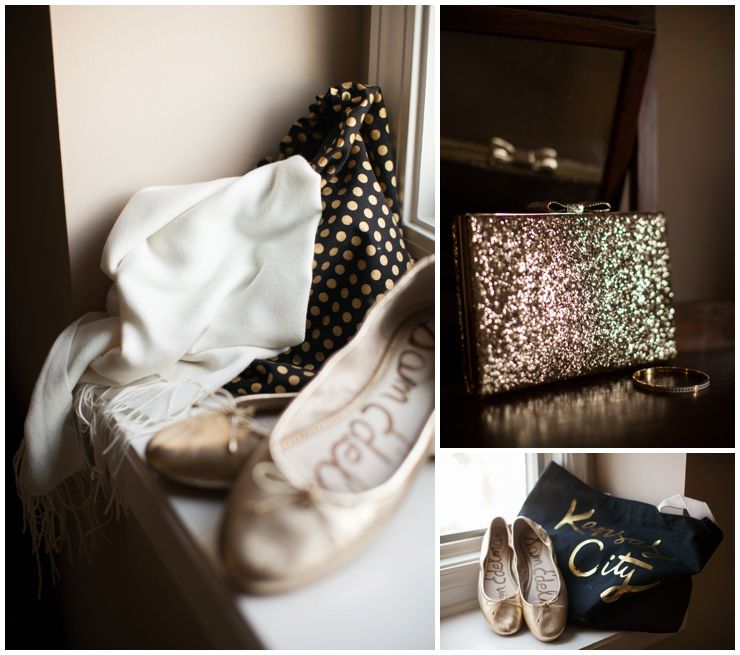 My mom sewed the beautiful shoe bags above for each of the bridesmaids. The fabric coordinated with the coffee coats, and they are large lined bags big enough for a pair of sneakers. Mine already went on a honeymoon. Because we feared the worst for a November day, we ordered each of the bridesmaids an ivory cashmere wrap from Nordstrom. No one needed their wraps on our gorgeous day, but they are a lovely reminder for my friends. I wear mine tucked around my neck to ward off the cold pretty often.
My something old was pin that my aunt Kathi brought me from her extensive costume jewelry collection in Delaware. Something new was my dress and my shoes. For something blue, I had the florist weave a little bit of the blue ribbon that was wrapped around my bouquet when I was Jennie's maid of honor two years ago. Finally, I borrowed Lauren's gold pearl earrings from her BOTAR year to top off my collection.
The gold glitter purse was a Kate Spade rental from Rent the Runway! It arrived on Friday and was perfect for Saturday. We found these great Kate Spade bracelets on sale at the website once and had to get them for the bridesmaids as well. All of theirs were black with gold dots and mine was ivory with gold dots. I always planned to wear flats and these gold flats were super comfortable. I wore them to BOTAR too! Earlier this fall I found this great Kansas City bag from local designers
Ampersand Studio
. It was roomy and had the necessary gold foil. I love my hometown and buying local.

Speaking of hometown gold foil surprises, we purchased these gold foil Boulevard brewing glasses for the groomsmen. They had a beer while they were getting ready at our house in their new glasses - after Erica reminded them about the glasses. They were just drinking out of the bottle first. Good thing Erica had seen the sneak peak on Instagram. We found them at the Boulevard pop up holiday store on the Plaza!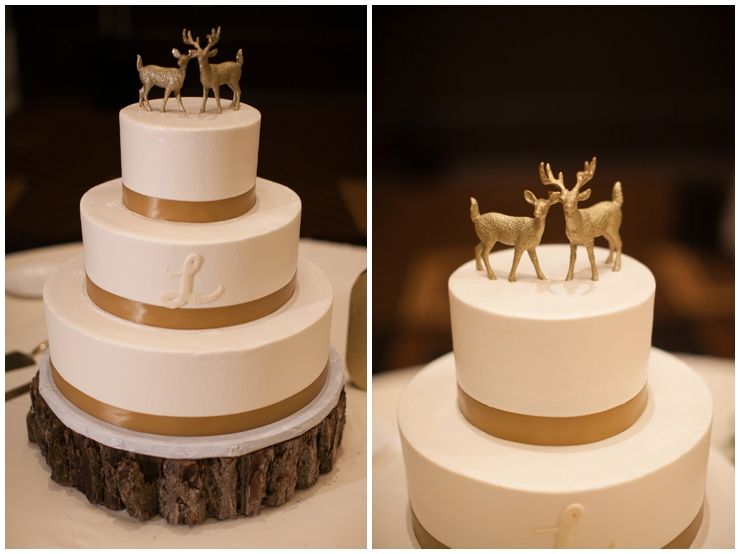 I ordered these gold glitter deer early this summer. I saw a similar photo on Erica May's photography blog and knew we needed them too. Not just gold deer but gold GLITTER deer. The tree trunk is walnut and had been drying in Kip's garage for years. It fit the bottom of our cake perfectly, and Amber from Sweet Arts Creation did a lovely job with our super simple cake. I think some people might have tried to talk me into a more elaborate design, but Amber kept it really simple and added the L to the front. We went to high school together, and she makes delicious cake. The gold ribbon is from Paper Source, and it is exactly the same as the ribbon wrapping the bridesmaids' bouquets.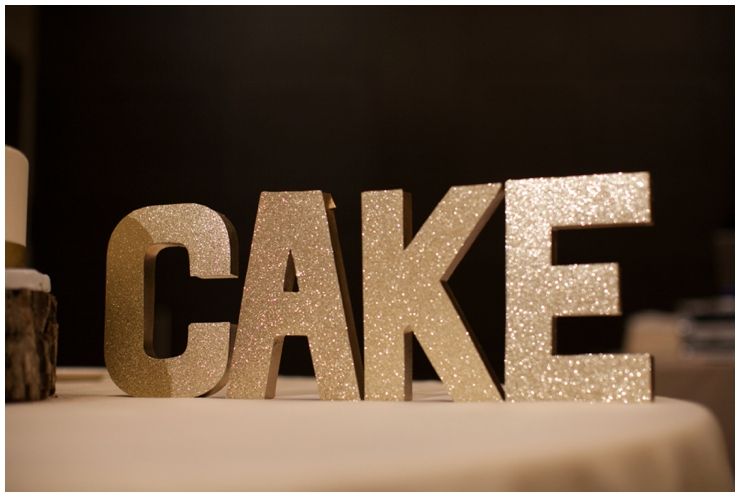 We took the phrase "gold glitter all the things" very seriously. Kip spray painted all of these letters that we found at JoAnn with gold paint I ordered special from the internet. Thankfully I had a lot of gold glitter paper to use to cover the fronts because I wasn't crazy about the color of spray paint. It could be that the cardboard soaks up so much of the paint, but the gold glitter paper on the front (attached with spray adhesive) saved the day. Maybe it was obvious to put "CAKE" right next to our cake, but it was a wedding detail I saw someone else use on 100-Layer-Cake and couldn't let go.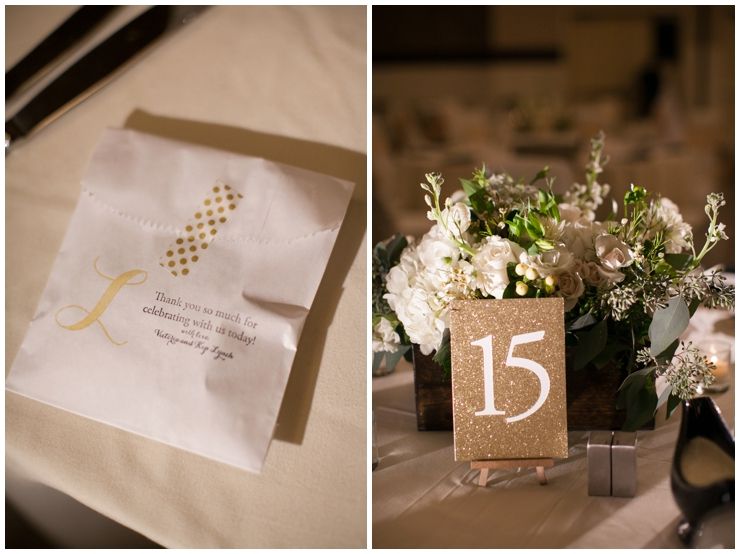 My baking whiz friend Allison made ALL the favors. About 180 bags of three little perfect chocolate chip cookies. I refuse to make chocolate chip cookies because hers are the very best, and I think our guests loved them. I ordered stamps online and hand stamped the bags. I still have the L stamp and plan to reuse it somehow someday! I ordered the white bags online after some testing - they are glassine lined which helped hold up the cookies well.
I made the gold glitter numbers on my Silhouette machine (it seriously is amazing), and Kip spray painted little easels I found on the internet for less than $1 a piece. I'm probably going to list the cardboard letters, table numbers and easels in our etsy shop in case someone else can use them for their gold glitter wedding. I have the photos to remember them, and that's probably all I will need. They were easy to read and matched perfectly.
The flower boxes in the background were all hand built, sanded, stained by Kip. He did it because he loves me, and they were amazing. There were square and rectangle arrangements on the tables. So many guests got to take home the gorgeous flowers and keep the boxes for their house. Ours is filled with Christmas cards. My friend Kate has trains in hers for her two boys. Our florist, Clara's Flowers, was amazing and overflowed the boxes with goodness.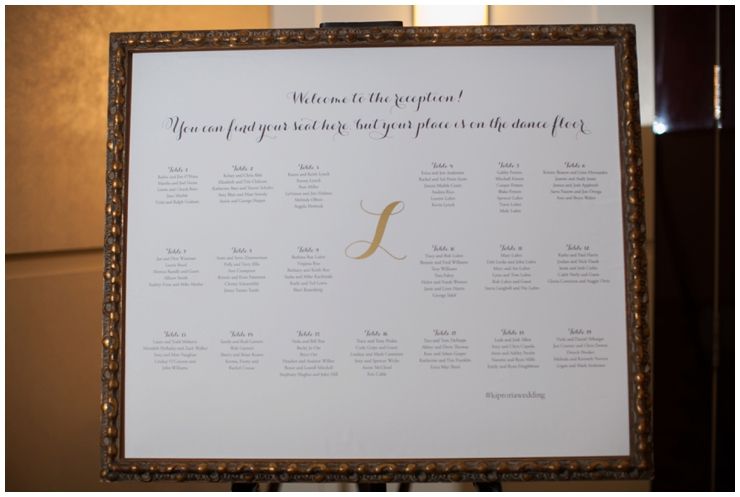 Erica shot a wedding recently with the saying "You can find your seat here, but your place is on the dance floor!" I had to use it. I opted for a large table chart instead of individual cards, and I know a few guests found it helpful for finding where someone else sitting at the reception. Obviously I added a gold vinyl L in the middle of the large gold frame that we purchased in the West Bottoms. A friend of my mom's owns one of the West Bottom shops and found it for us - I think we might have searched a long time before finding a nice frame like this for only $20!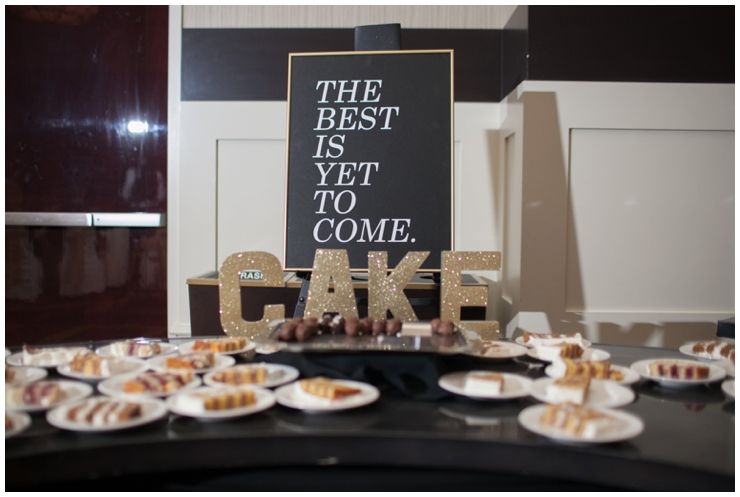 Everyone's favorite "The Best is Yet to Come" sign made an appearance at the rehearsal dinner and the wedding. And also at the reception. It's back where it belongs in our front hallway and makes me happy every time I see it!

Finally, gold letters for the DONUTS because they deserve their own sparkle. Yes, we served donuts, cookies and cake at our wedding. We love sugar.