We always planned to get ready at my mom's house, at first because it was closer in location to where we thought we would get married. But then we moved the wedding to our church and still chose to get ready there because it's comfortable, and we've all spent hours together there growing up. Andrea and Jennie slept over countless times, and Rachel and her boys stayed there several times when they would visit. We had Erica's wedding and baby shower in that kitchen.
Mom and I planned food that we knew would be easy to eat, and I carried my new Vitamix over to make smoothies for everyone in the morning. She made my
favorite banana muffins
with chocolate chips and whole wheat flour. By 8:30, the kitchen was filled with my sister, one of my mom's best friends Sherri Sue, and four of my best friends and bridesmaids. I was relaxed and glad to have everyone there. Sherri made sure that I didn't do any cleaning up and helped Mom stay organized. Later in the morning, another sorority sister of my mom's made a delivery of huge Spin salads

Months in advance I began planning a special delivery that Kip would make in the morning. I gathered everyone's coffee orders from Starbucks, and at about 10:00 Kip arrived with coffee for everyone. I wrote that he should get "tall" coffees on the order, but I think he missed it and instead showed up with the largest size of coffees instead of the smallest. Everyone was surprised when he ran the doorbell, even though I was pretty sure Rachel knew because I accidentally sent her the schedule that the photographer had too!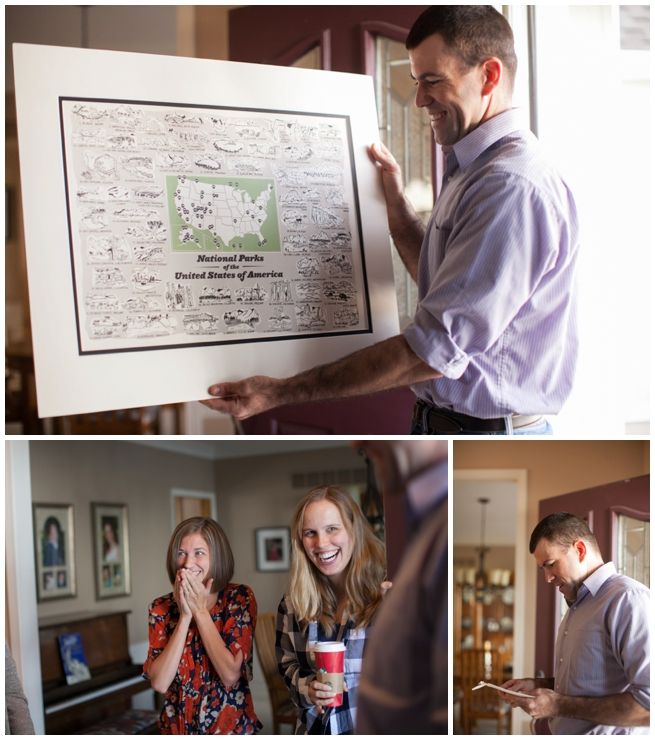 Kip unwrapped his present while he was there, a print of the National Parks that I found online. Kip and I have both been to many National Parks, but I was excited we would be able to start going together. We went to our first National Park, Joshua Tree, on our honeymoon. Rachel is laughing in this photo because she's pretending that the present Kip is opening is a puppy. No way. We're a one dog family. He did really like it, and we're in the process of getting it fit for the gold frame that held the seating chart later that day. Kip gave me my present after the wedding, and it was a perfect pair of earrings that he meant to be for special occasions. I love them so much that I put them on regularly. His timing was well thought out because I was borrowing earrings from Lauren that I was super excited to wear, and it was a sweet ending to the day.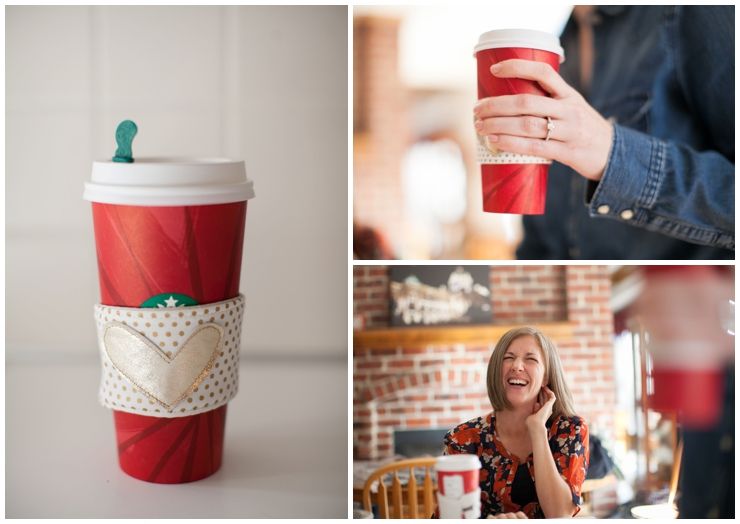 I ordered the coffee coats months in advance from
Knitty Bitties
. I love the idea of a coffee coat and always keep one in my purse to save the cardboard ones. I picked the fabric and of course wanted metallic gold hearts on all of them. Andrea from Knitty Bitties had posted a photo of the coffee coats on instagram after she sewed them all, and I remembered instantly that Rachel also followed her. She described how a bride planned to give them to her bridesmaids, and Rachel even left a comment, "Is this you, Victoria?" I lied and said it wasn't. Rachel also totally forgot about this detail and was surprised when Kip arrived with the coffee coats.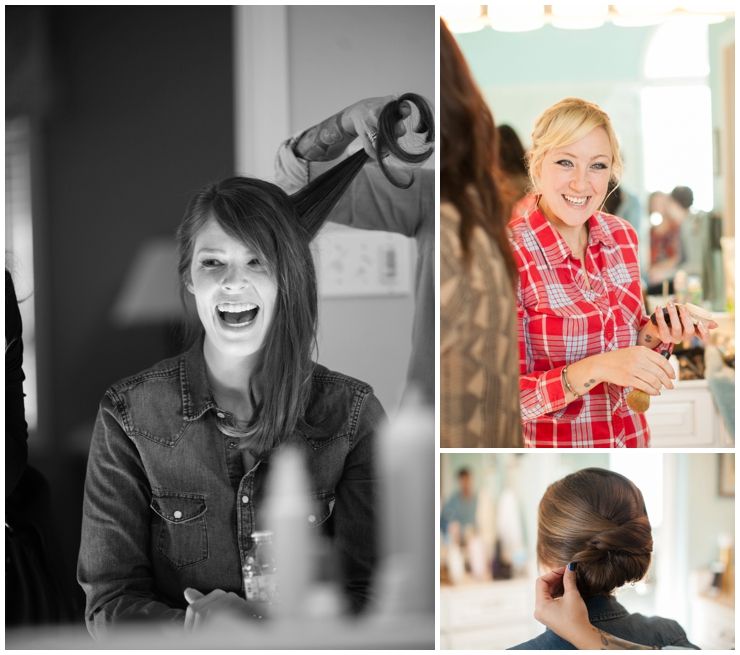 Debbie, my loyal and awesome hairdresser in Kansas City, came on location with her friend Devin to do everyone's hair. They set up all their stuff in Mom's big bathroom, and they worked on us all a little bit at a time. Debbie started by curling my hair into big curls that I wore around the house all morning - big hair don't care - and also did my make-up. She knows me so well that as she started she assured me that I would look still very much like myself.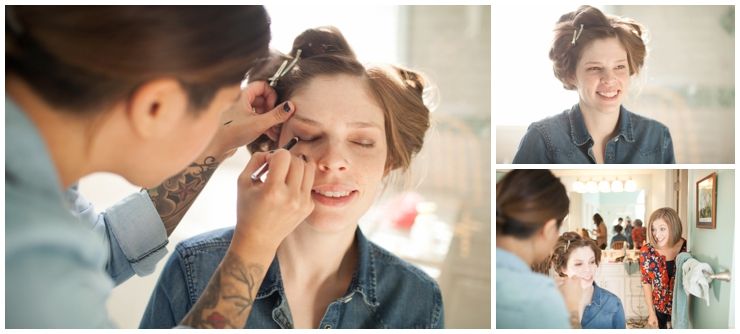 Every bridesmaid got to pick their own style, and they were all perfect. Andrea had these super fun braids that round around her updo. Erica also goes to Debbie, and Debbie played up her natural curls in the style she did. Lauren's side swoop was dramatic and lovely. The bathroom was filled with stories and laughter. Andrea played music in the background, and Rachel popped in to tell me that her husband bought himself a new wedding band after years without one. Our photographer friend Jenn pointed out that she loves these photos because you can see my freckles as I'm getting ready!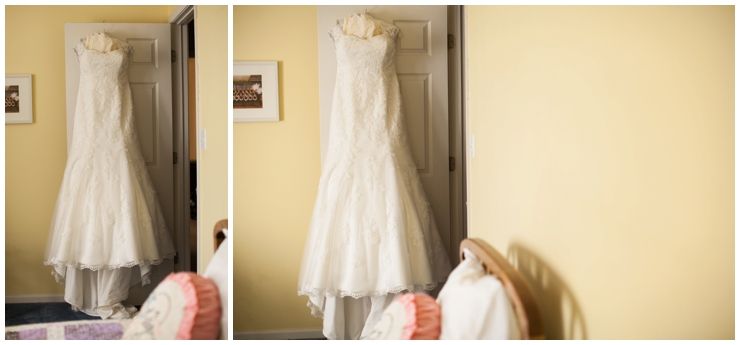 Erica from Anecdotally Yours worked hard that morning capturing the story. There are countless photos of us all smiling and laughing. Some even with my big laugh that is Kip's favorite - he wrote about it in his love letter. It's fun to see the photos that she took of the details of my mom's house and all the wedding preparation. I'm saving all the gold details from the wedding for a separate post, so you can wait with excitement. My dress is hanging above in Lauren's old room. The little pink pillow you see up front was on my mom's bed when she was growing up.

It was calm at our house until the last 15 minutes as we gathered up all the items (including my dress) that needed to get to the church. Kip had a leisurely morning too, even with the coffee delivery. He picked up sandwiches for the groomsmen and waited at our house for their arrival. Erica May stopped by after hanging out with us all morning to get some photos of him in our house, and she captured a couple other little sweet things around the house too including a calendar marking the 29th as the "best day ever." I can tell that most of the photos of Kip include him telling a story about something by his hand gestures. I didn't want you to think I'm the only story teller in this marriage.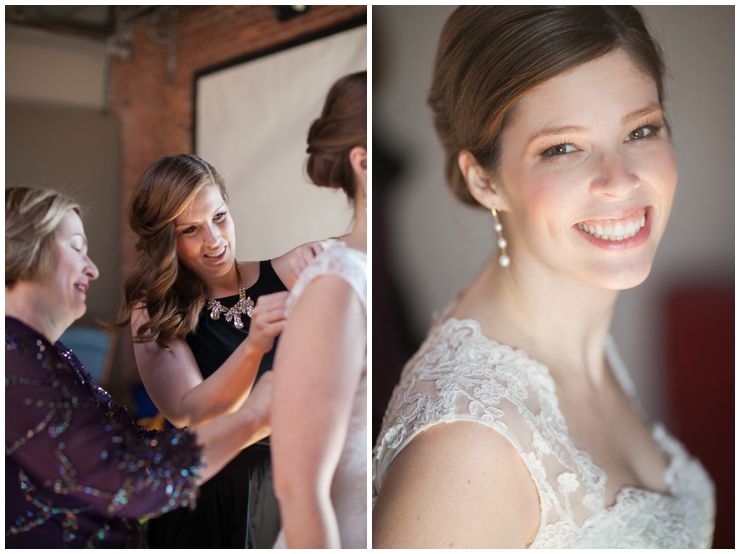 We arrived downtown at our church and hid away in the children's area which amazingly doesn't look like Kids COR in any of the photos. I delayed putting on my dress for as long as possible. It was beautiful, but not super comfortable for sitting down. And even though the last fitting was a mere week before, I was super nervous about how it would fit. It totally fit fine once Mom and Lauren got the long row of buttons together down the back. Getting ready to put it on was maybe the closest I got to freaking out. I made everyone wash their hands.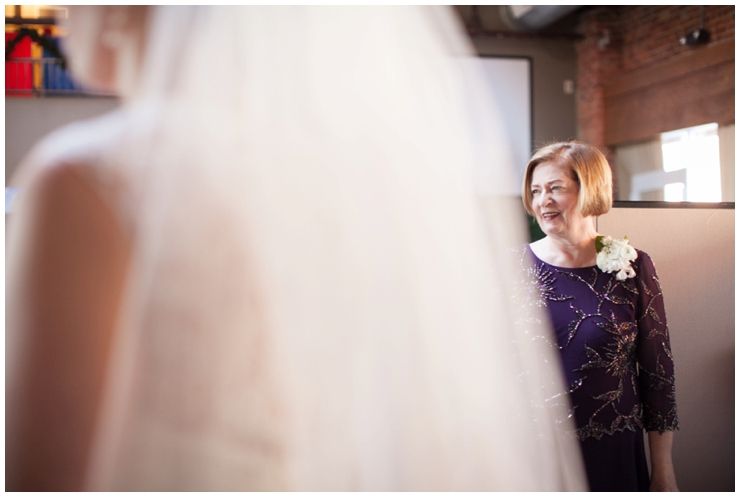 Then we just waited. I'm sure it was less than an hour, but it felt like four hours. Our pastor Todd came up to pray with us, and my mom and dad joined us in the circle as we prayed. Did I tell you that I really love our pastor? He wore purple for our wedding underneath his robe.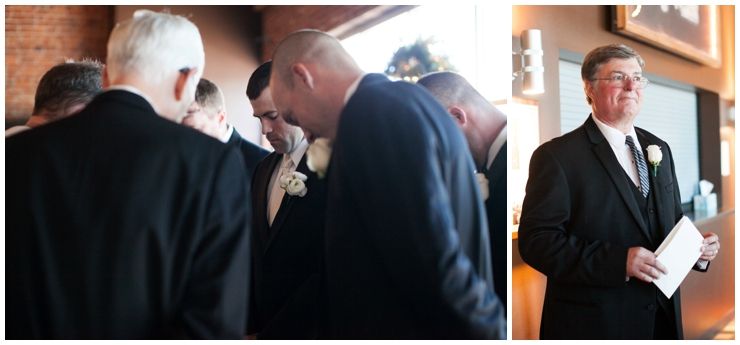 At this point, almost exactly two o'clock, I was really ready to see Kip. I loved hearing his voice as he made the coffee delivery in the morning, but I was ready to walk down the aisle and hold his hand. Luckily, Bailey (our wedding coordinator at the church and a sorority sister) came and told us it was time to start lining up. Dad and I rode the elevator down to the first floor and waited our turn.
(You can read about the ceremony
here
.)