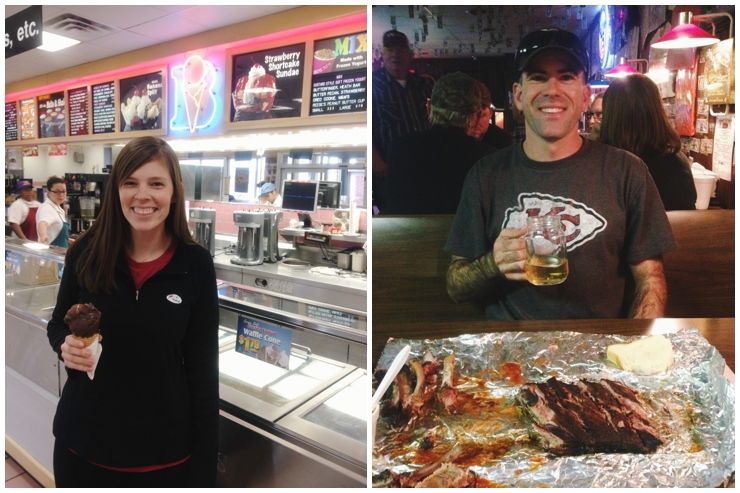 Since my last blog post, here's some important stuff:
Kip had a birthday. He turned 33. I think it's okay for me to tell you that. It was a lovely celebration that included homemade fried chicken. We've been practicing with this
double soak recipe
, and it really takes fried chicken to a whole new level. I managed to pull off a couple of surprises with a cake I
baked
(and frosted) while he sat in another room and a new miter saw. I did my research, and he was so surprised. We have already put the miter saw to use in our house!
The Royals played in seven games in the World Series. It was amazing, even though we didn't win. Lauren went to game six and had an incredible time. I watched most of the games from the couch or while packing stuff up. I pretty much have been packing stuff up since late September, but now I'm in the unpacking stage!
The Luhrs Ladies went to two football games and saw K-State beat Texas and Oklahoma State. We were really hot and got sunburned and then the next week we were really cold and ate ribs. Kip sat in a deer stand during both of the games, and he shot a deer the second weekend he went out.
I saw Jim Gaffigan talk about his new book Food: A Love Story with my sister. I let her keep the copy because Kip and I are about half way done with his audio book. We listened to it while we drove to Oklahoma for his grandmother's funeral, and we also listen to the CDs as we drive to church. It's so funny - just like you would expect from Jim Gaffigan. It also makes me very hungry. Besides listening to Jim G. on the drive to Lawton, Oklahoma, we also stopped at Braum's for ice cream and Guy & Mae's for delicious ribs.
I moved. Slowly, I took load after load in the Pilot to Kip's house. While I worked at Battle of the Books, Kip and some guys from work moved the big stuff to the house Kip already owned. My mom dropped me off at the old house, and Kip, Belle and I drove the final load to our home together. It was a little tiny bit sad leaving my little rental because it was very good to me (and my friends). Kip and I fell in love in that house. But oh my goodness, the new house is quickly becoming
our
home. Things are unpacked. The office is almost set-up exactly perfect. But the time with Kip is the very best part. I really wish you could have seen how excited he was that first weekend to have me there, even though it meant he had to pick up his socks and share his coffee. I regularly feel loved by that guy, and we're enjoying the final couple weeks until the wedding.
There are still plenty of to-do lists around here for the wedding as we collect final RSVPs, prepare all our DIY projects to take to the rehearsal dinner and wedding, and prepare to celebrate with family and friends. But we have our marriage license, so this thing is real. #kiptoriawedding