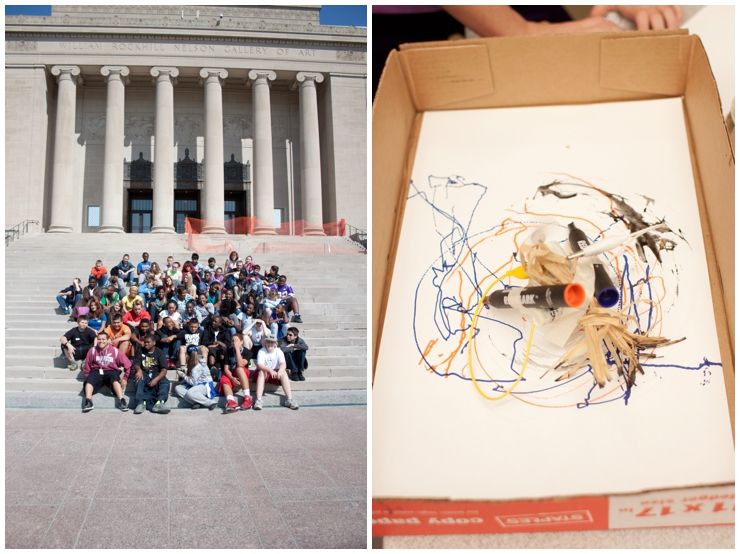 On September 25th, we took 120 middle school students to the Nelson-Atkins Museum of Art to see the new Plains Indians exhibit. I don't have any classes of my own, so I worked with our 8th grade teachers to make it happen. We made it a field trip for the entire grade and added in our lifeskills class as well. It is critically important to me that our students experience greater Kansas City community. Because the students haven't studied that much yet about the
Plains Indians
, they didn't totally understand why we were going. But they were willing to go pretty much anywhere for the day to miss a day of school.
It was a lot of work. We organized the students into 8 groups of 15 with one adult in each group. This worked for the most part, though I would have been thrilled with two adults in each group. My mom helped with mine and still there were times where I would have loved to be able to step away and address an issue with another group. I also struggled because they weren't my kids. Sure, I know a lot of the students in the 8th grade. But that's different than being a classroom teacher and knowing all the ins and outs of 8th graders in our group. They are seriously my favorite grade.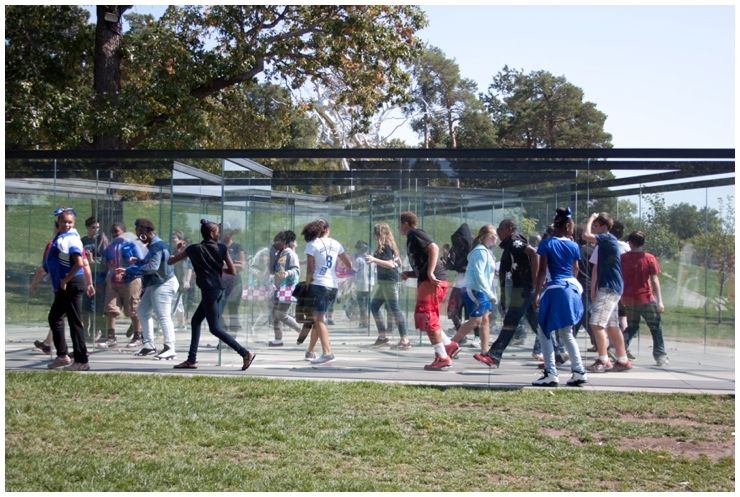 The day was split into two parts - a workshop and the Plains Indians tour. The only place for groups to eat lunch at the Nelson-Atkins is outside, so the best field trips happen early in the year while the weather is still cooperating. We had an hour for lunch so we explored the teepees on the lawn and students LOVED the glass labyrinth in the sculpture park. I really did NOT love the labyrinth. Talk about chaos - 100 middle school students running into glass walls while screaming.
The groups that did the workshop in the afternoon were probably a little better off than my group which did the workshop first. Making "scribble bots" (robots that students designed and used to make art and then got to keep!) was super fun. And while the Plains Indians exhibit is amazing, it's tough to be on a tour in the afternoon for an hour. Mom and I would have liked to sit down as well! Our students did a pretty great job, but it made for a long day for students who normally sit all day. Many napped on the bus on the way home, and I'm not sure how the volleyball players rallied for their game that afternoon.
Taking the group on a field trip made for a very long Thursday. I found myself very hot and almost in tears several times because the experience is just
so much
. The kids are there to just have fun, but when students are able to work independently on their art or answer questions in the galleries, I get overwhelmingly proud. And they aren't even my kids! I also get frustrated when the execution of the field trip isn't exactly like I think it should be, but I don't know that any of the other adults were as frustrated as I was. Or even noticed. It's so emotional to me because I want our students to really see Kansas City, to interact with art and history in ways that are meaningful. They came back to school with exhausted smiles and robot creations, so I think it was worth it.