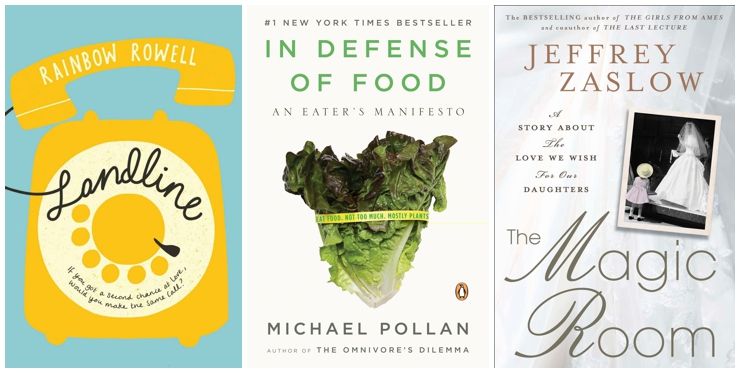 Back in September I read two books and listened to one more. It feels ages ago so let's get to the point.
Landline
was the second book we read from the darling author Rainbow Rowell.
Eleanor & Park
totally captured my attention, and I pretty much read it all on the day my sister was sworn in to the Kansas Bar. Landline was less this way, I think because the main character was seriously different than me. I want to say she was flawed, but that's a pretty judgmental way to look at it. She just made different life choices than I would make. And it wasn't a happy story for many parts - not a fun read for while you are planning a wedding. It's largely about a marriage that has quite possibly almost fallen apart. I'll continue to recommend Eleanor & Park all day and all night, but I feel sort of "meh" about Landline. This won't stop me from permanently joining the Rainbow Rowell bandwagon, but I think I'll try her other young adult book, Fangirl, next. Landline is definitely NOT young adult, which was a bit of confusion for other book club members who were coming in with a love of Eleanor & Park and adolescent angst.
In Defense of Food
I listened to while driving to and from work and around town. It was not the "page turner" that Dad is Fat was last month, but it was interesting. It was horribly depressing and often confusing for the first 80% of the book. Essentially Michael Pollan's argument is that we have been eating the wrong food for a long time thanks to "nutrionism" and poor journalism. When you get to the final 20% of the book, he does make some really interesting points about what we eat. The first ones resonated most strongly - eat real food that your grandmother would recognize or food that is at least made with ingredients your grandmother would recognize.
And that's why I started making my own bread.
I wish that this has just been a long article in the Atlantic or something instead of a whole book, but once I was started I needed to get to the recommendations so I didn't feel like my life was ruined.
The Magic Room
was a much better choice to read while planning a wedding. My cousin Sasha gave it to me at one of the showers this fall, and it was a beautiful book. I really can't figure out why none of my friends read it when they were getting married - it's the perfect gift for a bride-to-be. Centered around
this
bridal store in Michigan, it tells the story of the store open since the 1930s and many of the customers. There are some tremendous love stories in the book, and I cried a few times. I love the subtitle on the book - A story about the love we wish for our daughters. Sums it up perfectly.
If you're missing the blog on these long weeks in between posts, be sure to read
The League Pulse
. It's the blog of the Junior League of Kansas City, Missouri, and I'm honored to write all the posts. There's also a link in the sidebar. Click over today to read all about Holiday Mart, coming to KC this week!