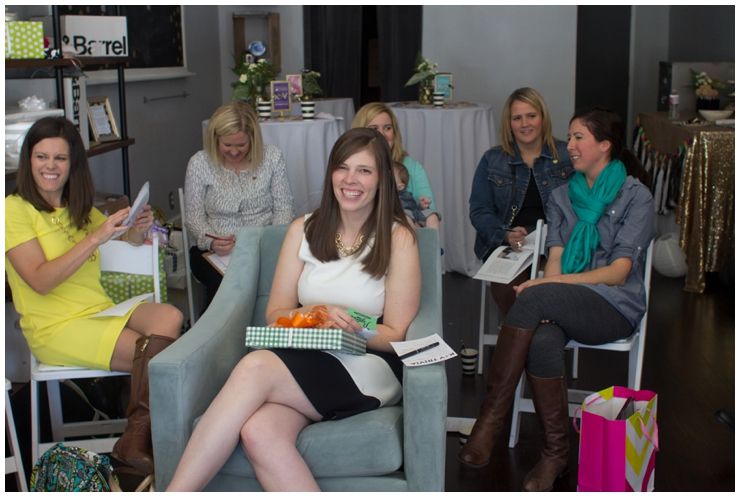 Rachel shared a little bit about
"The Most Epic Party"
yesterday on her blog. Slowly but surely, we will get all the fabulous party details blogged. I'll tell a little bit more today about the party and the wonderful people who were there celebrating with me.
We were extremely lucky that our pals at
Anecdotally Yours
let Rachel, Abbey and Tara use their studio space. We seriously can't say enough about the good things Erica and Jeff have done for us - remember our
engagement photos
and the impromptu Manhattan trip? Tara rented chairs and tables, and there was plenty of space for socializing and sitting during the present opening.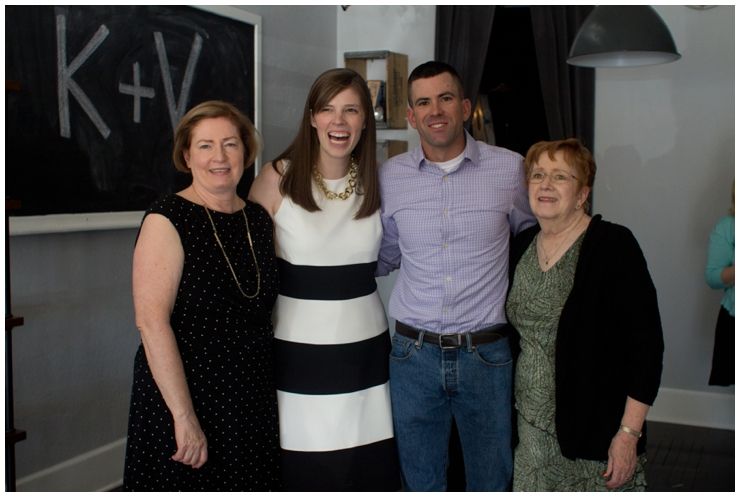 The gorgeous invitations said, "She leaves a little sparkle wherever she goes" and the theme was a rocked out version of everything we have loved lately - bright colors, gold glitter, and black & white stripes. I found a dress months ago and saved it for the occasion (Ann Taylor in tall!).
People came from all over to attend the shower, and I was extremely blessed by the crowd of family and friends who were there to celebrate. Kip's family came in from Manhattan, and everyone was glad to meet Kip's sweet mama. There was both a quiz and a video with Kip answering interview questions, and I know she got a kick out of both of those party games!
I told Rachel she could not also wear a black and white striped dress so she found this gold skirt. This wedding has been a fantastic excuse to see Rachel - three times in the past three months is definitely a record in the three years since I moved home from Virginia. And my mom was there too, obviously. She's over the moon at every party and a very proud mama.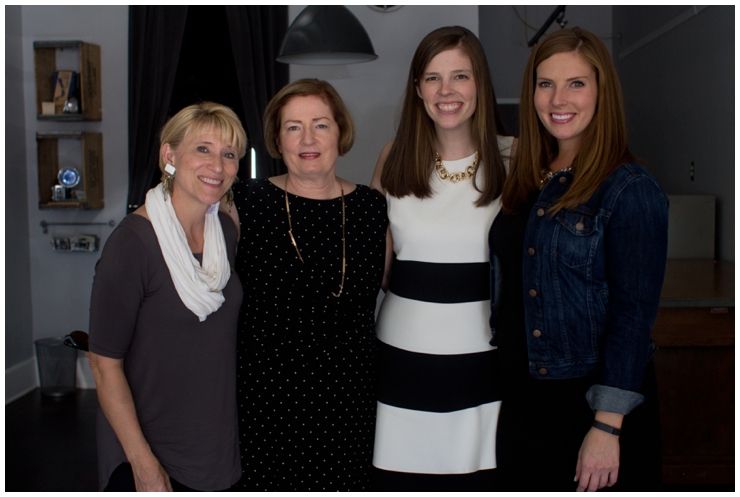 My aunt Bethany came from Mankato, Katherine from Goodland, my stepmom and grandma from Indianapolis, and one more surprise visitor that I totally didn't expect to see (more below!)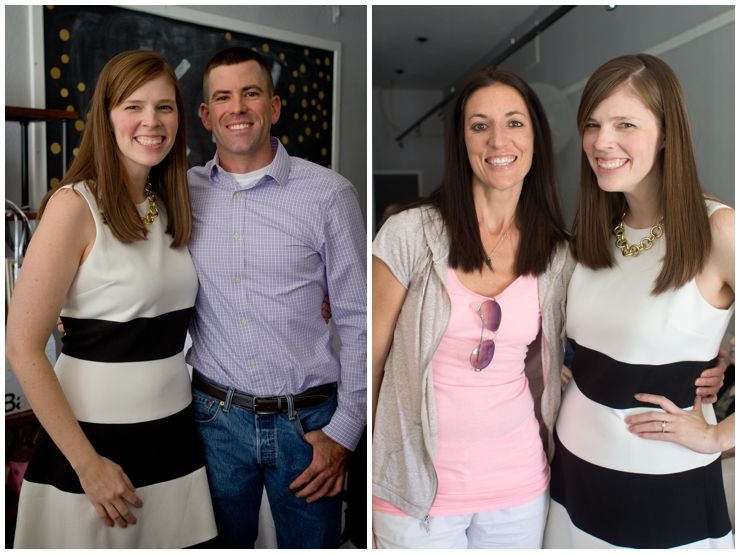 Kip took my dad, grandpa Fred and his brother and dad to a sports bar during the shower for some dude time. They reported back at the end to help with clean-up duty. Allison was there with her fabulous cupcakes, and they matched the theme perfectly. Of course.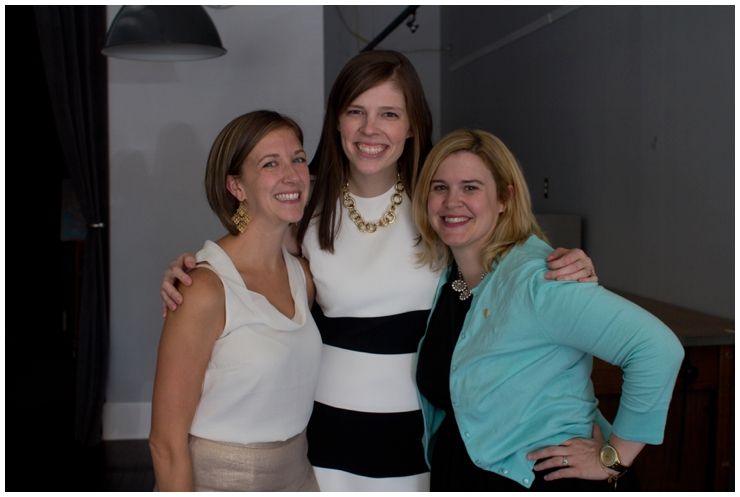 These ladies filled my heart and my house for the weekend. Katherine gave us the "cheese markers" which is related to a long (and pointless) story from college. I loved at the shower there were lots of times to tell some of our favorite stories from long ago, as well as getting to share all about my relationship with Kip.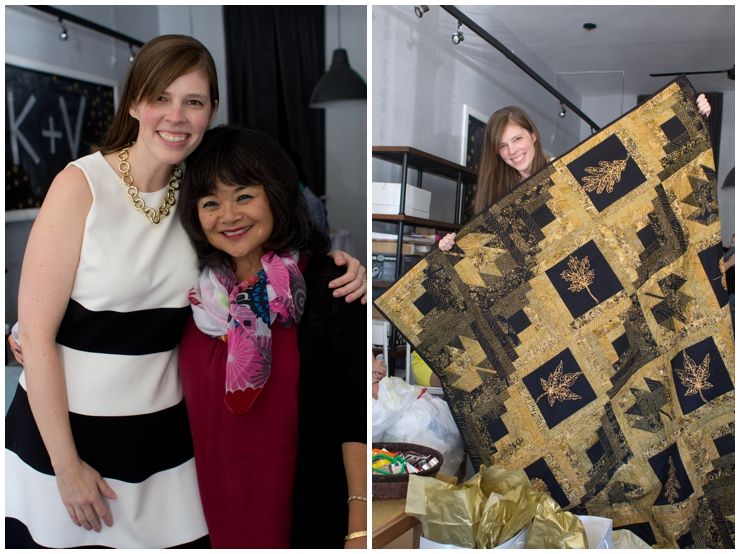 Here are two of the biggest surprises: Candi Hironka and a gorgeous quilt made my grandma Mary. Candi knew a long time ago that she wouldn't be able to make the wedding, but she hated to miss the celebration. So she called my mom up and said, I've got to come for a shower. I was talking to my mom when she walked in behind me, and I instantly teared up. This woman is a role model and one of my favorite mentors from K-State. She came from Boise, Idaho and having her at the shower was really very special. Candi also got to meet Kip and visit with him before and after the shower, probably spending more time with both of us than if she had made the wedding. My mom said the look on my face was priceless when she walked in - it was a well kept secret and surprise!
My grandma Mary is the gifted quilter of the family, and I opened her present at the end of the shower. The leaves are fitting for my arborist fiance and all the black and gold we are using throughout the wedding. It's beautiful in the picture above, so you can imagine how great it looks in person. It was the perfect quilt for Kip and me.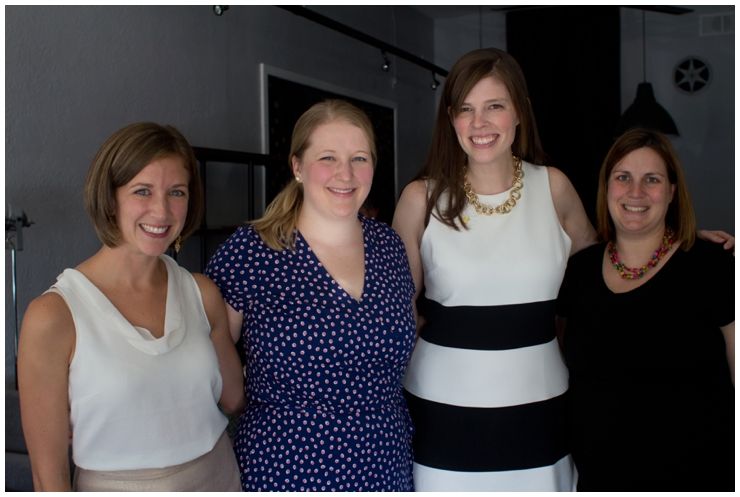 These women went above and beyond what I could even imagine in hosting this party. And Tara did while nine months pregnant too (baby Archer was born yesterday!). I felt really special and loved the whole time - and I can only hope that's what I've made possible for others over the years. It was crazy to look around the room and think about all the babies and weddings we have celebrated together.