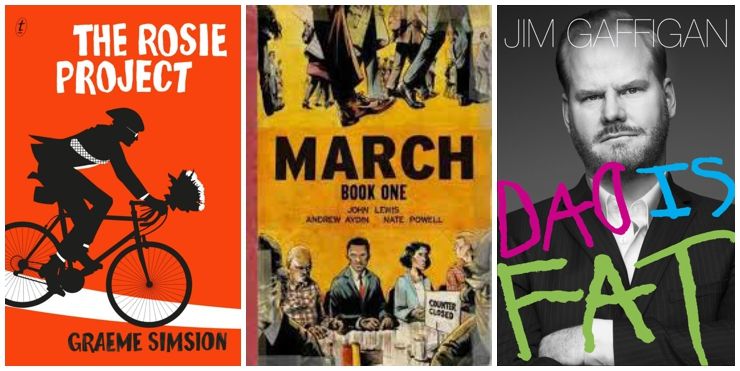 Three books - one that our book club read and enjoyed, one graphic novel (hey! my genres are slowly expanding), and one audio book that I would argue is probably better as an audio book.
The Rosie Project
is a darling story about a too smart for his own good college professor, Don, with undiagnosed Asberger's as he looks for a wife. It's pretty good, and we liked picking apart the different characters at book club. Heads up: the setting is Australia. Pay attention because you might miss it! I struggled to think of what else I should tell you about it, so I went back to our pal Ginny's
review
. She offers a great summary and mentions that it has been movie optioned. I'm with Ginny on Jeff Bridges casting as Don - his character on the Newsroom is probably Don's long lost over the top brother.
March: Book One
is a graphic novel about Congressman John Lewis. It tells a great story with flashbacks from President Obama's inauguration to John Lewis's work with SNCC and the Civil Rights Movement in the 1960s. He also met Dr. King early in his training as a nonviolent protestor. Graphic novels are a new to me way to engage students in reading, and we have so many kids who prefer nonfiction, so a book like March is doubly awesome. I found this book in my summer class at Baker.
Dad is Fat
I listened to on audiobook. So did Kip whenever he was in the car - we didn't talk practically for a whole Sunday running around town!. Then Erica listened to it, then her husband Jon, and I think Kate has it right now. We all drove around to KC cracking up at Jim Gaffigan's stories about his crazy family with five kids living in a two bedroom apartment in NYC. Actually, it's a fifth floor walk-up in NYC. He's a "clean" comedian which means that his stories are alternately endearing and side splitting. Gaffigan has a new book coming out this fall, and my sister and I already bought tickets to see him at Rainy Day Books (
come with us!)
Even though we'll get a copy of his book, I think I might listen to it on CD still. It's so funny to hear him read his own stories, and my commute will get about 20 minutes longer each day when I get
MARRIED
so I'm looking for other great audio suggestions. Hit the comments below...