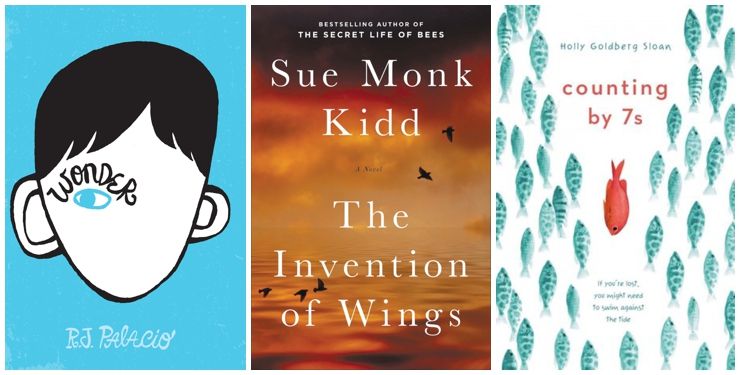 I'm pretty sure it's Friday. Yes, confirmed. It's Friday.
A long long time ago we scheduled a book club sleepover for last weekend, and then it morphed into a bachelorette party in one of our smartest moves. Ever. I drove 280 miles in 48 hours getting besties to-and-from the airport, stayed up way too late for "girl talk," and started the longest week of work a wee bit behind on sleep and sanity. But then the teachers came back and the to-do lists got longer, and it was okay because this is the work I really love. I like to say, "YES," to find ways to make things possible for teachers to do the magic that happens in the four walls of their rooms. Last night the kids came to meet their first hour teachers and the excitement kept building. I love the first day of school!
But I think I might sleep until Monday.
Anyways, I read three books in July. You might be surprised which one I loved the most because everybody (including Oprah) loves a different one the most!
Wonder
was a sweet parting gift from a teacher that left our building who shared a love of all young adult literature. My mom read it in two nights, and because the narrator switches throughout the story, it's easy to read it quickly. It's a must for fourth through seventh graders and also probably adults as it is an important story about what sets us apart. This book wins all the awards because it exudes empathy. My mom liked it more than I did, but I think it would make a FABULOUS read aloud. It's definitely good.
The Invention of Wings
made the cut into Oprah's book club 2.0, and I think I shocked book club with the number of complaints I had about it. Generally, everyone else liked it. It's mostly the story of Sarah Grimke who should have been listed in the long list of women suffragists in this School House Rock classic.
Also, my book club wasn't familiar with this video. Shared now for everyone to remember the importance of voting.
I digress, back to the book...Grimke is a fascinating lady, but I sort of wish that I could have read a biography instead of the novel. Sue Monk Kidd embellishes Grimke's story with a couple of not believable twists to add some romance. And the alternating chapters are from the point-of-view of a slave in her family's Charleston, South Carolina home. Many of the horrifying descriptions from the slave, Handful, were painfully accurate. However, there are a couple of twists to Handful's story line, including some parts about slaves escaping, that I found a hard to believe. The Secret Life of Bees will always be Sue Monk Kidd's best book, and generally, I think most of the book club liked it MUCH more than me. I think I let the history teacher part of me get in the way.
Counting by 7s
was my FAVORITE book this month. It's young adult in case you wondered. The main character is a child genius, Willow Chance, and she had a hard time connecting with anyone besides her adoptive parents. She's a twelve-year-old genius, but others have a hard time getting past her obsession with counting by sevens and all things science and nature. After a tragic auto accident, Willow finds herself an orphan again. She ends up with a Vietnamese immigrant family where she goes from an observer of how family works to the catalyst to bring unlikely characters together. It's heartbreaking for a bit, and then just turns into plain awesomeness. I laughed out loud as I read it - Willow could be my favorite character in quite a while. I've already passed it on to my mom.