Kip has lived in Kansas City for about eight years and hadn't been on the Boulevard beer tour. Tragedy! Boulevard recently switched up their
tour offerings
, and the guided tour doesn't include nearly what it used to back in the
day
. During her maternity leave, Anne was kind enough to be ready to reserve the
Unfiltered Tour
as soon as it was posted. For Kip's first Boulevard tour, we wanted to start with the very best!
Kip and I are beer drinkers. I saw him drink wine once at
Four Olives
but mostly just to be polite. He never orders mixed drinks or fancy cocktails. I made a couple of cocktails this summer and enjoy well chilled white wine, but
together
we love to drink beer. And we have really similar taste in beer! Kip and I like to try the latest seasonal releases from Boulevard, anything our friend Ashley creates, and beers labeled "pale ale." If you are offered a beer by one of us, it's likely to be Copperhead Pale Ale from Free State or Boulevard Pale Ale. Or maybe a Tank 7 if we're taking things seriously.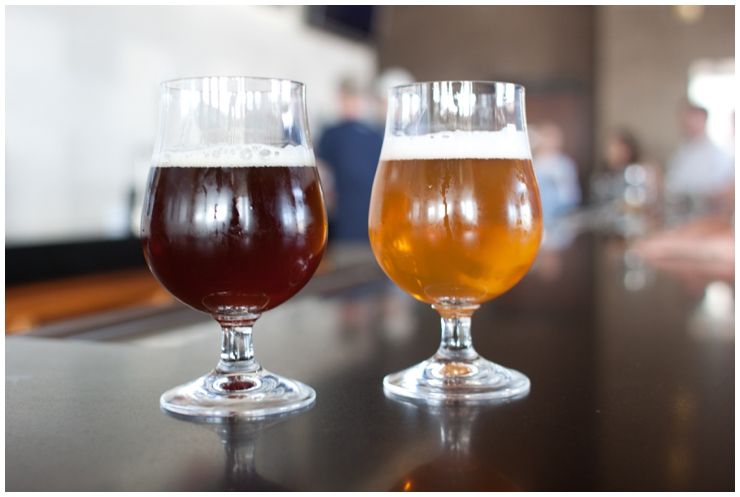 I would highly recommend the Unfiltered Tour to everyone whether or not you have taken the basic Boulevard tour. It gives a history of Boulevard, and you get to drink beer while touring the factory! And you have to wear safety glasses! They are serious about the closed toe shoes part as well. A girl on our tour had to wear booties over her flip flops which I found hilarious.
We started the tour in the gift shop where they passed out a full glass of the seasonal Ginger Lemon Radler (still not my favorite) to begin. We toured for a while, then they let us pick our next beer. And our third beer. We finished in the tasting room where we all chose to try the two beers they were sampling for possible future releases. For $20 we saw the factory, had three beers and sampled two more. I would definitely say that this meets the definition of a Sunday Funday AND was worth every penny.