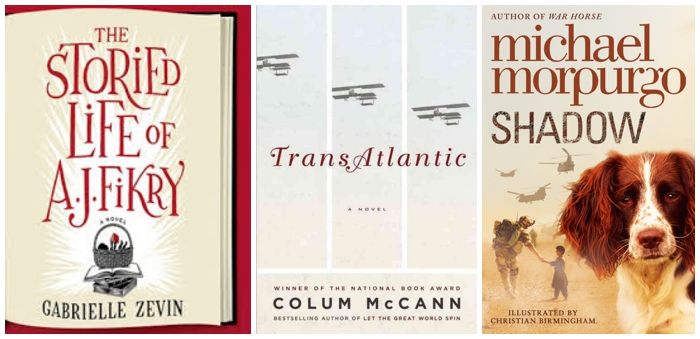 We had our second "
Mother Daughter Book Club
" in June with many of our moms. I stopped at
Rainy Day Books
to get some ideas for what we could read. Mother/daughter books are often loaded with conflict and angst, and so we really wanted a book that was just a good read. One of the books Vivian from Rainy Day recommended was The Storied Life of A.J. Fikry. We read the description at book club and were instantly sold. Many of us gave the book to our moms for Mother's Day, and we met in late June to discuss the book. It was a crowd FAVORITE. It's a darling story about a man, A.J. Fikry, running a bookstore on a small vacation island in the Northeast. Newly widowed, someone leaves a toddler in the shop and suddenly A.J. is a dad. The book is full of townspeople that help tell A.J.'s story, great connections to other good books, and an endearing story about family and love. I stayed up late reading it in June and just loved it. Highly, highly recommend – and I think book club would agree!
I picked up TransAtlantic on a whim from my KCK public library because I loved Colum McCann's
Let the Great World Spin
. He is a whiz with words, and if you have a tiny bit of patience, his works will be classics. Many of my friends also loved Let the Great World Spin, and I was eager to see how he wove the stories together in TransAtlantic. There are two parts EXPERTLY connected. In part one, we read about pilots preparing to cross the Atlantic, Frederick Douglas's trip to Ireland, and Senator George Mitchell's work to broker peace in Ireland. None of those stories I knew anything about before part one. In each of the stories there are some women that intersect the stories, and in part two, McCann tells their stories in detail. They aren't always happy but rightfully so; following the women of an Irish family across several generations is bound to encounter heartache. I recommend this book too but start with Let the Great World Spin if you haven't already read it.
Late in April, a reluctant reader came by my office for a chat. Somehow I convinced him to give Shadow (same author as War Horse) a chance. He was drawn to the Afghanistan aspects of the story, and he said he would try it. He came back four days later to report on the book and spent about five minutes giving me all the ins and outs of the tale! I was inspired to read it as well and picked it up this summer while proctoring the ACT. Shadow is less about a dog and more about Aman and his mother. Their epic escape from Afghanistan is aided by Shadow, a bomb sniffing dog trained by the British military. They must survive the Taliban, the dangers of open countryside and smugglers who want to profit from their need. Then Aman and his mother (no Shadow though) have been living in England for six years when they are accused of being illegal asylum seekers and thrown in a detention center. Based on real events in England with fictional characters, the reader is drawn into the battle to release Aman. It is an easy read, and I held my breath throughout the second half of the book as I read about the appalling nature of the detention center.