Oh, HEY. I'm back in school. Since Tuesday, actually. Our schedules switched, and teacher leaders will now work 15 days before teachers report and only five days after. June 2015 is going to be great, but this summer was a brief five weeks of fun and wedding planning. We crossed a ton of things off the wedding list! The Fourth of July weekend was a highlight, three days that we PACKED full of activities, friends, and family. Kip and I were both beyond exhausted by Sunday afternoon.
On Thursday night, we kicked off the long weekend with a trip to the Overland Park Farmer's Market. Twice this summer they have opened the market at night, and we have gone both times. It's pretty fun, casual and easy. Same vendors for the most part plus we can shop while drinking a Radler or Boulevard Wheat. The last one is Monday, August 11th. We're going again - come hang out!
On the Fourth we met Lu and Mom for lunch at Q39 (separate post pending!). Kip and I watched a little soccer in the afternoon and continued our "This Old House" marathon from the PBS app. (We
really
like the projects and Massachusetts accents. Literally all I have watched this summer was "This Old House" and "America Ninja Warrior.")
Eventually we made room in our stomachs for another meal and headed over to my friend Zach's for a Fourth of July bbq. We made Kip's favorite barbecued chicken and homemade bbq sauce with root beer to go with it. I convinced Fiona to look at the camera and show off her favorite summer treat before she beat her dad and Kip at yard games. Sweet Vera was decked out in red, white and blue, and I was too. This shirt was a Gap and Umbro collaboration I found before the World Cup started, and I'm obsessed.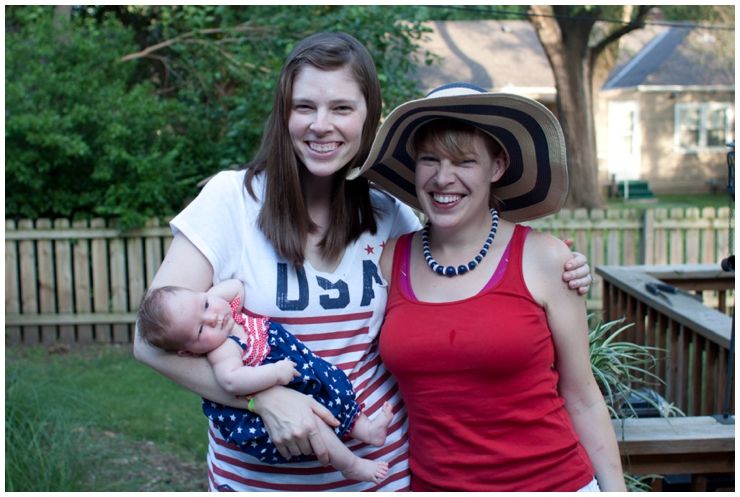 There was so much delicious food that we ate and ate for a while before heading to watch the Corporate Woods fireworks. The highlight was probably fireworks that spelled USA. The audience would shout "U! S! A!" each time! Kip was not as amused by the ladies behind us who speculated on what each firework was each time. I thought they were hilarious.
Happy Independence Day America! If you missed it, here's
my favorite patriotic part of the day
. I cry almost every time, and this year's was particularly great.