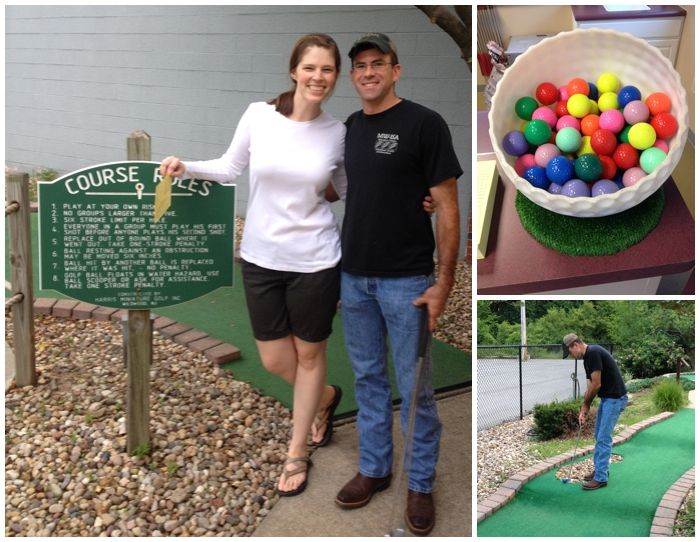 Last year I went to Texas in July and totally expected it to be a blazing 110 degrees the entire time I was there. Instead, it was cool with highs in the 80s and a lovely 70 degrees on my last morning in Dallas. I used the "
Instaweather
" app to document the lovely temperatures, and I
used the app
on Wednesday because the July temperatures here in Kansas were almost too good to believe AGAIN. Wednesday night the weather was gorgeous, and I challenged Kip to the golf of putt putt on the
Summer Manifesto
.
We walked down to Mission Bowl that has an attached mini golf course. I kind of expected it to be crowded since the weather was gorgeous, but we were the only ones on the course for the first 14 holes. We reviewed the course rules VERY carefully so no one could be accused of cheating to win. Kip tried to tell me on the way down that he wasn't wearing the right shoes for mini golf. Since he only wears boots, I chose to ignore this concern. I wore a long sleeve shirt since it was a chilly 65 degrees on July 2.
The course is pretty well maintained but could definitely use a few updates. The turf is worn a little bit and a couple of rocks have shifted. But it's pretty functional and a good place for a quick game of mini golf.

I kept pace pretty well for the first half. I was only three strokes behind him after nine holes, and he was definitely nervous. I pulled within one stroke as we started the back nine but things didn't go my way in the end. Kip also got a hole in one to end the game (no prizes for a hole in one at Mission Bowl), and I finished with a 6 on the last hole. I lost by ten strokes! We went to the Clarette Club for a $2 PBR and signed the golf card. I think that's what makes it official, right?
The Fourth of July weekend looks absolutely gorgeous, and I'm so excited that it is going to be a three day weekend! We have some family time planned, and Kip and I have one bigger wedding project to work on together over the weekend. This week we crossed DJ and tuxes off the list, so it feels like stuff is getting done slowly all the time. Thanks for all the sweet comments about our engagement photos. We're pretty excited and think Erica May just did a wonderful job.