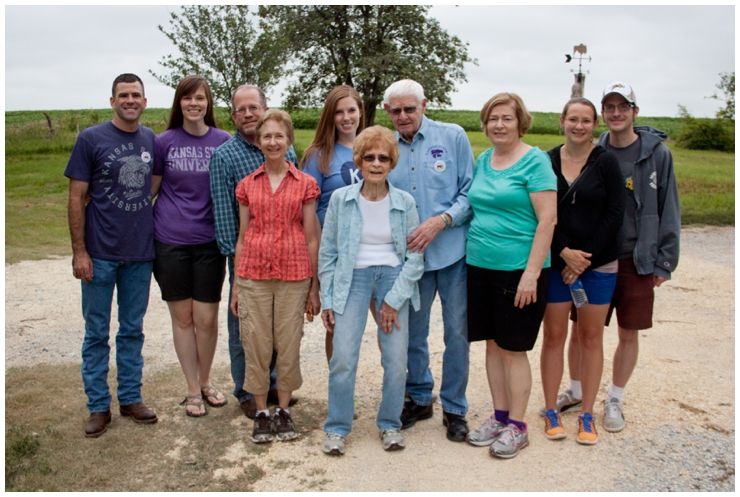 Over the weekend, Kip, Lauren and I traveled with my mom to visit family in north central Kansas where we spent time with grandparents, her brother, six of her first cousins plus assorted spouses and kids. It was a lot of family time in the very best possible way. Kip too! He does great meeting new people and can talk to anyone about anything.
Many of my mom's family live locally, but her first cousin Rod came from Laramie with his wife Sandy. He's a professor at the University of Wyoming, and they brought along their middle son, Colin and his wife Katrina. He's a professor at Black Hills State University in Spearfish, South Dakota. I'd like to pretend they were all coming for my 31st birthday, but Uncle Keith's 60th birthday was probably the bigger draw. It's a close race between that and the tractor parade.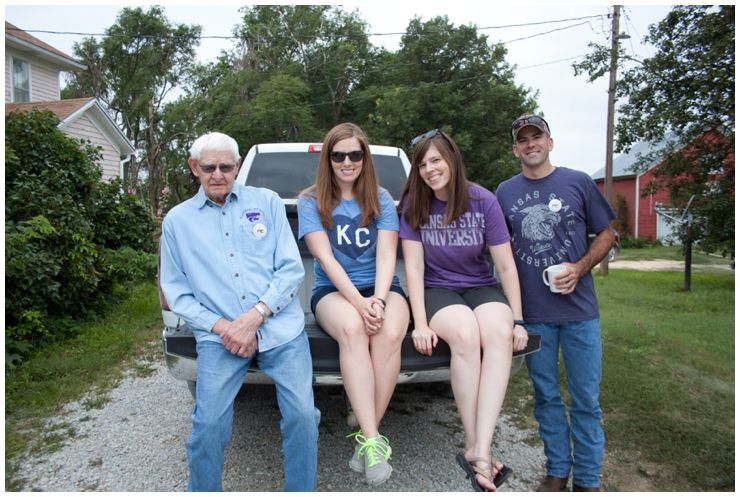 It was the weekend of our favorite July activity in Jewell County, the
Threshing Bee
. Saturday morning, Lauren, Aunt Bethany and I did the fun run/walk in town. We went out to the farm for a late breakfast and to look at a HUGE cottonwood that fell recently during a storm. Everyone likes to quiz the arborist about trees, and Kip's always happy to oblige.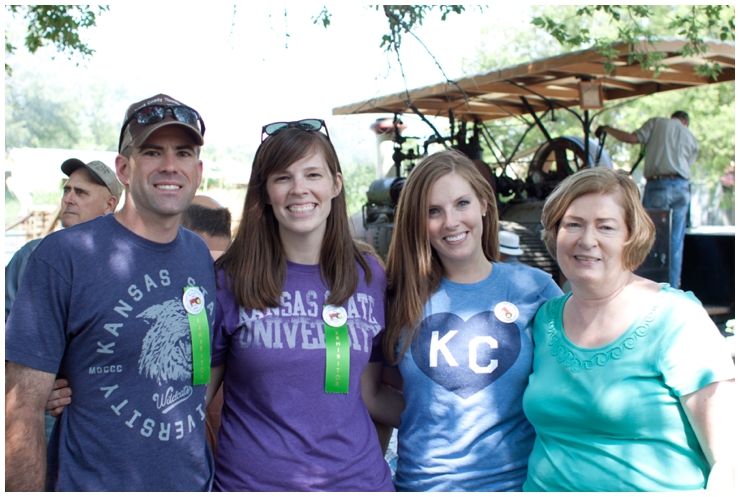 This might be the first photo of the four of us - usually my mom or Kip are behind the camera for Luhrs Ladies group shots! I loved that we had green "exhibitor" ribbons to go with our Threshing Bee pins. Kip and I totally matched in our purple pride, but he kept pointing out that we needed a patriotic flag for our tractor. Maybe next year we can add that, and I'll wear my favorite
Umbro shirt
.
The tractor parade was one of the longest in recent years. Kip drove the tractor across town earlier in the day, so he did not mind that I drove the 1945 Oliver on the parade route. He prefers getting to put it in 5th and not obey the traffic laws while I'm pretty happy with keeping it in 2nd while people pass us on foot.
Kip's first Threshing Bee deserved a special hat (pictured above) that matched my uncle Keith's, and he loved checking out all the demonstrations, the tractor pull, etc. We watched the steam engine powered saw mill after the parade. He was like a big kid watching, learning and figuring stuff out.
Also, he's wearing contacts. It took me a couple days to get used to the "no glasses Kip," but it is probably going to be okay. Safety wise, Kip wearing contacts at work makes much more sense. I just regret
breaking his last pair of glasses
.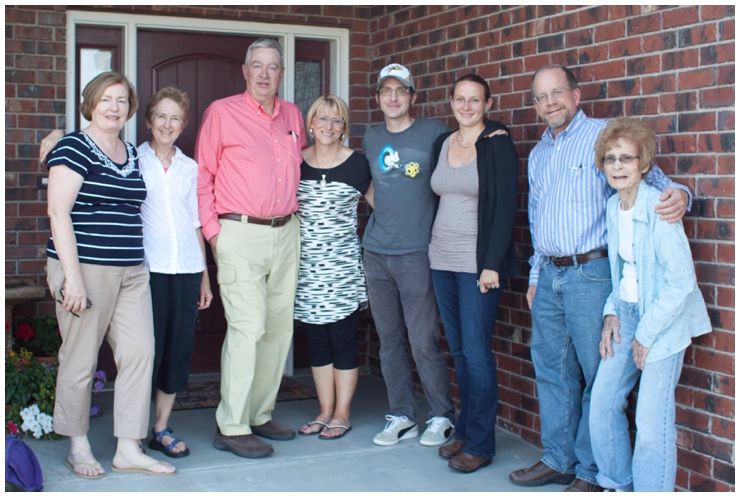 After a quick break, the party started at Keith & Bethany's! Over sixty friends and family members came by to celebrate Keith's 60th birthday. We had great barbeque, homemade queso dip, frosted sugar cookies and chocolate chip M&M cookies. And quite a lot of beer and wine.
About the time the party winded down at the house, the beer garden down at city park was heating up. Many of the guests moved down to continue celebrating. The great band,"Free Beer and Chicken," played a special request for Keith's birthday and even Kip danced a little bit. Just a little.
It was the coolest Threshing Bee anyone could remember, and the family turnout made it so fun. We missed my cousin Sasha and her husband Mike
terribly
, but they had a wedding they couldn't miss. Kip probably said about a half dozen things about future Threshing Bee visits, so you can count on us to be back.