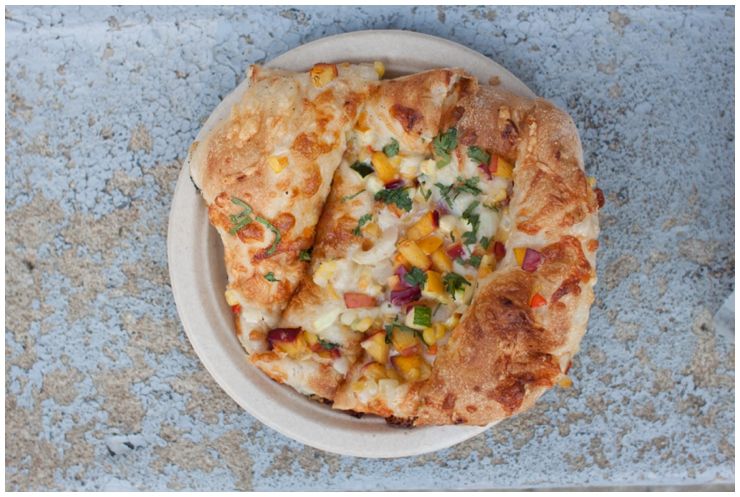 We crossed a big one off the summer manifesto list last weekend - cheese slippers! An item left sadly incomplete last year, Kip and I headed down to the Westside to wait in line for cheese slippers on Saturday night. I feel really strongly that
waiting in line for food
yields the best results. Saturday was hot, but I knew the fresh produce would be stellar and there aren't a lot of Saturdays where we have nothing to do.

To review, a cheese slipper is ciabatta bread made by
Fervere
that has cheese inside and on the top. They sell them regularly in the bakery, but during the height of summer they offer fresh cheese slippers on Saturday nights starting at 6 o'clock. Each week the combinations are different and they feature unique combinations of local produce.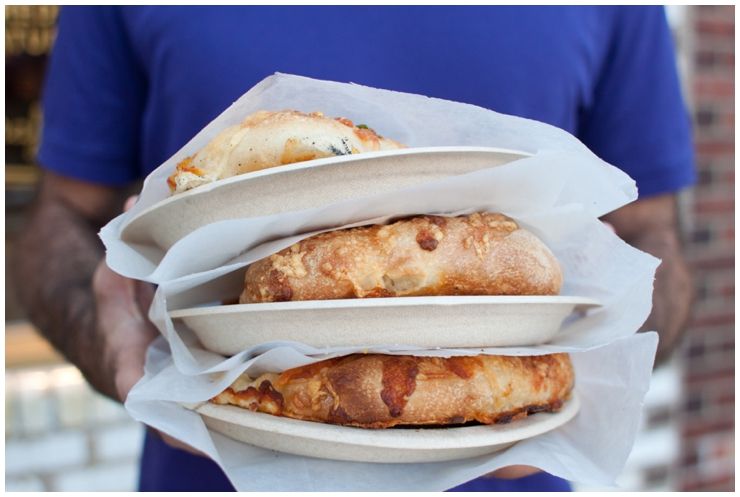 We waited about 20 minutes after we got there about 6:15. One of the four kinds of cheese slippers was sold out by the time we got to the counter, but luckily they miscounted, and we got to try it after all. If you want to try all the varieties, it's best to be in line closer to 6 o'clock because they often sell out within the hour.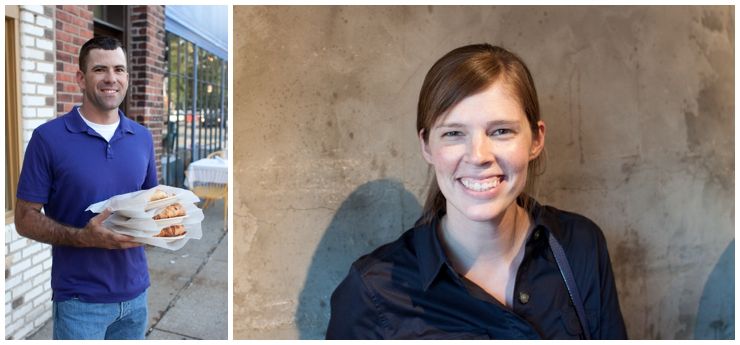 It was hot waiting outside, but the heat was the worst in the bakery while we waited for our cheese slippers to be done. It would feel awesome to go in December when it's cold outside, but then the produce wouldn't be fresh. #summerdilemma

The three varieties that we tried were succotash with nectarine and cilantro, egg, garlic and cheese curd, heirloom tomatoes and basil and garlic. We sat on a stoop near the car and ate the big slices of hot fresh bread & produce and wished we had something to drink. Some people went to
Little Freshie
for sodas and snow cones, but Kip & I were ready to eat not wait in another long line for drinks. Next time we'll take water bottles!
It's probably tough to pick a favorite, but the egg and the tomatoes were the right proportions of topping to bread. The poor nectarine cheese slipper was pretty heavily weighted down with fresh veggies and fruit. We didn't eat them all on Saturday night, and they were still delicious the next day for breakfast and snacks. Kip will tell you that three cheese slippers for $24 is a bit expensive, but he also will tell you they were incredibly delicious and worth a trip once a summer. I tend to agree.