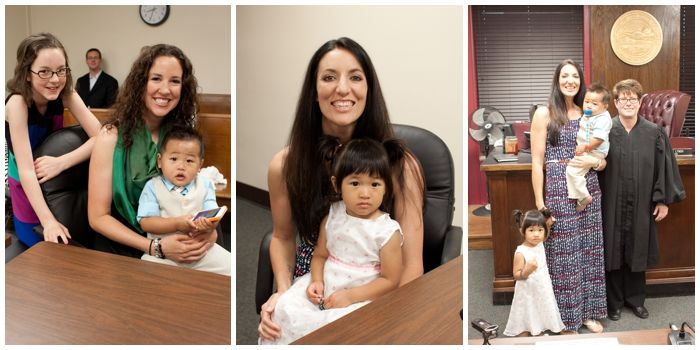 This story begins a long time ago on Halloween 2012 when Allison got the phone call that there were two kids, a baby boy born earlier that day and an eleven-month-old girl. Three days later my mom and I stopped to meet Allison's daughter, Rue (my mom calls her Ruie!). Trace wouldn't arrive home from the hospital until almost a week later. And since then, Rue and Trace have been Allison's kids.
The process of foster to adopt is very very long. Quite possibly way longer than any of us could even imagine and with twists and turns like you
would not believe
. They aren't my stories to tell, but if you are interested in fostering to adopt, Allison would be glad to share them with you.
FINALLY, it was official this spring. The court hearing was the official final step and on Monday, May 12th we reported to the courthouse in Wyandotte County. Our friends over at Anecdotally Yours (obviously) are telling their story with a film which will be a perfect compilation of all the details. On the day of the court appointment, a photographer filmed the proceedings which was great because Allison was busy wrangling toddlers. Bubba was holding her phone and kept yelling "HELLO!" while the judge was saying nice things about Allison.
Allison started going to church with us downtown while she was fostering the kids. She waited to join until they could all join together as a family, and last Sunday was a very sweet baptism for these two very active toddlers. Trace tried to escape onto the stage during the baptism, and Rue was a bit of a skeptic about the whole water on her head part.
During church, Kip asked me to wipe off his glasses on my sweater. I broke them, and he missed the picnic afterwards so that he could clamp them together with gorilla glue. It's a good thing I took a lot of photos of the baptism to share with him so that he could see all the stuff he missed after I broke his glasses. #fianceefail
There's never a big occasion in Allison's family without food, so Mom and I went to Loose Park to hang out and picnic afterwards. We sat under the shade of a walnut tree and enjoyed good food and watching Rue and Trace run all around. They were too busy for photos with us.
Clearly Rue and Trace are uninterested in a photo with Tori and Mama. But later in the day, Rue sang all of "Jesus Loves Me" to her mom. Allison said she's never sung it with her; she learned it at Kids COR at our church. Then she told her mom, "Mr. Kip. He's my new friend." Allison wanted to make sure she didn't know any other Kips, but nope just mine. "Mr. Kip and Tori." We're happy to be friends with Allison, Rue and Trace, officially a family!