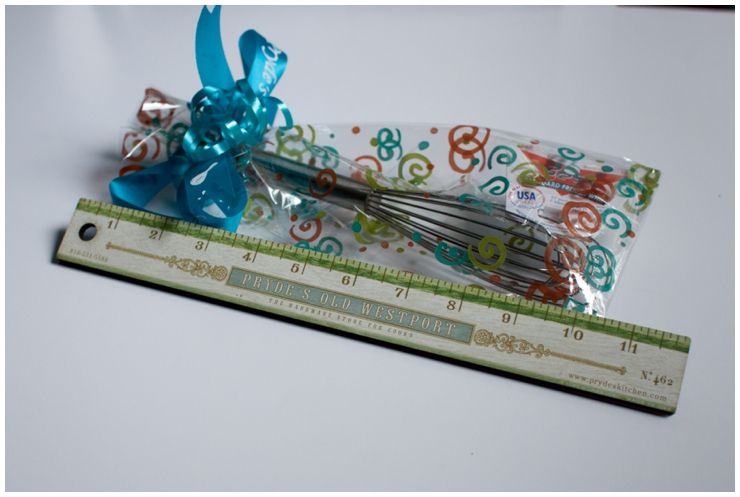 Kip's a good sport about all things wedding related. I have a surplus of ideas about DIY projects, and he has jumped on board for almost all of them. Except lining the envelopes for the invitations – when I explained it to him, he pretty much said, "Good luck," and went back to his iPad. Kip is a realist, my friends, and I have big gold lined envelope dreams.
Completing the wedding registry was on our to-do list for late June/early July, and the experience was pretty similar to all other wedding projects – really easy. I've been hanging out a lot in the kitchen since I moved in with my friends on Juliette our senior year at K-State. I like to read recipes, try new ones and perfect some old ones. All my experimenting and learning in the kitchen has pretty much been with the same pots and dishes my dad picked up for me at Target or Walmart in 2004. Along the way, I added a few dishes and more cookie sheets than I care to disclose in public, but I was definitely ready to choose some updates for our home together.
And the process was a breeze. Kip either thought everything was fine, did not care, or when he did have an objection we easily picked another item. I deferred to him on drinking glasses and knives. Everyone always says that the groom likes carrying around the gun and scanning everything, but Kip was barely impressed with that job at Crate & Barrel. We also registered at Amazon, which mostly consisted of reading reviews to choose the best item or adding things that we've seen in person around town.
Our final registry is at
Pryde's Kitchen and Home in Westport
. Even though I mention Pryde's here and there in on the
blog
, there's never been a whole post on my undying love of this store in Westport. My friend Emily's aunt Louise owns Pryde's and greets me with a smile and a wave every time I come in to pick something up. Built in 1922, the building exudes old Kansas City charm and overflows with everything wonderful thing that you could
ever
need for your home.
When we registered, one of my favorite employees walked around the store with us. She put all of the littler items in a basket they keep behind the counter for easy access if someone comes to buy us a present and wrote out a list to put online. This was the closest Kip came to exhaustion as I discussed AT LENGTH various versions of wooden boards and cast iron skillets. As we left, they sent us with an adorable little whisk and this wooden ruler because Louise believes, "that every kitchen needs a good ruler."