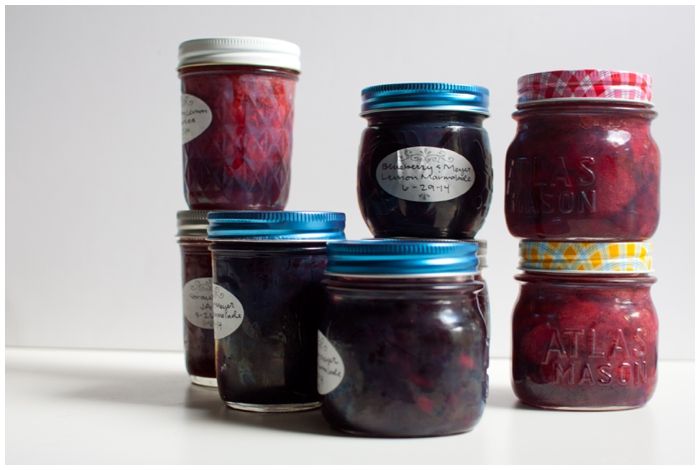 Kip asked over the weekend how we were doing on the
summer manifesto
. I read the list aloud, and we checked off many of the items. Here's how it is shaping up...
Eat cheese slippers at Fervere. Status: NOT YET. Maybe next weekend?
Walk to Baskin Robbins. Status: NOT YET. I keep baking.
Eat at Foo's. Kip's never been, and it's so close to his house! Status: YES! And with Rachel and baby Keaton too!
Eat lunch downtown. Status: YES! Lulu's and it was delicious. Lunch specials!
Trip to Indianapolis to see Gabby graduate! Status: YES! And man was I sick while we were there.
Take treats to Kip while he is working. Status: YES! Leftover cake from my mom and s'mores. I've got some patriotic rice krispie treats lined up for this week. #mercia
Read for fun. Status: YES! I loved the June Book Club book so very much!
Celebrate my uncle's birthday with Mexican food at the Buffalo Roam. Status: Almost time!
Have lunch with my sister on her lunch break. Status: YES! And some of us had beer...we were at Beer Kitchen!
Take one online grad school class about the best new books in young adult literature. Status: YES! It's pretty enjoyable.
Strawberries/blackberries/blueberries/tomatoes/peaches. Status: 2 out of 5 so far. Need more blueberries though...
Beat Kip at Putt Putt. Or at least PLAY mini golf with Kip. Status: NOT YET. It's going to be a sticky humid game of putt putt at this rate.
Make a cocktail at home. Thinking that this one might be calling my name this weekend. Back-up plan: Paloma's. Status: YES! I made both. They were both amazing.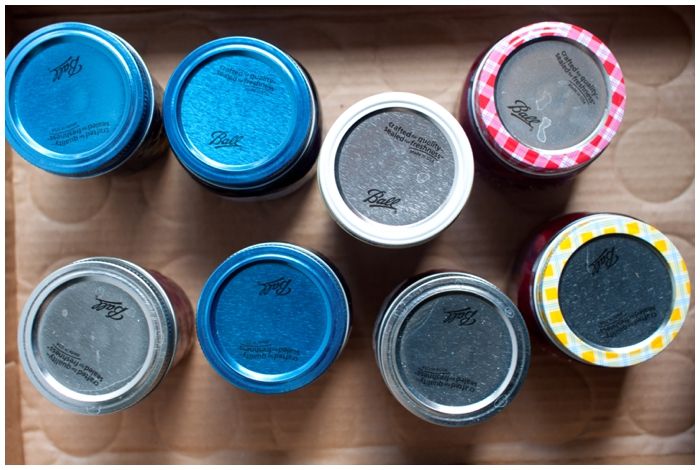 I also learned how to make small batches of jam/jelly/marmalade. My first three attempts were all recipes from the book "
Canning for a New Generation
." (Strawberry jam, strawberry lemon preserves and blueberry Meyer lemon marmalade). These are different than the jams previous generations would have made because they are very small batch with a yield of only 3 to 5 half pints each time. I am going to branch out and try some other recipes soon, but so far this has book has been my guide. Rachel just sent me this
recipe
I'd like to try if I get more blueberries picked soon.
Mom kindly lent me her canning supplies, and the Le Creuset Kip gave me for Christmas works perfectly for making the fruit mixtures. I've successfully water bath canned three times. I'm still figuring out the consistencies of the fruit which I'm pretty sure is what has affected my yield. For example, the blueberry Meyer lemon marmalade, with the one pound of lemons I carefully segmented for about an hour, should have made 5 half pints jars. I got about 3.5 jars. It might be really really thick and marmalade-y. Yes, I made up that word.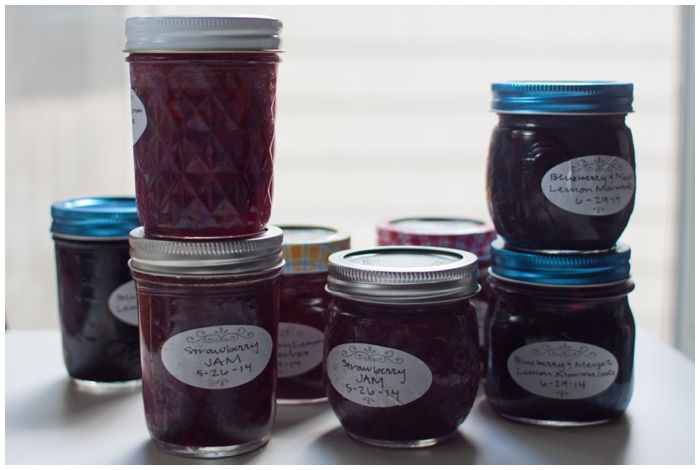 We opened a jar of the strawberry lemon preserves last week when Rachel was here, and I can pretty much eat it on anything. Pancakes, bread, yogurt...it's tart and sweet in good proportions. There's a strong argument to be made for just over indulging in summer fruit right now, but I'm also loving putting some away for winter. Kip's deep freeze has some strawberries in a light syrup and blueberries tucked away for us this winter, and I'm pretty sure I'm going to be delighted to pull them out in January when it's snowy, cold and I have a new last name. #teamLynch
I've got time to can jam/preserves/marmalade because, for the most part, wedding planning is a breeze. Kip's easy to make decisions with about the event, registries, etc. and Mom is great at helping to get stuff done around town. My friends are overly generous with their time and good idea sharing, and it's been fun the last two weeks to mark stuff off the list. Not having that BIG grad school class this summer was a very good development that resulted in more pool time and more friend time. That's what I need in summer.