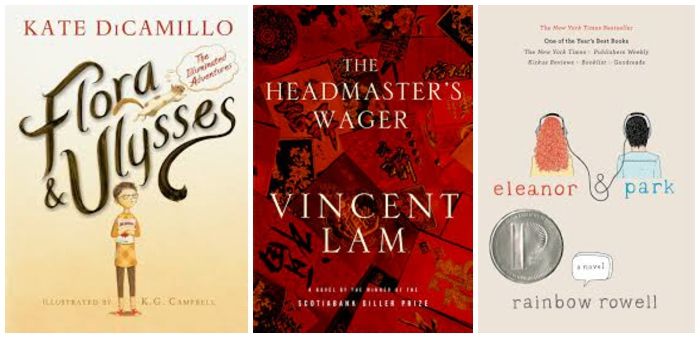 Three books and one has to go on your summer reading list if you haven't already read it. I'm a little bit late to the party on this one.
The Illuminated Adventures of Flora & Ulysses
won the Newbery this year. It was good, but not necessarily my favorite. Kate DiCamillo likes talking animals and unlikely heroes, and it just felt very elementary to me. I wouldn't ever recommend it to a middle school student. In Kip's line of work, squirrels are often the enemy, so it was also weird that the squirrel was the super hero. I think I'm just more of a "National Book Award" reader these days - the young adult books fit my interests better most of the time.
We read
The Headmaster's Wager
for book club. It's about a Chinese headmaster who emigrates to Vietnam. His traditional Chinese school outside of Saigon is the backdrop for family drama, love and betrayal stories and the Vietnam war. The characters aren't all very likeable, but that's okay because war never really does bring out the best in people. It's good, especially if you read all the way to the end. It raises a lot of good discussion questions about love, family, betrayal and communism. We also discussed at book club just what exactly happened after the fall of Saigon because our collective history was a little fuzzy. I hosted and served takeout from Saigon 39 because their peanut sauce is just ridiculously amazing. The bun is good too, but I'm really in it for the shrimp spring rolls and peanut sauce.
Please read
Eleanor & Park
. Right now. Rainbow Rowell tells a beautiful he said/she said story about two teenagers from the wrong side of the Omaha tracks who meet and fall for each other in the 1980s. If you loved
The Fault in Our Stars
, then you'll love this book. I'm struggling to describe it to you but Ginny does a
marvelous
job. I read it in a single day and couldn't put it down, even while I rode in the car with Mom and Lauren to the swearing in. I want to talk to you about so many of the parts of this story, and I wish our students would read it too because it's engaging without being risque. And now I'm going to track down more of Rowell's books over the summer. She could be my new John Green!