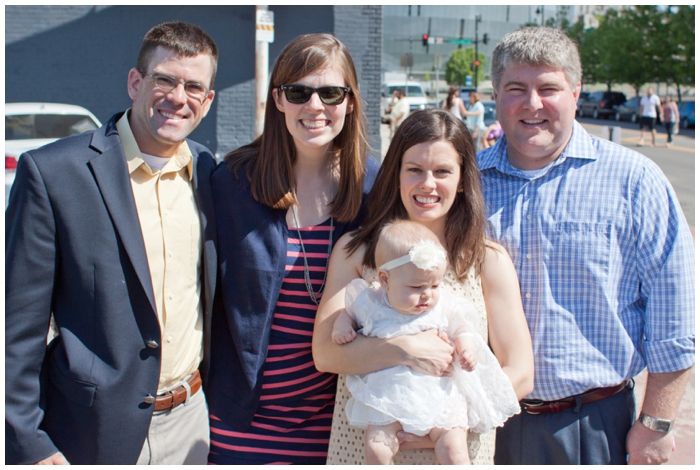 This is a natural follow-up to the post from
Tuesday
where I talk about my dear friends being present for life's happenings. It's also a natural follow-up about how taking photos of kids is hard. Madeline looked adorable on Sunday in her baptismal gown, shoes with flowers on them and bow on her head. She wasn't interested in the camera though. Madeline was baptized at our church downtown, and it was a gorgeous Kansas City Sunday.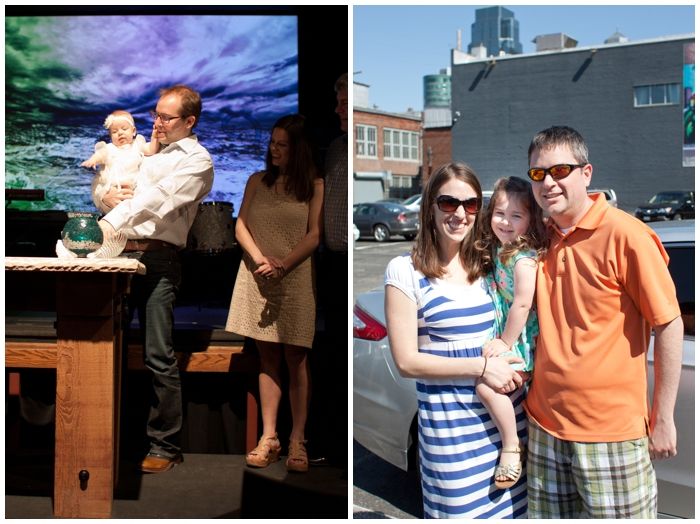 Between members of their small group, our book club friends and lots of their family members, Jon, Erica and Maddie were surrounded by people who love them on Sunday at the church. I love the questions of baptism in the church where we all agree to love Maddie as our own and help her grow to know Christ.
Here is part of our village (Maddie, Collin and Everett are the book club kiddos missing.) It's not a great photo really. Kip did his absolute best, but everyone was at the end of their morning ropes and the angle is a little funny. James was cajoled into standing on the ledge with the promise of chocolate milk (he was really thirsty). Sweet Reese fell off the ledge and skinned something after this photo (she fell off the back part, not ALL the way down to the ground). And the sun was terrible to look into. But it's a photo to keep because by gosh, it's nice to know that everyone was there to celebrate Maddie's baptism.