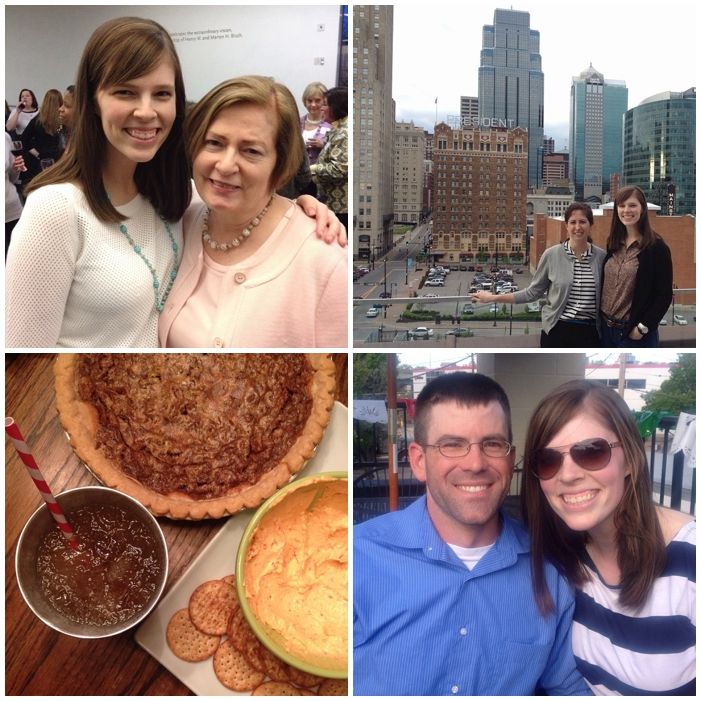 The last five days were a whirlwind of activity, fun, friends, babies and really good food. It bordered on too much fun because by Sunday night I was exhausted! All of these photos appeared on Instagram, but they each deserved a little more explanation and attention.
The action ramped up on Wednesday night with a
quick dinner
I made for Mom (she's converted to quinoa) and the official 100th anniversary celebration of the Junior League of Kansas City, Missouri at the Nelson-Atkins Museum of Art. While there were plenty of people I knew and love to catch up with at the event, we also spent quite a bit of time talking to Mom's contemporaries. My mom was a fabulous example growing up of committing to the community, and she even served on the Board of Directors three times! In FINANCE. (That could be my worst nightmare.) The program was well done, we heard from KC Mayor Sly James, and enjoyed a glass of wine in the Bloch building before heading home.
Thursday, Kip, Lauren and I put on our boots for our first event of the
American Royal
season. We met quite a few of our BOTAR and KC friends down at the event, including Kate! The event was held on the rooftop of Sporting Innovations, and it was a pretty chilly evening for the event so we mostly hung out inside. We're returning as
Governors
for a second year, and we are looking forward to supporting the Royal in 2014. Related: I really need a new pair of cowboy boots.
After school on Friday, I scooted over to meet my
friend Anne's baby
Collin. I love to snuggle new little babies so very much! Later, Kip and I walked up the street to my friend/landlord's house for a Derby party. My friend Zach appeared briefly on a Food Network Show -
Southern at Heart
, and we gathered to watch the episode! His girlfriend Meredith went to middle and high school with Damaris, the adorable chef who hosts the show. To go with the show, they served a big pitcher of Mint Juleps, hot browns (YUM), and chocolate bourbon pecan pie (did you know they couldn't call it Derby Pie!?). We thought it was awesome to watch the show and get the behind the scenes scoop on how they put together a Food Network episode. I made this
dip
to take along (Martha Stewart said it was appropriate for the Derby), and we almost licked the bowl it was so good.
Saturday was time for the second annual
Queso Crawl
. We ate cheese and drank Mexican beer for several hours with a great group of friends. Los Tules continues to dominate the cheese offerings, but the patio at El Patron and the fish tacos with mango salsa were also a highlight of the crawl. My pal Amy pulls together a fun group of KC folks, and we enjoyed cheese, watching the Derby and KC's Mexican restaurants. Someone on instagram asked if we really had enough places for a crawl, and the reality is that we barely even scratched the surface of options.
Sunday morning brought baby Maddie's baptism (more photos pending) and lunch with another new baby. We ate on the deck and visited while Baby George slept in my arms for all of lunch and a little more. Invite me over, and I'll hold your baby. And probably bring granola. I really wish I had snapped a photo of Collin and George this weekend - they will only be little guys for such a short time!
While the last few days were totally exhausting, it feels like the beginning of the good part of the year. Lots of excuses to see friends, be outside, and love Kansas City.