We decided to take in our first Sporting game of the year before they travel a lot for summer, the super stars go play in the World Cup, and while the weather was still cool. Lauren, Megan, Kate and I headed out to see Sporting play last Wednesday, and it was perfect. I have a theory that the stadium design helps the weather temperature, keeping it a little bit warmer than what it would be otherwise. So even though it was a little chilly while we ate dinner in the parking lot, it was perfect inside the stadium. It was a bittersweet game for us because it was one of our last hangouts with dear Meggie. She moved to Chicago and will be sorely missed!
We're still pretty proud that KC won the cup. We sat in the Members Stand, singing and cheering along. I told Kate she couldn't leave for a beer during the pre-game rituals of fireworks, little soccer player fans and the team introductions. It's an awesome atmosphere.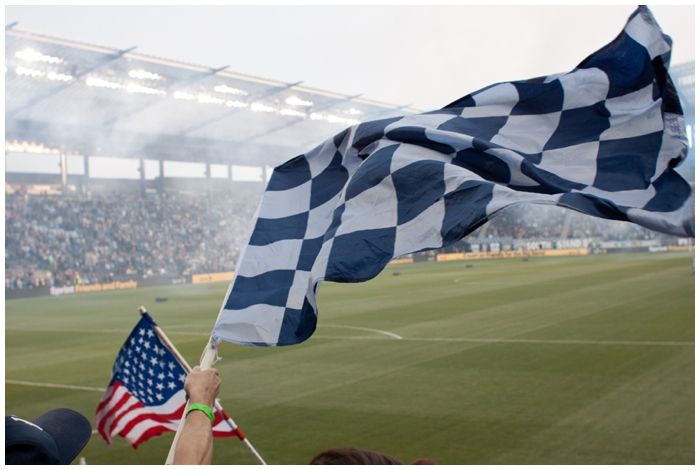 Probably one of the best parts of the game was seeing one of our 8th grade students, Hector, before the game. He's been at my school all three years and probably never willingly spoke to me. Sometimes I would coerce a short conversation out of him, but for the most part, he avoided me. I'm a teacher after all. But at the game, Hector came up to me as we were entering the gates! He started a conversation! It was the cutest and coolest thing. He works at the stadium, so if you see an awesome looking 14-year-old in the Members Stand, he could be one of our kids!
It was Kate's first game, and we were happy to have her join! We missed our pal Abbey who is a season ticket owner but waiting on that baby to arrive. Abbey pointed out in the instagram that we both needed Sporting attire, which is TOTALLY true. I looked a couple times last year but never found anything I loved. I'm going again on Friday and super tempted to look at Kansas Sampler one more time before the game. Our team lost last week, but we had a great time anyways because Kansas City does sporting events well.